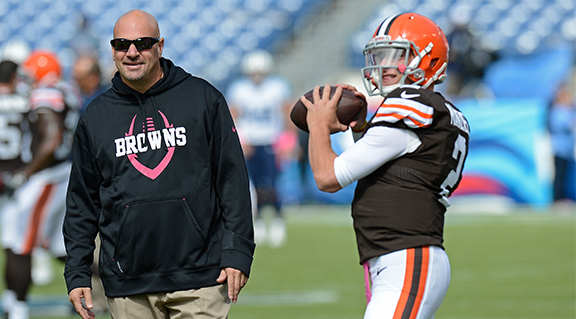 Mike Pettine decided to demote Johnny Manziel and, yet again, the young quarterback will not get the chance to show what he can do with an NFL team as its starting quarterback for a decent stretch of games.
The reaction to Pettine's decision was baffling. It was almost as if some Browns fans felt like the team had won a playoff game or something like that.
One of my associates, on his Facebook page, actually said the following, "Manziel is now third string behind Austin Davis. Pinch me now, because I think I'm dreaming."
Mind you, this person claims to be a Browns fan and he went into some kind of orgasmic daze because, in effect, Mike Pettine chopped Manziel's legs off at the knees. How does this make any sense at all?
Football teams have certain assets…primarily players and draft picks. It is critical for the franchise to maximize the value of each and every one of those assets. There are only a certain number of roster spots on an NFL team, so each player that occupies one of those roster spots has value to that team. The higher that value the better it is for that team.
Johnny Manziel has value as an NFL player due to the fact that he occupies one of those roster spots on the Cleveland Browns. As one of a limited number of players…due to that limited number of roster spots…it would be in the best interest of the Browns as an organization to maximize that value or, at the very least, look to maximize the league-wide perception of that value.
What they shouldn't want to do is reduce that value one bit, let alone eliminate it altogether. That is the problem with how Pettine and the Browns are bungling the Manziel situation, and why it is so confusing that supposed Browns fans are taking such pleasure in it.
In a perfect world (which, of course, the Cleveland Browns never seem to live in) Johnny Manziel would have started the last six games of the season, played with the same competence he played with in the Pittsburgh game and in the first half against Cincinnati, and ended the season with a certain amount of value.
If the Browns do not see him as their 'quarterback of the future' which, obviously, Mike Pettine does not they could have used him as a trade chip on Draft Day to pick up additional assets. I am a big Paxton Lynch fan and would love to see the Browns somehow end up with him in the draft. If they have to move up to make that happen it would be nice if they had a trade chip like a semi-proven young quarterback coming off a solid seven-game stretch.
Instead, let's take a look at what the Browns now have in Johnny Manziel. Pettine has made it a point to publicly ruin the guy. He talks about how Manziel betrayed the team's trust and, in effect, is not stable enough to be the team's starting quarterback. Last year the team drafted him in the middle of the first round (even trading up to do so) and now, after Pettine's decisions, they probably couldn't get a seventh-rounder for him.
That's the biggest problem this writer has with how Pettine and the Browns have handled Manziel. It doesn't matter to me that he went out drinking on his off-day with his buddies. It doesn't matter to me that Pettine doesn't agree with his lifestyle choices. It doesn't even matter to me that Manziel still has a lot of growing up to do, personally.
What does bother me is that all this dirty laundry has been aired publicly. Not just the entire NFL, the entire world knows how little Manziel's head coach thinks of him. It isn't about the team holding him accountable…it's more about the team tossing away his value in such a haphazard way.
What was the alternative? The main one, and the path I would have chosen, would have been to give Manziel his chance to play. The NFL is not a league made up of tree-huggers and choirboys. In fact, of all major sports leagues in this country the NFL has, time after time, been the league that is most likely to turn a blind eye to character flaws. It is a waste of time to run down the list of Greg Hardys and Michael Vicks currently drawing NFL paychecks…the point is that off-field behavior rarely has a significant influence in on-field decisions. For some reason, however, this time things are different.
My theory on this is as follows: Mike Pettine can't afford to have Manziel succeed. He can't afford for Manziel to take over and lead the team to a few victories down the stretch because, of course, Pettine made the decision, after Manziel defeated the Tennessee Titans in Week Two, to go back to Josh McCown. The team has won just one game since.
Pettine is already on the hot seat. He knows if it becomes clear he bungled the quarterback decision after the Tennessee game, in essence killing the season, he might as well start packing right now. This is also why, in my opinion, the Browns chose not to release Manziel. If Manziel was free to catch on with a different team…the Cowboys and Texans would LOVE to add him right now…his fate would no longer be in Pettine's hands.
The worst part of all this is that the best course of action for everyone involved, right now, would be for the Browns to waive Manziel. It's clear they have no plans for him in the future and a clean break right now would end the circus in Cleveland and give Manziel the chance to move on to an organization where he can actually get his career started. It is going to happen at the end of the season anyway…why prolong the inevitable?
I would be surprised if Manziel hasn't already asked for his release. Why would he want to play for a head coach so firmly committed to breaking him down? That, for some reason, is exactly what Pettine is doing and, honestly, as long as Manziel is not getting arrested or missing practices, meetings or games it should not be up to Pettine to be his babysitter.
On the other hand it IS Pettine's job to protect the interests of the Cleveland Browns, and his public flogging of one of the team's first-round picks from last year is confusing, short-sighted and foolish. Just like Browns fans celebrating the fact that something that was, at one time, worth something has now been rendered virtually worthless.
Something else to think about…
By the way, a friend made a great point when discussing this particular web posting. He asked why I thought the Texans would want Manziel when Hoyer is doing a decent job as the team's starting quarterback. I pointed out that the Texans recently signed Brandon Weeden after the Dallas Cowboys released him. He didn't know about the Texans' bringing Weeden on board and pointed out that the fact that Weeden is on an NFL roster proves how badly in need NFL teams are for quarterbacks. This is yet another reason the Browns destroying Manziel's value at this point is not only ignorant, it's irresponsible to Browns fans.