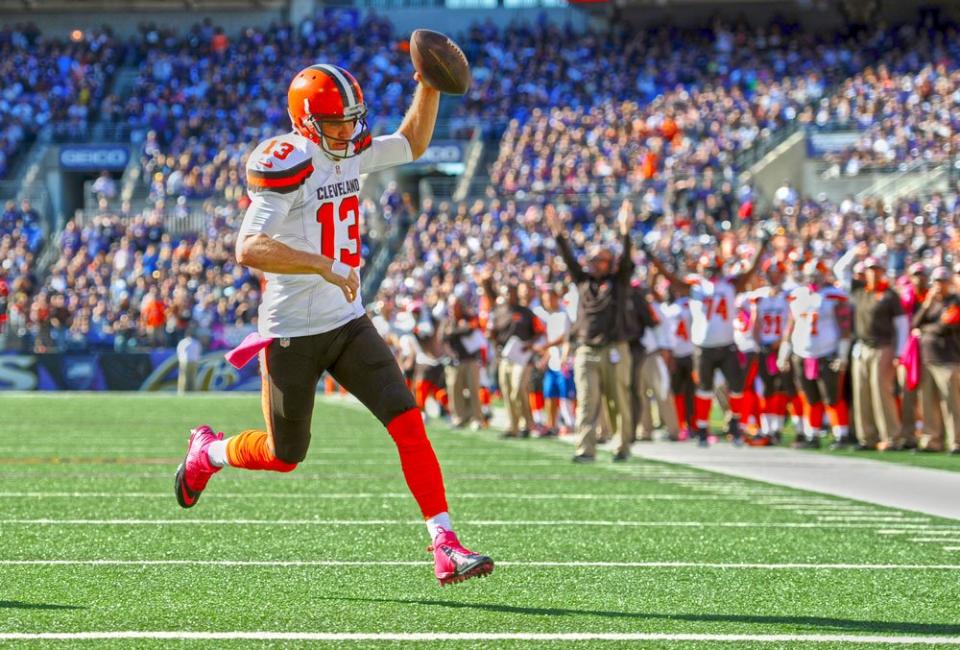 Get ready for Monday Night Football! Wait… No Joe Flacco? No Justin Forsett? Johnny Manziel is NOT starting? "Why do I even want to watch this game in the first place?" I'll tell you why, because it's football, you're a fan of either team, and everyone gets a chance to catch up with some old friends…
For the past 16 seasons, Ravens vs. Browns has been one of the more bitter rivalries in ALL of sports seeing that many Clevelanders still think that "their team" is "in Baltimore" as opposed to embracing the spectacular showing of what we will call mediocrity that has plagued the facilities of the Cleveland Browns; so plenty of faithful supporters will tune in to watch the game.
But the Browns will be going up against a broken and battered Baltimore team who will be without their starting quarterback, and their leading rusher.
So guess who will be getting a chance to carry the ball against the Browns? Our 2014 3rd round draft pick Terrance West!
Yes, after being picked up by the Ravens a little more than two weeks ago initially for the practice squad, the Baltimore native should get his first carries as a Raven, against the team that drafted him, on the road, in one of the more hostile places to play in the NFL. So that is certainly something to look out for.
Also, since you heard the news of Joe Flacco's injury and unless you were watching it unfold, you probably have very little, to no clue who the back-up QB for the Ravens is. Well world, get ready to say hello to your old friend…Matt Schaub!
After being released from the Raiders, and the Ravens losing Tyrod Taylor to free agency, Schaub found his way onto the Ravens roster.
Simply put, you haven't seen Schaub or West in quite some time, so even though you don't have the Monday night "marquee" names, you still have your curiosity titillated with the thoughts of; "Do these guys even have anything left?" West, now his 3rd team in 2 years, and Schaub, considered to be a washed up check collector, both will be out to prove something not only to themselves but also to the rest of the NFL.
And who could forget Josh McCown, and Gary Barnidge? Last time these teams played each other; McCown threw for 457 yards, and helped give us the infamous Barnidge Butt Catch to put on quite the show in front of a stunned Baltimore crowd.
The Browns could potentially be up against a depleted Baltimore offensive line as well, with their starting left guard and left tackle both dealing with injuries.
So with all things considered, not all is lost in terms of intrigue, and it SHOULD be noted that there are reasons to tune in and cheer on the Browns on Monday Night Football as they take no the Ravens at First Energy Stadium, kick off is at 8:15. Prime time!

NEO Sports Insiders Newsletter
Sign up to receive our NEOSI newsletter, and keep up to date with all the latest Cleveland sports news.