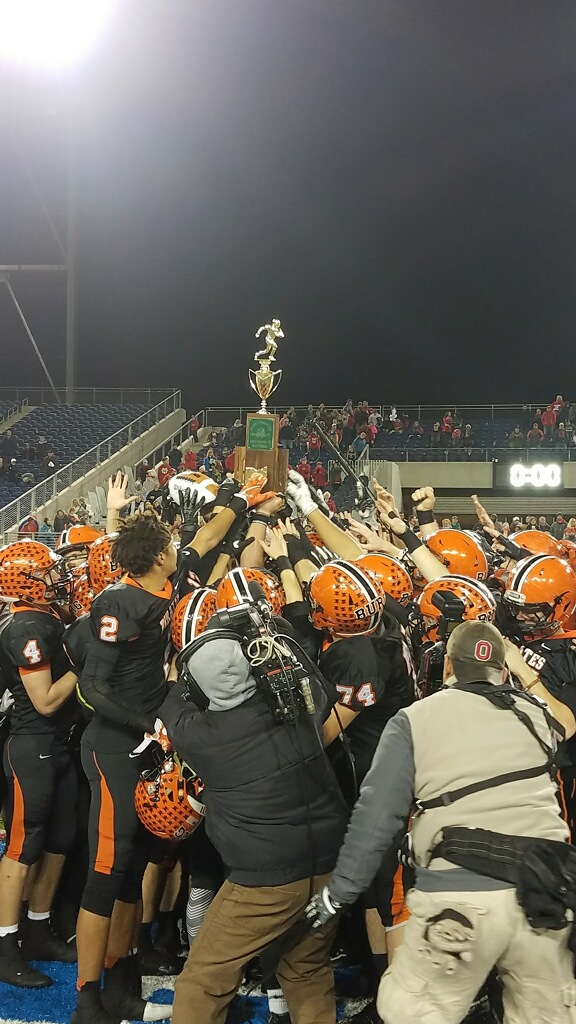 By Corey Perez
CANTON, OHIO – Every championship game is the same. One team walks off the field with a smile, while their opponent walks off with their head down.
The raw emotion felt inside a stadium as the clock ticks down to zero is something that is hard to describe.
One community walks away with a perfect 15-0 record while the other drives home going over every single play wishing this or that had gone differently. Unfortunately plays can't be taken back, even in a game so closely contested as the Division V championship was.
Sometimes a game allows for both teams to walk off the field with their heads held high. The Division V championship game was one of those games.
Much of the game was dominated by the defensive side of the ball, so it wasn't surprising that a big defensive play is what ultimately won the Wheelersburg Pirates a Division V state title in a 21-14 overtime win.
The Eastwood Eagles played one whale of a game, senior quarterback Jake Pickerel spoke on just memorable this game was "We'll never forget this. Hopefully no one in school history forgets this season. Twenty years from now these seniors will get together and talk about this, regardless of the outcome."
While most of the game was controlled by defenses, it was big plays made by the Pirates offense that ultimately won the game for Wheelersburg.
Eastwood running back Jayden Rayford ( 30 rushes 141 yards) crossed the goal line with 1:27 remaining in the fourth, as the Eagles took the 14-7 lead.
In a game where there were two quarters of scoreless football, most figured the game was over. Everyone except the Pirates due to Coach Rob Woodward, "You practice those kind of situations all year, you never know when you're going to face them. And here we were in week 15 facing a multitude of situations, that our guys had answer for."
Although this Pirates team was lead by its 18 seniors, it was a couple of underclassmen who lead them on the final drive. Junior Trent Salyers lead the two-minute drill to perfection connecting with senior Cole Lowery down the Eagles sideline for 31 yards setting up the next two plays.
First a pass to 6'6 Tanner Holden for 13 yards before sophomore Makya Matthews rumbled through defenders for the game tying score with 17 seconds left.
Even though the Eastwood Eagles had just saw the momentum shift back and forth numerous times in the last minutes, they were able to put themselves in a good position in overtime.
After a nice 6-yard run on first down, the Eagles defense did what they had been doing all game and forced the Pirates into a tough situation. Fourth and 1 on the 11 yard line, and the Pirates call timeout.
Coach Woodward has always been preparing for what happened next, "You've gotta have a toolbox that you can go to in situations, cause you never know what you're gonna be facing."
Wheelersburg pulled a play out of the toolbox that ex-Florida quarterback Tim Tebow made famous, senior TE Xander Carmichael throw a jump pass to Tanner Holden, and Jalen Miller knocked on the extra point. 21-14 Pirates.
As the entire city of Wheelersburg was celebrating Eastwood was gearing up for their counter punch. On their first play they delivered quite the punch as Jaden Rayford did what he had been doing all game, and put his head down and muscled his was way for 9 yards.
Rayford would get the next carry as well, except this one wouldn't end so happily for Eagles fans. Avery Donini lowered his shoulder and delivered the crushing blow directly on the football, forcing Rayford to fumble the ball.
Lowery once again come up clutch as he not only scooped up the ball but he also grabbed Wheelersburg their 2nd state title in school history.
All week long people have been walking up to Coach Woodward and telling him that his Pirates deserved to win this week, "There's a lot of things deserved but we have to go out and take it." Take it they did, as the community of Wheelersburg will drive four hours back to Scioto county with big smiles on their faces.