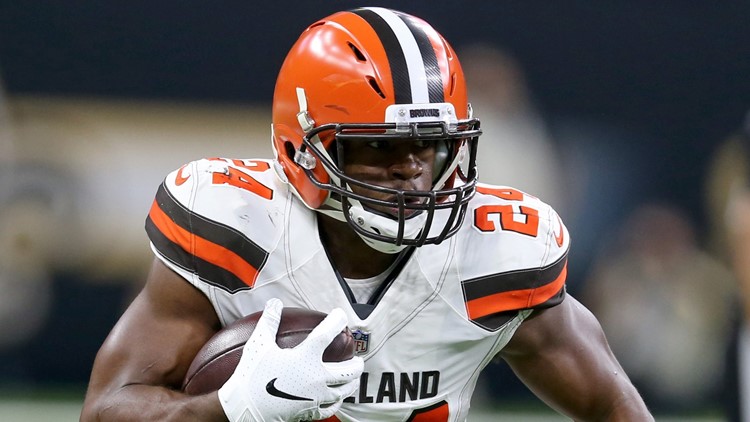 Nick Chubb and the Cleveland Browns are heading into what many are expecting to be a big season in 2021. After making the playoffs and knocking off the AFC North division rival Pittsburgh Steelers in the Wild Card round, the Browns are hoping to take the next step. They want to be not only a playoff contender, but a Super Bowl contender. Looking at the current roster for the Browns, they improved in the offseason. Offensively, the team has to be happy with what they have put together. Baker Mayfield needs to be more consistent, but they have a star-studded group.
One of the biggest strengths for the Browns has been the success of their running game. Chubb has become one of the best running backs in the league and Kareem Hunt backing him up gives them a lethal one-two punch. During the 2020 season with the Browns, Chubb ended up carrying the football 190 times for 1,067 yards and 12 touchdowns. He also caught 16 passes for 150 yards, but did not score a touchdown. Those numbers came in just 12 games, which makes them even more impressive.
ESPN has shared their projections for Nick Chubb this season and the fans in Cleveland are going to love them. They have Chubb racking up 1,234 yards and 11 touchdowns on 251 carries. He is also projected to catch 35 passes for 289 yards and a touchdown. At 25 years of age, Chubb is entering the prime of his NFL career and the future is incredibly bright. He has been a workhorse for the Browns and that is not going to change this season. The Browns are going to see their star running back come through with another strong season. You can find some other projections of his 2021 season at Betting.co.uk.
It is also important to remember that Nick Chubb has a contract year this season with the Browns, so his performances on the field will determine what sort of deal he gets. That desire to get a deal done is likely to be mutual given Chubb's production during his first three seasons with the Browns. He has amassed 3,557 rushing yards since entering the NFL as the 35th overall pick in the 2018 draft, scoring 28 touchdowns on the ground. Yet it is unlikely to be a simple negotiation. Only Derrick Henry and Ezekiel Elliott have put up more rushing yards than Chubb since 2018, meaning his representatives could push for a deal in the region of the six-year, $90 million contract—carrying an average annual value of $15 million—the latter received in 2019. That is a contract many in the Dallas Cowboys organization may already regret and reluctance on the Browns part to pay a running back $15 million a year would be understandable, particularly with a decision over Baker Mayfield's long-term future looming.
That excellent production, along with the fact the 25-year-old Chubb arguably has his prime ahead of him, gives Chubb decent leverage in negotiations, and he and his agent can point to his stellar performance in several advanced metrics that put his play into even more impressive statistical context. Chubb finished the 2020 season ranked in the top three in each of Football Outsiders' two key efficiency metrics by which it measures running backs. He was third in Defense-adjusted Yards Above Replacement (DYAR), which gauges total value, and second in Defense-adjusted Value Over Average, which looks at value per play.
An effort by the Browns to keep Chubb's average annual salary down would likely center around the play of a stellar offensive line in 2020.

NEO Sports Insiders Newsletter
Sign up to receive our NEOSI newsletter, and keep up to date with all the latest Cleveland sports news.