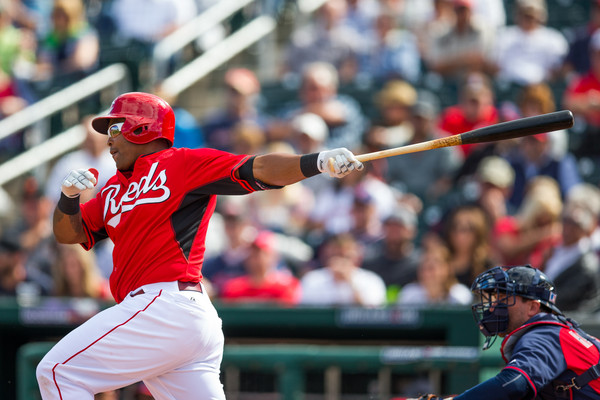 The Cleveland Indians added veteran outfielder Marlon Byrd to the Spring Training roster with a Minor League contract on Thursday.
Byrd is a right-handed hitter, who can play corner outfield positions and might see some time at Designated Hitter.
What this move shows is that Tribe Manager Terry Francona and company were not encouraged by some of the outfield candidates brought in to compete for a spot on the roster.
By "some of the candidates," that could be interpreted as pretty much everybody other than Tyler Naquin.
Naquin may have been a long shot to make the team at the start of Spring Training, but he is 14-for-32 in 12 games so far, a .452 batting average.
Naquin could become the first rookie to start for the Cleveland Indians on Opening Day in exactly 30 years. The last rookie to start on Opening Day for the Tribe was Catcher Andy Allanson in 1986.
The fact that Michael Brantley is rehabbing an injury means we can expect the Tribe to have four other outfielders on the Opening Day roster.
If Naquin keeps up his great Cactus League play, he should make the team.
The thought at the beginning of Spring Training was that Lonnie Chisenhall and off-season acquisition Rajai Davis would both make the team.
Both of them are off to pretty terrible starts this Spring, but to be fair it's only a little over two weeks of Cactus League action.
Still, it's worth pointing out that Chisenhall is 1-for-21 in eight games.
Davis is 5-for-29.
The addition of Byrd, who hit 23 home runs in 2015, improves what looked like a bleak outfield situation at the start of camp.
Byrd should be considered a front runner to earn a spot on the roster.
So how does it play out with the roster both before and after Brantley returns?
Before Brantley is back, my expectation is that Naquin will start in center field against right-handed pitching, with either Byrd or Davis in left (Davis might be best suited as a fourth outfielder) and Chisenhall in right. This is operating under the premise that the poor starts to Spring Training won't be devastating enough to keep those two from making the roster.
It's been a bad start. There's no bones about it. But Davis and Chisenhall both have some proven MLB success in recent years.
When the Tribe faces left-handed pitching, my expectation is that Byrd will start in left field, with Davis in center, and Chisenhall in right.
Another option to consider would be using Jose Ramirez in left field because he is a switch-hitter, and then slide Byrd over to right field, with Davis in center.
But what happens when Brantley is healthy?
This is where it could get interesting.
This might sound like projecting too far down the road, because who knows what can happen in a month or two, but if Naquin, Byrd, Davis, and Chisenhall are the four outfielders before Brantley is healthy, when Brantley returns, there are a few scenarios that could play out.
The most likely would be to send the young Naquin back to Columbus to develop some more.
But what if he gets off to a hot start? What if this great Cactus League production continues in the big leagues?
If that were to happen, maybe the Tribe's options become a bit more difficult. In a good way.
Between Chisenhall, Davis, and Byrd, one of them could end up the odd man out.
This is merely speculation, but if Brantley comes back by May and Naquin is still playing great, could the Tribe end up trading one of those three players with MLB experience?
There's not room to carry five outfielders. Chisenhall and Byrd have some value on the trade market. Davis wouldn't be the most likely candidate to be traded because he can play all three outfield positions well.
So the return of Brantley could be interesting in more ways than one.
There's still plenty of time for that to sort itself out, but I have to imagine this thought has at least popped up in some of the Tribe's front office already.
The addition of Byrd makes the outfield deeper, will give Chisenhall and Davis a little bit of an extra fire to want to produce, and could make or break who gets the bulk of playing time come late-April or May.
By the way, this does not even factor in what would happen in the event Abraham Almonte returns from suspension after 80 games, assuming the Tribe still wants him to play a big role in Cleveland.
What looked like a relatively easy to figure out group of outfielders has become a bit more complicated.

NEO Sports Insiders Newsletter
Sign up to receive our NEOSI newsletter, and keep up to date with all the latest Cleveland sports news.