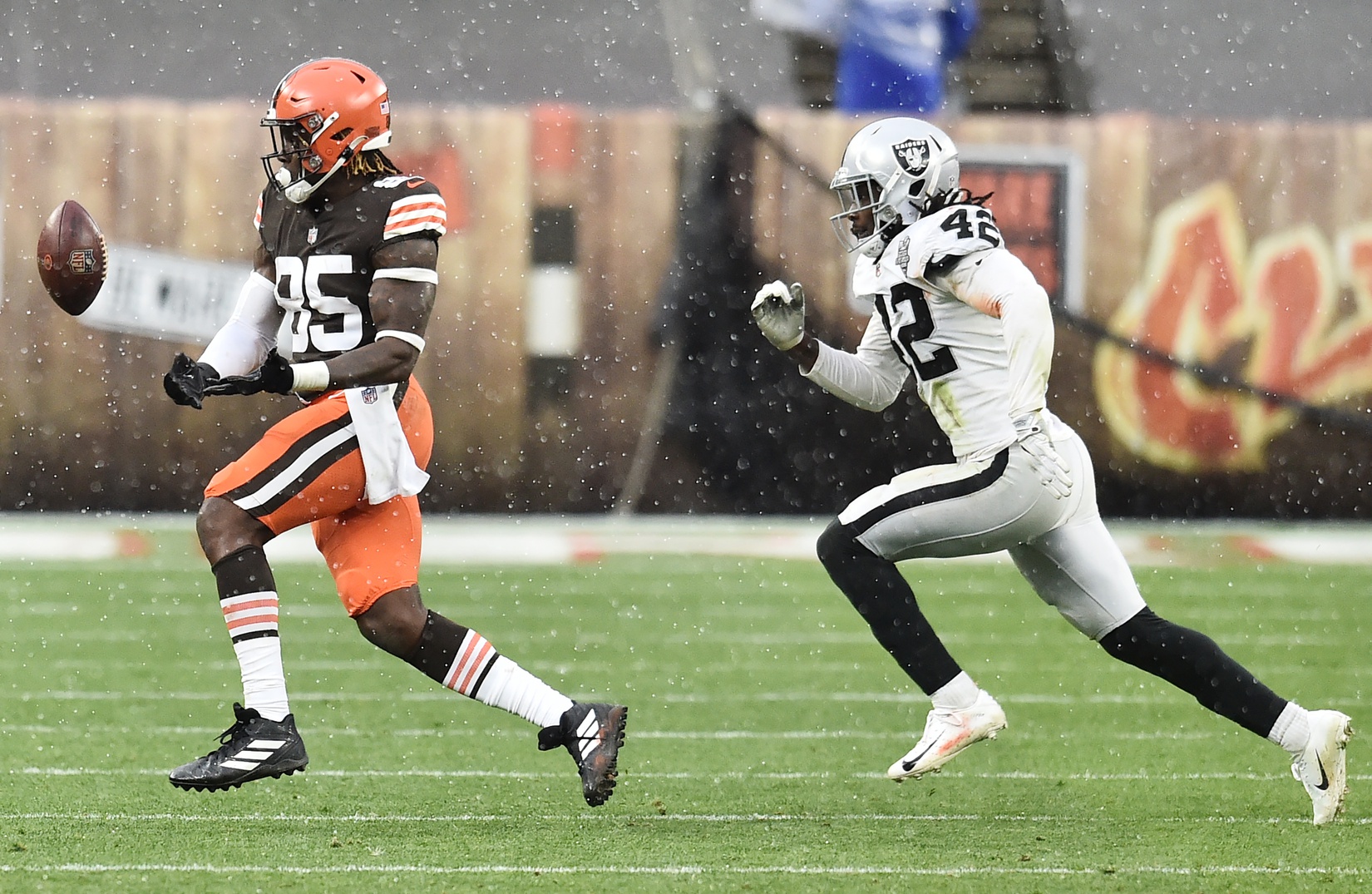 By Brendan Ward
The Las Vegas Raiders came to town for an early Sunday mid season showdown with the Cleveland Browns. Unfortunately, the weather played a huge factor in slowing down the Browns offense as they eventually fell 16-6.
The Raiders opened the game on offense, as quarterback Derek Carr led the offense right down the field, fortunately for the Browns defense they were able to force a field goal attempt that would go on to be missed by Raiders place kicker Daniel Carlson.
The Offense for the Browns started off hot thanks to two runs of 10 and 11 respectively from Kareem Hunt combined with two penalties that set the Browns up in Raiders' territory. However, a fumble from rookie tight end Harrison Bryant on a second down catch ended the drive suddenly.
Despite the quick change in possession, the Browns defense held on to force a three and out after Olivier Vernon got a sack on third down to force the punt.
After taking over deep in their own territory, Mayfield and Hunt led the offense on a long 14 play drive into the second quarter. However, after two straight incompletions, Cody Parkey came on to take on blistering winds for a low 41 yard field goal to give the Browns a 3-0 lead.
The Raiders responded to the long drive, going on there own impressive 16 play drive before Carlson tied the game up at three.
After the Raiders score, the Browns offense failed to produce, going three and out to give the Raiders offense another shot late in the half.
Carr and Josh Jacobs led the Raiders down the field on a four minute drive to end the half to set up another Carlson field goal to end the half.
The Browns opened the second half with the ball, putting together a long six minute, 11 play drive led by Mayfield. Mayfield would find Jarvis Landry in the end zone on third down from the 20 to take the lead, however the call was reversed, forcing the Browns to settle for the tie.
Despite the momentum seemingly being on the Browns side, the Raiders responded with another long drive before Carr found Hunter Renfrow in the end zone to take a 13-6 lead into the fourth quarter.
The fourth quarter failed to bring much fortune to the Browns offensively as they failed to produce points, while on the other hand the Raiders added in another Carlson field goal, as the Browns fall to the Raiders 16-6.

NEO Sports Insiders Newsletter
Sign up to receive our NEOSI newsletter, and keep up to date with all the latest Cleveland sports news.