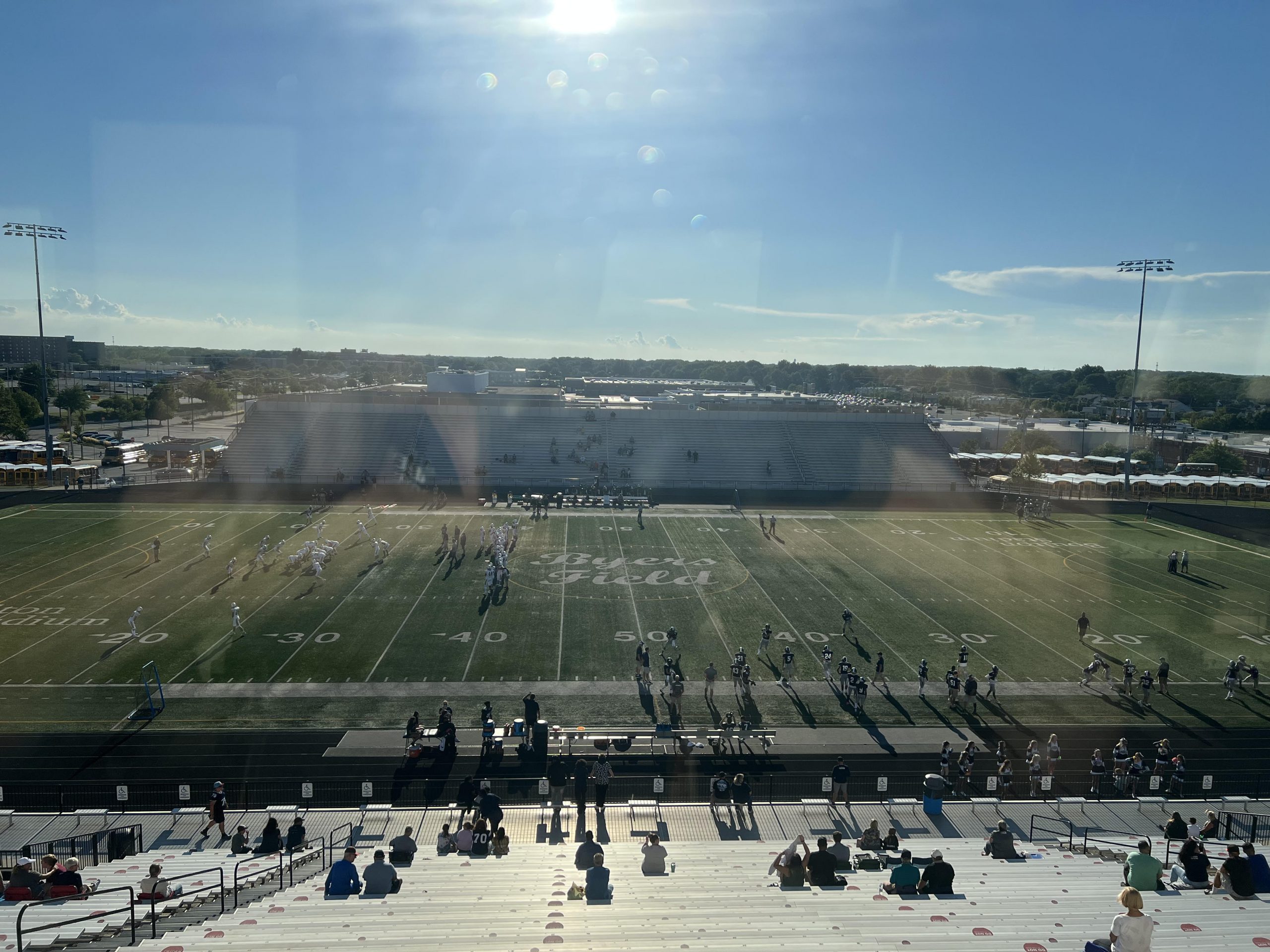 The Valley Forge Patriots used a dominating rushing attack to cruise to a 44-15 victory over the Amherst Steele Comets in a non-conference battle on opening night at Byers Field on Thursday.
Nearly every Patriot possession featured an explosive run, which Valley Forge offensive coordinator Matt Lahetta credits to his veteran offensive line, led by senior tackle Frankie Boscarello and senior guard Da'Mill Glaze.
"They really set the tone," Laheta said. "Our goal for them is to get hat-on-hat, get us 3 yards, and let our running backs do their thing. They did an awesome job today."
While the game was out of reach by early in the 3rd, things started slowly, with three stalled drives before senior running back Shane Warden broke a 66-yard run down the left sideline to put the Patriots deep in Amherst territory. On the next play, junior halfback Ben Farson rushed for a 21-yard touchdown.
Farson was also a fierce threat in the return game, with a huge 90-yard kick return to start the 2nd half.
Warden would follow up with his own 10-yard scamper late in the first, with dual-threat junior quarterback Dan Kiewel joining the running backs with his own 6-yard rushing score in the 2nd quarter after a heroic leap over two defenders, to put the Patriots up 20-0 going into halftime.
Amherst struggled offensively, not crossing midfield until halfway through the third quarter, when sophomore quarterback Cole Norris hit junior wideout Landon Fellenstein for a 5-yard touchdown pass. Amherst Steele junior running back Bishop Fryson had a strong showing with a pair of first down runs along with a 1-yard touchdown run late in the 4th quarter.
Defensively, the Patriots were led again by Boscarello at defensive end and senior outside linebacker Elijah Thomas, who were both in the Comets backfield all night long.
Valley Forge junior cornerback Elijah Williams had a huge impact, making a leaping, contested interception which stalled Amherst's final drive before half, while also carrying for a 21-yard touchdown in the 3rd quarter to put the Patriots up 30-0.
In total, 5 different Patriots found the end zone, as sophomore running back Eddie Michalski joined the party with the Patriots final touchdown in the 4th quarter.
Next week, Valley Forge will host North Ridgeville for another Thursday showdown at Byers Field. Amherst travels to Buckeye next Friday, looking for their first win of the season.
1st Quarter
Valley Forge: Ben Farson, 21 run (Dan Kiewel pass no good – 3:48)
Valley Forge: Shane Warden, 10 run (Riley Hein kick)
2nd Quarter
Valley Forge: Dan Kiewel, 6 run (Riley Hein kick)
3rd Quarter
Valley Forge: Riley Hein 24 kick (10:35)
Valley Forge: Elijah Williams 21 run (Riley Hein kick 5:13)
Amherst Steele: Landon Fallenstein 5 pass from Cole Norris (Cole Norris pass to Mason Fisher  good 1:21)
4th Quarter
Valley Forge: Eddie Michalski 3 run (Riley Hein kick 9:22)
Amherst Steele: Bishop Fryson 1 run (Nathan Stewart kick 1:44)

NEO Sports Insiders Newsletter
Sign up to receive our NEOSI newsletter, and keep up to date with all the latest Cleveland sports news.