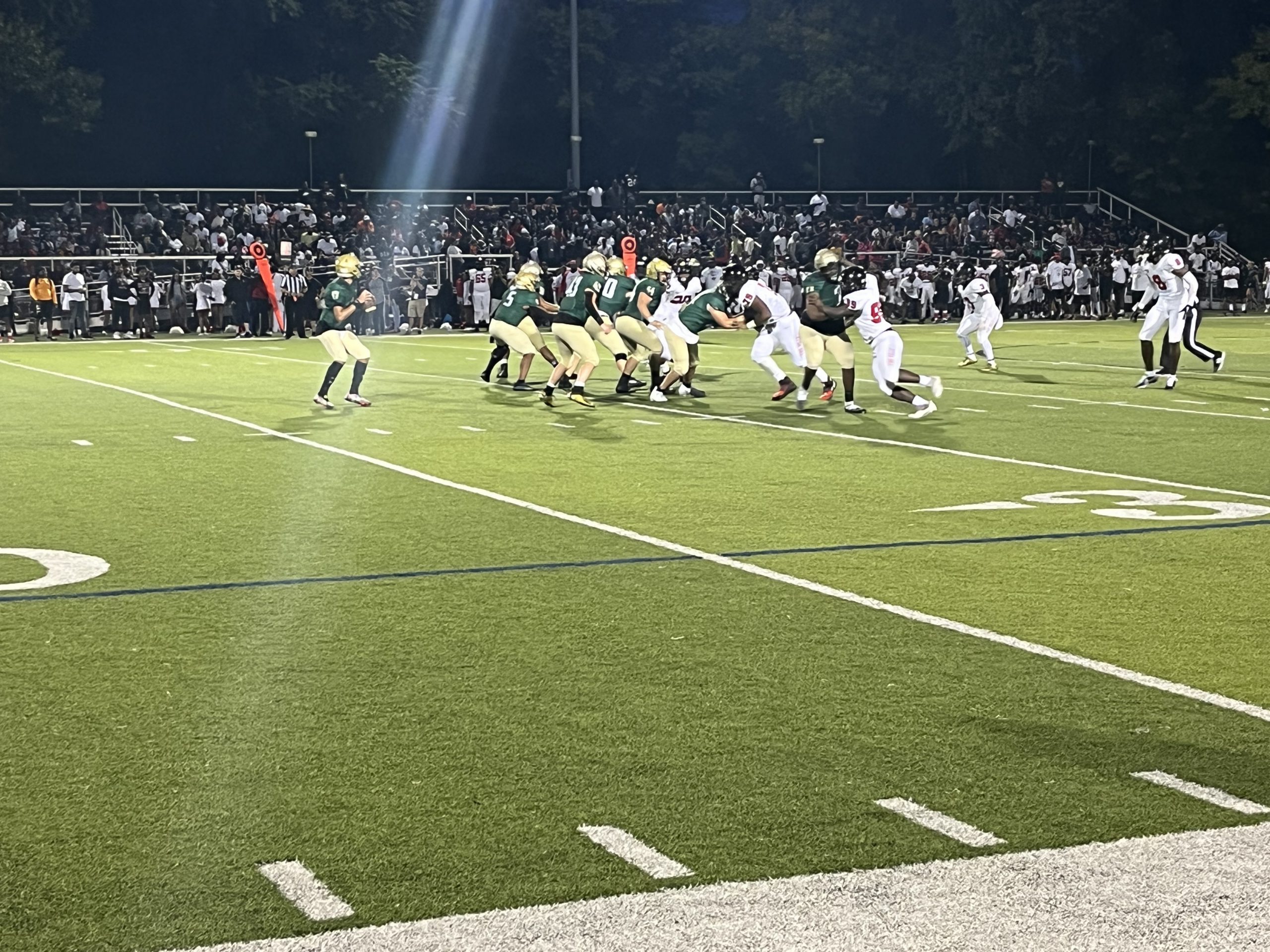 With a full house in attendance, the Tarblooders used a dominant rushing game to take down the host Irish 25-0 Thursday night at John Cistone Field. Glenville showed why they are a favorite in Division IV, holding St. Vincent St. Mary to only 83 yards of total offense.
Through one quarter of football, it looked like fans in attendance were in for a defensive struggle. But just two plays into the second, senior J'Vaughn Goodson took it 20 yards up the middle to put Glenville on top 6-0.
After a three and out from the Irish, the Tarblooders got on the board again, this time via a D'Shawntae Jones 28-yard touchdown run, making it 13-0. Jones wasn't finished in the first half yet, as the senior punched one in from a yard out to push the lead to 19-0 at the break.
Despite trailing at halftime, Irish fans had a moment of celebration for their 1972 State Championship squad. Included in the celebration was legendary Head Coach John Cistone, father of current coach Terry Cistone.
Jones' big night wasn't finished yet, as the bruiser rumbled 44 yards to put Glenville up 25-0, which held until the end. There wasn't much for St. V to celebrate in the second half, as the closest they got to the end zone was the Glenville 35, when Jermaine Agee picked off QB Gabe Mansel.
They say games are won and lost in the trenches and this one was no different. The Tarblooders dominated the line of scrimmage on both sides of the ball and the Irish just couldn't respond. Ohio State linebacker commit Arvell Reeves was a force in the middle of the defense and a headache for the St. V all night.
D'Shawnate Jones finished his dominant night with 134 yards and three touchdowns on 15 carries and J'Vaughn Goodson chipped in 36 yards and a touchdown for Glenville. Quarterback Deonte Rucker went 5-11 for 93 yards and had eight carries for 11 yards.
St. Vincent St. Mary's offense struggled but was led by running back Santonio Harper who had 14 carries for 44 yards. Irish QB Gabe Mansell went 6-20 for 24 yards and an interception.
Following their shutout victory, coach Ted Ginn Sr. had his Tarblooders line up on the goal line and run 50-yard sprints. For one of the favorites to bring home the Division IV crown, that type of grit will only benefit them going forward.
Up next for the Tarblooders (1-0) is a trip to Olentangy Liberty to take on the Patriots next Friday. The Irish (0-1) are off next week and return to action on September 2nd to host the Barberton Magics.
Scoring Summary
2nd Quarter
Glenville 11:35- J'Vaughn Goodson, 20-yard run (J'Vaughn Goodson kick blocked)
Glenville 8:14- D'Shawntae Jones, 28-yard run (J'Vaughn Goodson kick good)
Glenville 0:19- D'Shawntae Jones, 1 yard run (J'Vaughn Goodson kick blocked)
3rd Quarter
Glenville 3:19- D'Shawntae Jones, 44-yard run (J'Vaughn Goodson kick blocked)
Follow me on Twitter @devinlowe123 for more high school football coverage!

NEO Sports Insiders Newsletter
Sign up to receive our NEOSI newsletter, and keep up to date with all the latest Cleveland sports news.