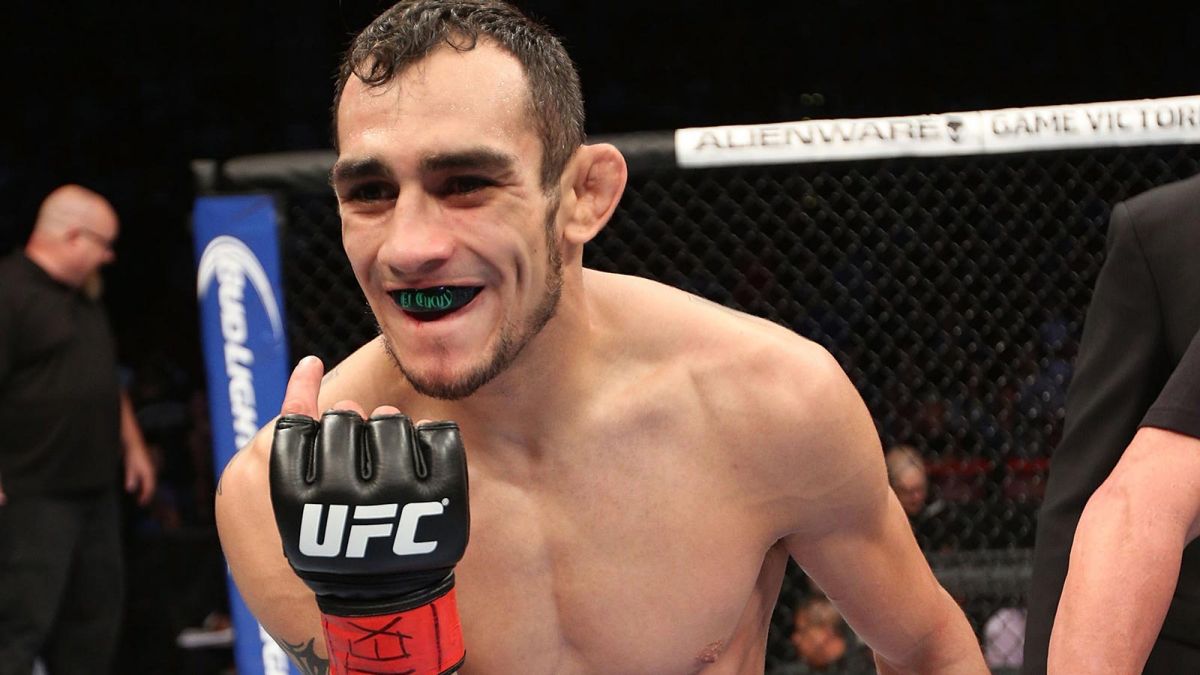 MEXICO CITY, Mexico – The UFC will have its finale to the Latin America Ultimate Fighter tonight. The show will be headlined by former UFC Lightweight Champion Rafeal dos Anjos taking on Tony Ferguson.
Apparently the food in Mexico has been too tasty for some to resist, as shockingly two fighters missed weight. At the event's weigh-ins, Charles Oliveira failed to make the featherweight limit for his fight with Ricardo Lamas, coming in nine pounds over the 146 lbs weight allowance. He was fined 30 percent of his earnings and the bout will be contested at a catchweight of 155 lbs.
Felipe Arantes also missed weight for his bout against Érik Pérez, coming in two pounds over the bantamweight weight allowance. He was fined 20 percent of his purse.
The card has several great matchups, but we decided to focus on the big three at hand. Let's break them down.
We will start with Vince McKee's Picks
Ricardo Lamas vs Charles Oliveira now at catch weight (155lbs)
After a 13-2 start to his career, Lamas has suddenly cooled, going 3-3 in his last half dozen. He hasn't fought since June, and is itching to get back in the swing of things.
One would have to question the heart of his opponent Charles Oliveira coming in so far over weight. But Oliveira is still a dangerous man. Charles is one of the best in the division and looing to get back into title contention soon. I believe he will.
PREDICTION – Charles Oliveira by second round submission.
Diego Sanchez vs Marcin Held ( lightweight)
I hate to say it as one of his biggest fans, but the sun may be setting on the career of Sanchez. He is one of the most popular fighters in UFC history. But times have been tough as of late, and he doesn't appear to have the chin and also quickness that once made him so good. He is 5-6 in his last 11 fights.
This will be the UFC debut of his opponent Marcin Held who is 22-4 and most recently competed in Bellator. His biggest win of his career came over Rich Clementi, but I feel he will add to his resume on this night as well.
PREDICTION – Upset alert, Marcin Held will pick up the biggest win of his career with a first round knockout of Sanchez.
Rafael dos Anjos vs Tony Ferguson (lightweight)
Ferguson is primed for a title run. He has been on a tear since winning The Ultimate Fighter back in the summer of 2011. He is 11-1 in the UFC and aligned for a title shot.
Rafeal is fighting for the first time since getting knocked out by Eddie Alavarez and losing his belt. I firmly believe that his woes will continue with a loss at the hands of the up and coming Ferguson.
PREDICTION – Tony Ferguson by decision.
Let's see what Eli Moon has to say about it
Ricardo Lamas vs Charles Oliveira- Oliveira is very crafty on the ground, but that won't be very useful in this fight. Oliveira weighed in nine pounds overweight, which will limit the way he can move around. I see Lamas chopping him down with his brutal leg kicks, as he will earn a unanimous decision.
Winner: Ricardo Lamas by Unanimous Decision

Diego Sanchez vs Marcin Held- Held was a very good fighter in Bellator, where he used an arsenal of having heavy hands but also being wily when it came to submissions. Sanchez has been around a long time and has fought with the best of the best. That being said, I think Held takes out "The Nightmare" and starts to live his UFC dream.
Winner: Held by Second-Round Submission

Tony Ferguson vs Rafael Dos Anjos- Two guys who are next in line for a title shot at the Lightweight Division. Dos Anjos is an interesting fighter. So precise and efficient. Something that will not be able to work against Ferguson. Ferguson is so unorthodox when he's in the octagon, which forces you to expect the unexpected at all times. I think in a Ferguson showcase, RDA gets submitted.
Winner: Tony Ferguson by Third-Round Submission