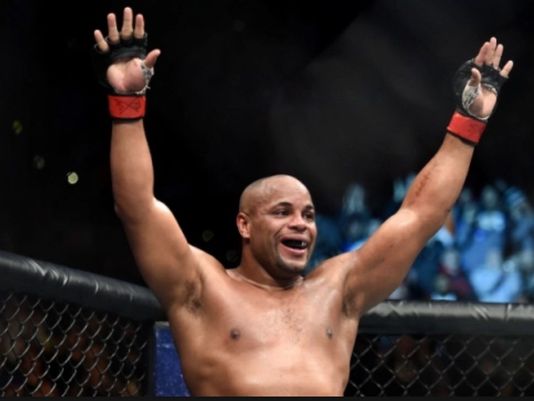 This MMA preview is brought to you by the official sponsor of all things MMA and Boxing at NEOSI, the world class Workout Factory. You can visit them in person, and get the best workout of your life. They are located at 5508 Ridge Rd, Parma, OH 44129. Call today to schedule your first visit 440-476-6470. You can visit them online here.
If there was ever any doubt about who was or is the greatest MMA Heavyweight of all time, that debate ended tonight.  It is not Brock Lesnar, it is not Randy Couture, it isn't even Stipe Miocic.  As proven just moments ago, it is Daniel Cormier.
With a devastating first round knockout win over Stipe Miocic tonight in the main event of UFC 226, Cormier remained unbeaten at Heavyweight and became a two weight class champion in the process.  Cormier now holds all of the big boy gold in the UFC.  He is the current UFC Light Heavyweight Champion, and now the UFC Heavyweight Champion as well.
His hit list of victories at both weight classes reads as a who is who of MMA greatness.  That list includes Antonio Silva, Roy Nelson, Frank Mir, Josh Barnett, Dan Henderson, Anthony Rumble Johnson twice, Anderson Silva, Volkan Oezdemir and now Stipe Miocic.  He is a champion in and out of the cage and a fantastic ambassador for the sport.
That brings us to his next opponent, the ever so cocky and currently suspended for taking steroids Brock Lesnar.  The current WWE Universal Champion is serving a suspension from the UFC because of failing multiple drug tests pre and post fight in a 2016 clash nearly two years ago with Mark Hunt.
The timing of this fight is anyone's guess as Lesnar is currently not in the USDA's testing pool, and will have to be in for at least 6 months until the suspension can be lifted.  Meanwhile, no one in either the Light Heavyweight or Heavyweight divisions can state claim to being the number one contender as no one has stepped up.
Cormier now joins Conor McGregor as the only other fighter to hold a title in multiple weight classes at the same time.  He also joins BJ Penn, Randy Couture. Conor McGregor and GSP as the only 5 fighters to ever hold titles in two different UFC weight classes in their careers.
Last year at this exact same time, Jon Bones Jones mocked Daniel Cormier for crying in the ring after their fight.  Here we are, one calendar year later, and Jones is staring a four year steroid suspension in the face while Cormier sits atop the MMA world staring a multi million dollar pay day in the face.  This is one of the rare cases in sports and life, where the good guy actually won in the end!
Tonight's big finish did not come as a shock to NEOSI, and here are three reasons why.
UFC 226: Three Reasons Why Daniel Cormier Is The Toughest Opponent Of Stipe Miocic's Career

NEO Sports Insiders Newsletter
Sign up to receive our NEOSI newsletter, and keep up to date with all the latest Cleveland sports news.