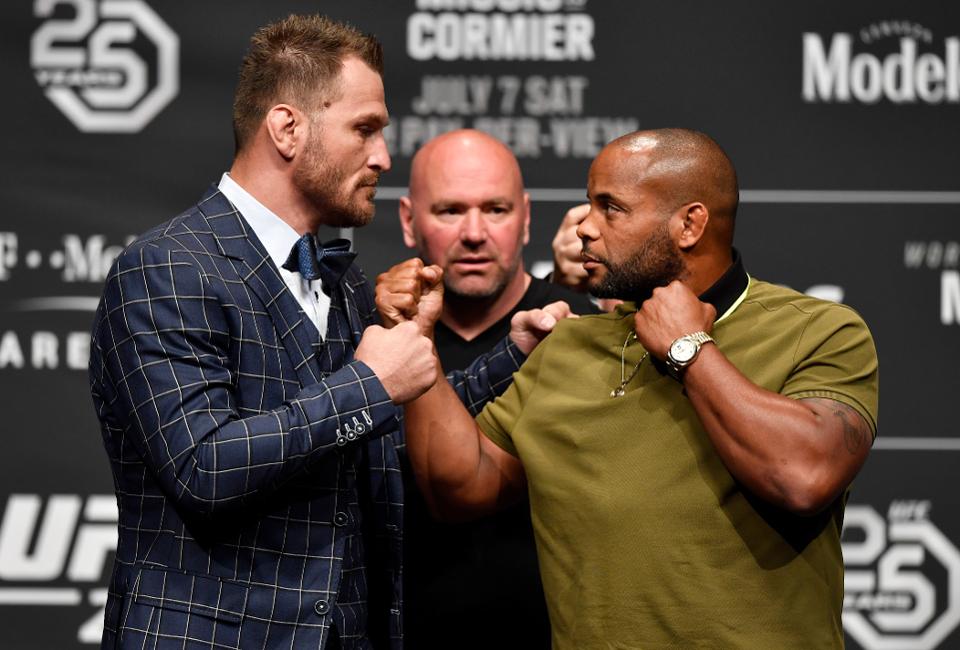 This MMA preview is brought to you by the official sponsor of all things MMA and Boxing at NEOSI, the world class Workout Factory. You can visit them in person, and get the best workout of your life. They are located at 5508 Ridge Rd, Parma, OH 44129. Call today to schedule your first visit 440-476-6470. You can visit them online here.
A lot of causal MMA fans around Northeast Ohio are making a gigantic mistake by taking Stipe Miocic's next opponent Daniel Cormier too lightly.  Even some radio hosts around town, who made it clear on their shows this week that they don't watch MMA more then twice a year.
Everyone wants to be a "MMA" fan, but the true students of the game will tell you that Stipe Miocic is in for the toughest test of his life.
Many casual fans don't realize that Daniel Cormier is undefeated as a heavyweight in MMA.  They see him as the "undersized" Light Heavyweight Champion who doesn't have a chance against the "Monster" Stipe.  Those fans couldn't be more wrong.
I say all of this as a huge Stipe Miocic fan.  For my money, he is the greatest UFC Heavyweight there has ever been.  Not only that, he is a great human being and one of the most humble athletes you will ever find.  In the same week that LeBron James once again bolts from Cleveland fans, leaving them in the dust, Stipe Miocic is fighting fires and saving his fellow citizens as an Independence Firemen. The man is impossible not to like.
With all of that being said, we have a Mega Fight to breakdown between two great ambassadors for the sport.  Two great champions and two men who have never been in trouble in or outside of the cage in their remarkable careers.  For Stipe, Cormier will be the most important night of his MMA legacy and perhaps the biggest chance he has of dropping the strap.  We all hope it doesn't happen, but here are three major reasons why it just may.

NEO Sports Insiders Newsletter
Sign up to receive our NEOSI newsletter, and keep up to date with all the latest Cleveland sports news.