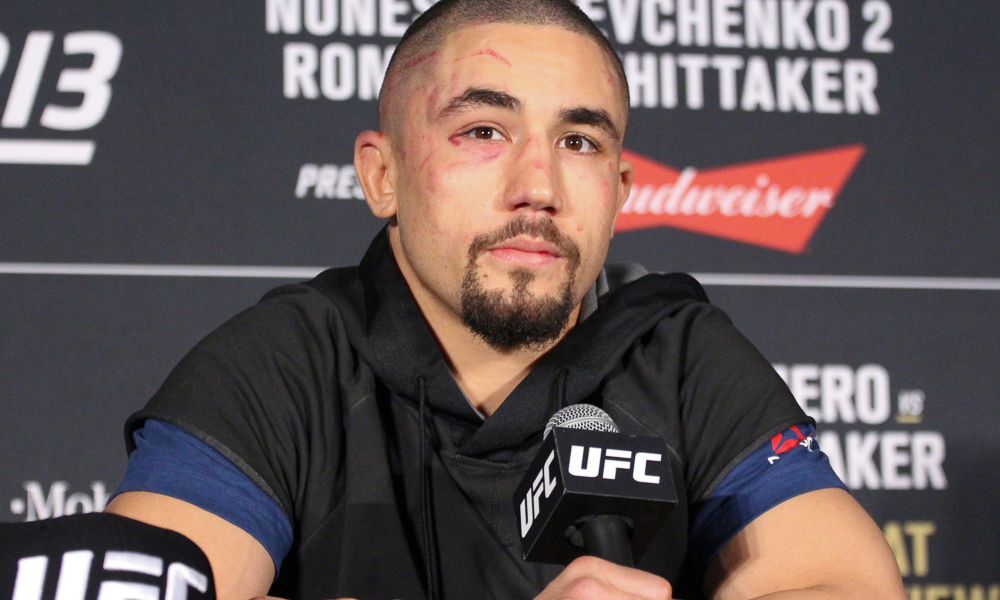 UFC Middleweight Champion Robert Whittaker was gearing up for a huge title defense against Luke Rockhold at UFC 221 in Australia on February 11th.  The injury has not been determined yet, but apparently bad enough to keep him out of the fight.
This is a major blow to an already weak card, Whittaker will be replaced by Yoel Romero.  The winner of Romero and Rockhold will then get the title shot versus Whittaker later in the year.  Whittaker had the below statement courtesy of Instagram.
"I would like to apologize to all my supporters and fans of MMA for not being able to put on the show you deserve," wrote Whittaker. "I've been ruled medically unable to compete and wont be able to defend on home soil. This card meant so much to me and I'm devastated for not being able to fight. All I can do is focus on getting healthy to come back better than ever. All the best to Yoel and Luke for their fight and ill be waiting…"
This also adds further chaos to a UFC Middleweight Division that has been in a state of flux since Michael Bisping beat Luke Rockhold for the title back at UFC 199 in June of 2016.
Let us revisit shall we?
At UFC 199, Bisping replaced an inured Chris Weidman and upset Rockhold for the title.  This was after Rockhold had taken the fight far too lightly after knocking out Bisping once before.  Luke would pay for taking "The Count" likely as Bisping knocked him out him the first round.
From there, the UFC Middleweight title went on a strange journey as Bisping barely defended it.  When he did, it was against men who weren't even in UFC title contention, but somehow got granted title shots.
Bisping defeated in controversial split decision fashion, an aged Dan Henderson at UFC 204 in October 2016.  He then didn't defend the belt again for 13 months, before losing it to GSP who hadn't fought in four plus years at UFC 217.
Meanwhile, the UFC didn't wait around for Bisping to fight during that stretch, and created an "Interim" title which was won by Robert Whittaker over Yoel Romero back in July of 2017.  Whittaker and GSP were to have a unification match until GSP announced he had a medical issue called "Colitis" that will more then likely prevent him from ever fighting again.
The man who a lot of fans and media thought desered the initial title shot was Gegard Mousasi who left the UFC in June on the cusp of a six fight winning streak.  So now, after all of that, the UFC must sit back and wait for Romero vs Rockhold to take place, hope the winner stays healthy and then book the Whittaker match from there.

NEO Sports Insiders Newsletter
Sign up to receive our NEOSI newsletter, and keep up to date with all the latest Cleveland sports news.