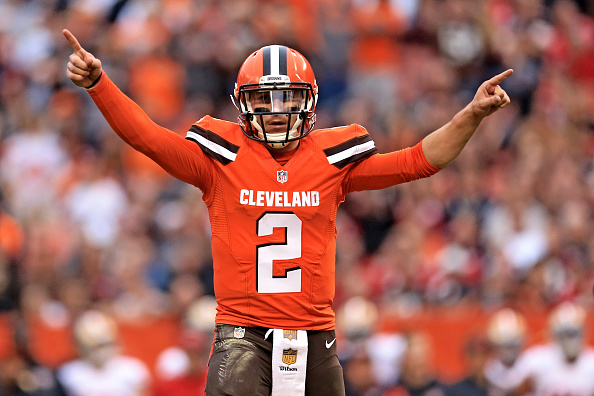 Guess what Cleveland sports fans?  We get to talk about and discuss one of the most controversial and biggest busts to ever put on a Cleveland Browns uniform.  That's right, it is Johnny Football time once again.
This time, the news is courtesy of the suddenly vocal Joe Thomas who has developed a bit of loose tongue over the last several seasons.  Despite being the leader of a team that has never appeared in the playoffs, and had one winning season in his 11-year tenure, Thomas appears loyal to Cleveland but not short to give insight on why it is such a screwed-up place to play.
He recently appeared on the Andrew Hawkins podcast "ThomaHawk"courtesy of Uniterrupted and gave his keen insight on what went wrong during the Johnny Manziel/Mike Pettine saga in Cleveland.  The comments by Thomas affirmed what many already believed.  Johnny Manziel had the talent, but no passion for commitment and dedication to improve or be a team player.
See his comments below.
"The problem with the Mike Pettine experience in Cleveland as a head coach was Johnny Manziel, He was drafted in the first round. He was the heir apparent as the quarterback, and people in the front office wanted to sell tickets and they wanted Johnny Manziel playing.

Everybody that was on the football side of things that saw him practice, that saw him prepare – or lack of prepare – saw him in the meeting room, saw that he wasn't mature enough, [knew] he wouldn't be able to handle it," Thomas said of Manziel.

"But the first moment that [Brian] Hoyer slips up, now you've got those very powerful people in the front office saying, 'You gotta play this guy, you gotta play this guy' and it went on for a couple of weeks and finally it got to the point where they won the argument and we had to play Johnny and as soon as that happened it was like everybody on the football side just gave up because they knew what the results were going to be like.

They knew that while the whole run around and throw the ball up in the air works in college, that's not something that works in the NFL. You have to have that baseline amount of preparation to be able to go out there and proficiently operate offensively to give your team a chance to win and if you don't do that it's just not gonna happen."
After Joe Thomas gave his insight to the issues with Pettine and Manziel, Andrew Hawkins also gave his take on the dreadful drama in Cleveland and in the locker room during that time.
"I don't think Johnny was ready to play.  I think Johnny would say that. If we had Johnny on the show right now I think Johnny would tell us that it was a bad look for him to be thrown into that situation. It probably helped his trajectory in the opposite direction because we were rolling. We were 7-4 in 2014, but it's decisions like that that get you fired because it's hard to get to 7-4 in this league. It's hard to get 7-4 in this division and especially with the history that we have with the Browns."
So what do you think fans?  Was Johnny Manziel the sole reason Mike Pettine failed as a head coach?

NEO Sports Insiders Newsletter
Sign up to receive our NEOSI newsletter, and keep up to date with all the latest Cleveland sports news.