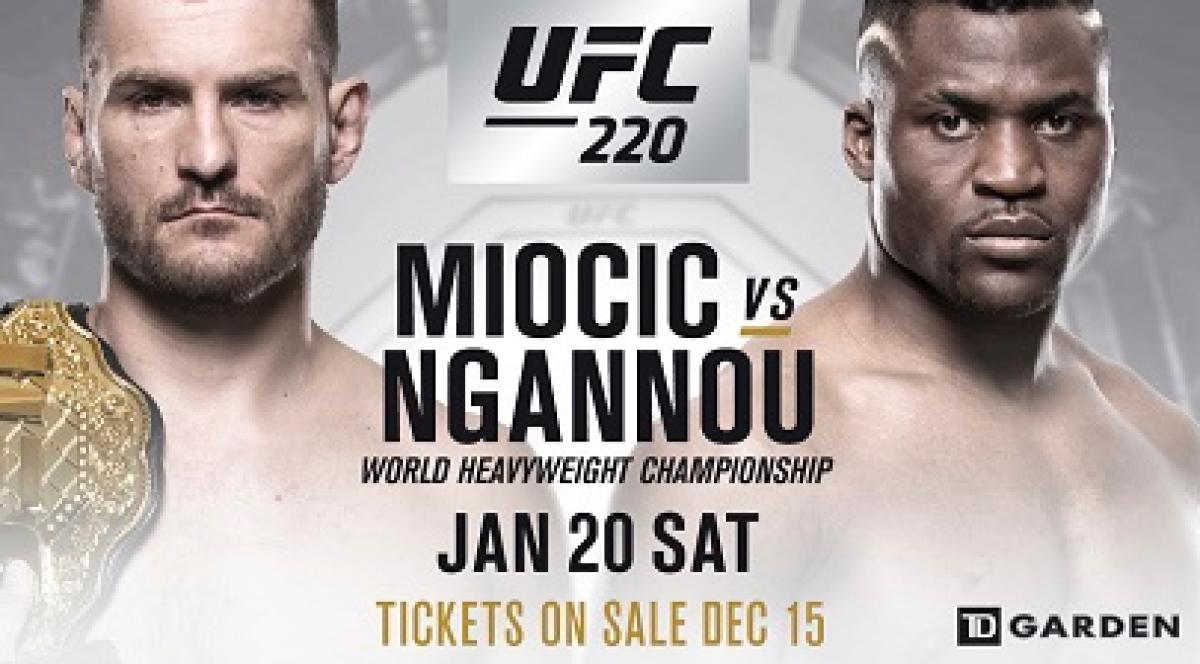 It's by far the biggest UFC heavyweight title fight of all-time and it happens tonight in Boston, Massachusetts when UFC Heavyweight Champion Stipe Miocic looks to defend his crown against Francis Ngannou. Cleveland's own Miocic has been a man that has been impossible to beat over the last three years, running through the heavyweight division with emphatic finishes over Mark Hunt, Andrei Arlovski, Fabricio Werdum, Alistair Overeem, and most recently Junior dos Santos. Miocic laid out everyone in front of his way of getting to the crown and has done a great job at proving his worth as the leader of the division. Tonight though, it appears he will face his toughest challenge in the form of Francis Ngannou.
Ngannou is a freak of nature, to be quite frank. With an 11-1 record and a fist filled with resent, the Cameroonian is a beast that is set for glory. However, that glory might be put on hold for the time being.
In the co-main event of the evening, UFC Light Heavyweight Champion Daniel Cormier looks to put new title challenger Volkan Oezdemir in his place in another title defense. After falling to Jon Jones again, Cormier has reclaimed the title and Jones was stripped due to a failed drug test. Cormier will look to wash the bad taste out of his mouth with another strong showing in his career. Considering no other man has defeated Cormier in his career, it'll be a tall task for Oezdemir.
Oezdemir does pack a punch and has shown some elusiveness and precision in his three octagon showings. In those three showings he has knocked out Ovince Saint Preux, Misha Cirkunov, and Jimi Manuwa in impressive fashion. Oezdemir has risen through the ranks in such a quick fashion that it raises some of the same questions that people have about Francis Ngannou. Can Oezdemir compete under the bright lights? Is he able to withstand a five-round war with the best of the division? We'll find out.
Below are my predictions for the UFC 220 main card.
Thomas Almeida vs. Rob Font- Almeida should be able to outwork Font in every facet of this fight. Almeida is still a very nice prospect and can start to rebuild the hype train.
Winner: Almeida via Unanimous Decision
Gian Villante vs. Fracimar Barroso- Villante is super tough and should pick up a solid victory in what is a nice little fight on the main card. Nothing crazy about this in terms of bad blood or anything of that sort. Just good old-fashioned fighting.
Winner: Villante via Split Decision
Calvin Kattar vs. Shane Burgos- If you don't know who Shane Burgos is before this clash, you certainly will after. A lot of fireworks will take place in this scrap, many by way of lightning-fast Burgos fists.
Winner: Burgos via second-round knockout
UFC Light Heavyweight Championship: (C) Daniel Cormier vs. Volkan Oezdemir- Cormier is a decorated wrestler and is going to definitely look to display that here. Oezdemir can lay the hammer on anyone and has shown that in the past. If he stands and trades with DC, he'll have a legitimate chance to upset the champ. That won't be the case though. Expect a wrestling clinic by Cormier en route to a commanding decision victory.
Winner: Cormier via Unanimous Decision
UFC Heavyweight Championship: (C) Stipe Miocic vs Francis Ngannou- No one has seen Miocic's ability to wrestle up to this point and that should change tonight. Miocic will take Ngannou to the ground and pummel a fighter that has been rushed to the main stage a little too early. Sure, the infatuation with how hard Ngannou hits is understandable. He's absolutely phenomenal to watch in the octagon. But he isn't a complete fighter and Miocic will expose that tonight.
Winner: Miocic via third-round TKO