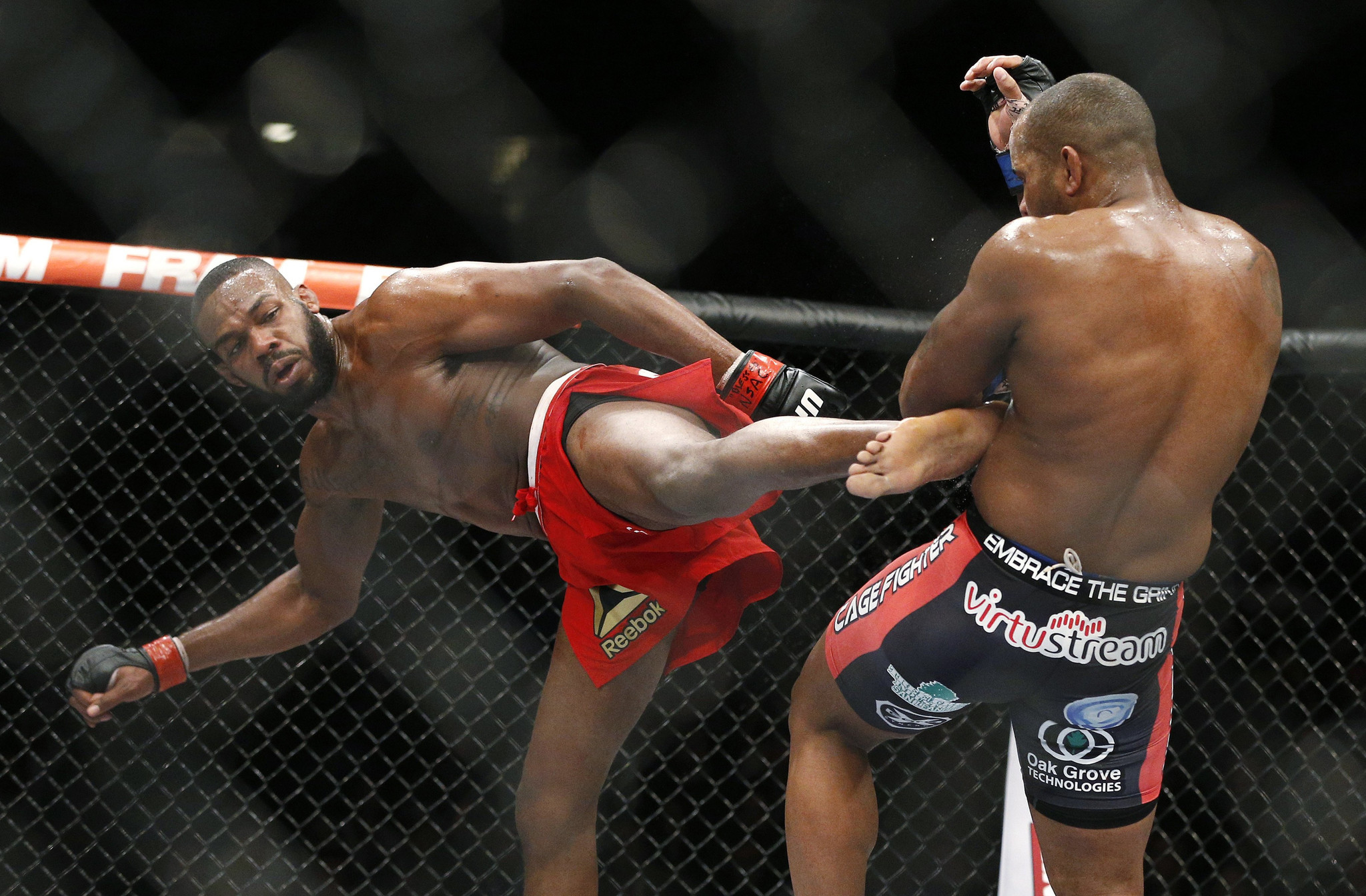 If you know the story behind Jon Bones Jones then we don't have to tell you that this weekend's fight against Daniel Cormier is clearly the biggest of his career.  No one can deny he is the greatest pound for pound fighter in the history of MMA, the problem being that he cannot beat himself and stay out of trouble.
The number's don't lie as he has beaten almost every top name the Light Heavyweight Division has ever offered with EASE!  The list includes Daniel Cormier, Ryan Bader, Shogun Rua, Rampage Jackson, Lyoto Machida, Rashad Evans, Chael Sonnen, Alexander Gustafsson and Glover Teixeria to name a few.
Despite his dominance, the fact that only Gustafsson has been close to even challenging him, he cannot seem to stay out trouble.  Between getting busted for DWI, A Hit and Run, Cocaine, and Doping to name a few of his latest issues, Jones has been his own worst enemy and toughest opponent.
If he can just get past these demons, then no one will ever be able to question his stake as the greatest of all time.  His opponent Daniel Cormier is seen as American as Apple Pie.  DC competed in the 2004 Summer Olympics and 20005, 2006 and 2007 World Wrestling Championships.
He is 19-1 in his MMA career with wins over names such as Josh Barnett, Anthony Johnson 2x, Dan Henderson, Anderson Silva, Alexander Gustafsson, Roy Nelson, Frank Mir and Antonio Silva. Just like Jones, no one has come close to touching him in those matches.
Cormier is also an excellent ambassador of the sport.  Unlike Jones, he has no trouble keeping his nose clean outside of the cage.  He is an excellent color commentator on UFC Fight Nights as well as PPV's.  Whether he is at ringside, or on the set of a post fight show, he is always on point with his comments, intellectual and non bias.  Cormier is truly a breath of fresh air!
His one loss, is to Jones at UFC 182 and haunts him to this day.  He can't escape it and is constantly reminded of it.  It is his mission to avenge the loss to Jones and retire as champ.  He had his chance last July at UFC 200 but the fight was cancelled only days before hand as Jones was busted for doping.
Both men were brought to tears when the news broke.  Cormier was heartbroken as he badly wanted to avenge his loss.  Jones was in tears as he claimed innocence, although his guilt was later proven.
It is easily the most dramatic and heated rivalry in the history of the sport between two of the greatest of all time.  This Saturday Night, (fingers crossed) we finally get the biggest rematch in MMA history, live from Anahiem, California.
Their rematch was originally expected to take place at UFC 197, but Cormier pulled out three weeks before the event due to injury and was replaced by Ovince Saint Preux, in what became an interim title bout.
The fight was scheduled again and was expected to headline UFC 200 in July of 2016. However, Jones was pulled out of the fight by USADA due to a potential Anti-Doping Policy violation stemming from an out-of-competition sample collection on June 16. Jones' "B" sample also came positive for the same substances and Jones was suspended for one year, retroactively to July 6, 2016.
The UFC booking committee took one more crack at it and the Cormier-Jones rematch was officially announced on May 12 for UFC 214 on July 29 on the Honda Center in Anahiem, California.  This time however, White wasn't taking any chances at Jones pulling out or something crazy happening hours or days before the fight.  He has a back up plan in place. He announced that Jimi Manuwa who is also on the main card would step in should anything happen to the main event, Manuwa would be the replacement.
No offense to Jimi Manuwa, but we are all praying that his match that night will take place as scheduled against Volkan Oezdemir.  That match is just one of 5 huge ones on the main card.
For predictions on all 5 main card fights click below
We look at other great rivalries over the years such as Tito Ortiz vs Chuck Lidell, or Chuck Lidell vs Randy Courture and it can be tough to list this one over them.  But I firmly believe when you step back and look at the total picture, the emotion involved, the Good Guy vs Bad Guy, this is truly the greatest rivalry in UFC History!
SO, now, I ask you, who wins, good or evil?

NEO Sports Insiders Newsletter
Sign up to receive our NEOSI newsletter, and keep up to date with all the latest Cleveland sports news.