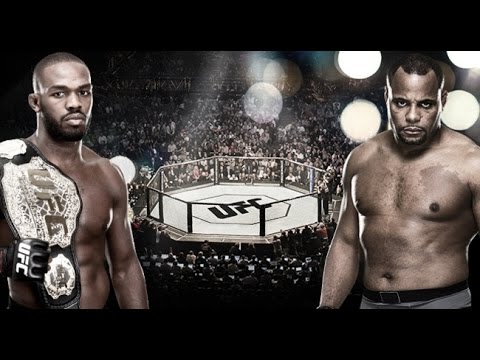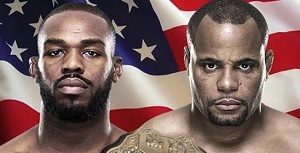 Jimi Manuwa vs Volkan Oezdemir
In a stunner that no one see's coming.  I firmly believe that Manuwa may be looking right past Oezdemir who can knock out him out cold in a matter of minutes.  With Manuwa so close to his coveted Light Heavyweight Championship shot, he cannot afford to lose his focus on Oezdemir.  Will it happen, will Manuwa get caught?  We will all find out tonight
Prediction – Jimie Manuwa avoids the upset and wins by decision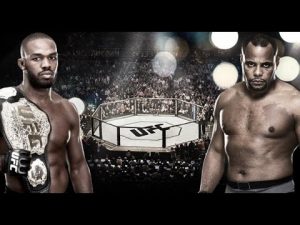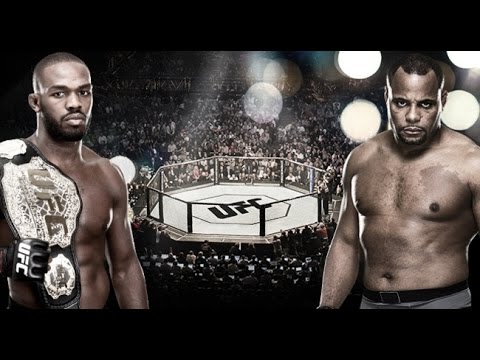 Robbie Lawler vs Donald Cerrone
This is the third time they have tried to book this fight, and it will now finally happen.  One must wonder about the rust on Lawler who has not fought since dropping the Welterweight Belt to Tyron Woodley exactly one year ago at UFC 201.
On the contrary, Cerrone is one of the most active fighters in the division, and also one of the largest. Cerrone is coming off of four fights in the last 12 months and was on a roll before losing to Jorge Masvidal.  He has won his first four Welterweight Bouts until that point.  He is 12-2 in his last 14 UFC fights at Welterweight and Lightweight.  Before his loss to Masvidal, all four of those Welterweight wins were decisive finishes.
Both guys will be tough to beat tonight. One of them, will suffer back to back losses.  Cerrone has never lost two in a row in his entire career.  For Lawler, it has been six years since he has lost two in a row, and has only lost once in UFC rebirth.  This will be his 40th career fight as he has some serious miles on the tires at the age of 35.  Cerrone who is a year younger, has 41 career fights coming into tonight.  Both men are seasoned, both men are vulnerable for a knockout.
This one is impossible to pick, both are world class athletes, both men are very dangerous, both men are coming off of a loss.  Not only a loss, but a knockout loss….  This really should have been a main event of a FOX card or a an FX1 card.
All that being said, I do need to make a pick, so here it is
Prediction – Lawler by 3rd round knockout in a slugfest.  This will get fight of the night.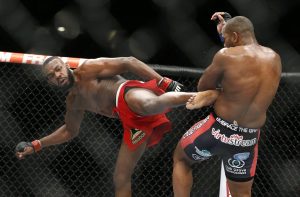 Christiane Justino (Cyborg) vs Tonya Evinger ( for the Vacant Women's Straweight Championship_ 
Evinger will have a fighting chance as she herself is one of the best in the division or else she wouldn't be in this fight to begin with.  However, Cyborg is just too tough, to strong and has a resume a mile long of impressive victories.
Prediction – Evinger will need a miracle, she won't get it. Cyborg by first round knockout.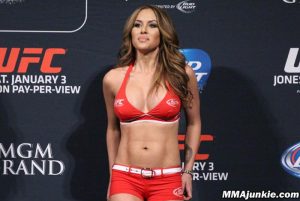 Tyron Woodley vs Demian Maia ( for the Welterweight Championship)
After back to back title defenses that Woodley  had over Thompson that he barely won each time.  The first time was technically a draw.  Woodley will be out to prove something here.
Demian Maia has compiled a laundry list of wins as of late, seven straight to be exact.  Most by decision as has been the story of most of his career.  This will be his second shot at a UFC title, as he fought for the Middleweight Title against Anderson Spider Silva at UFC 112 in a match that is considered one of the most boring and bizarre off all time.  Hopefully this one will be much different.
Prediction – Woodley by knockout in the second round.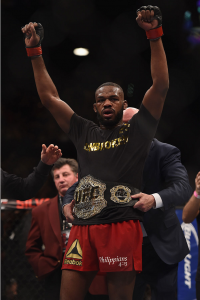 Daniel Cormier defends his UFC Light Heavyweight Championship against the man who was never actually beaten for the belt.  The one and only, Jon Bones Jones
In regards to Jon Jones, the number's don't lie as he has beaten almost everyone top name the Light Heavyweight Division has ever offered with EASE!  The list includes Daniel Cormier, Ryan Bader, Shogun Rua, Rampage Jackson, Lyoto Machida, Rashad Evans, Chael Sonnen, Alexander Gustafsson and Glover Teixeria to name a few.
DC is no slouch himself, he is 19-1 in his MMA career with wins over names such as Josh Barnett, Anthony Johnson 2x, Dan Henderson, Anderson Silva, Alexander Gustafsson, Roy Nelson, Frank Mir and Antonio Silva. Just like Jones, no one has come close to touching him in those matches.
His one loss, is to Jones at UFC 182 and haunts him to this day.  He can't escape it and is constantly reminded of it.  It is his mission to avenge the loss to Jones and retire as champ.  He had his chance last July at UFC 200 but the fight was cancelled only days before hand as Jones was busted for doping.
Their rematch was originally expected to take place at UFC 197, but Cormier pulled out three weeks before the event due to injury and was replaced by Ovince Saint Preux, in what became an interim title bout.
The fight was scheduled again and was expected to headline UFC 200 in July of 2016. However, Jones was pulled out of the fight by USADA due to a potential Anti-Doping Policy violation stemming from an out-of-competition sample collection on June 16. Jones' "B" sample also came positive for the same substances and Jones was suspended for one year, retroactively to July 6, 2016.
All that is finally over, all that is now done, it is now time, FINALLY for the rematch we have all been waiting on.  Since their last bout, Jones has only fought once and looked rusty against OSP in April of 2016.  Meanwhile, Cormier has been on a tear with the two impressive wins over Anthony Rumble Johnson along with triumphs over Anderson Spider Silva and Alexander Gustafsson.  Not only did he win those fights, but he looked dominant in all of them while Jones was on the sidelines for his timeout.
My heart says DC, my mind says Jones is just too good, despite the rust. This is the best shot DC will ever have at beating him.  Combine the rust, with everything else, DC has beaten bigger men before.  Is Jones already looking past a superfight with Brock Lesnar?  So many things to consider in this one.
Prediction –  Jones returns to the cage, and reclaims his gold in a thrilling decision win.