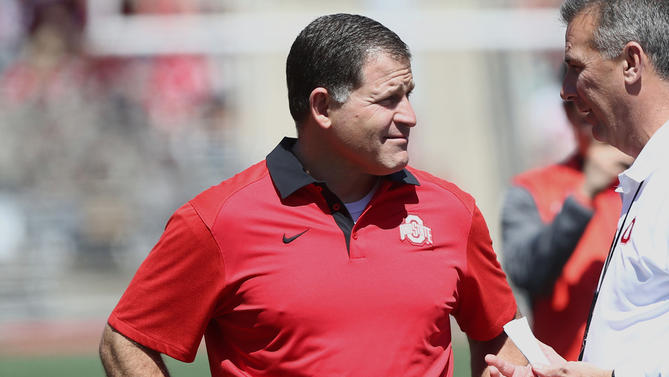 It was a wild day for the Buckeyes and Defensive Coordinator Greg Schiano, considering they had already taken care of business the day before against Michigan. Though Ohio State won "The Game", today's turn of events had more eventful drama than Saturday's action on the gridiron.
Earlier today, there were reports of Schiano taking the head coaching job at the University of Tennessee following the recent firing of the Volunteers' last coach Butch Jones. Schiano appeared set to lead the Volunteers in his third head coaching venture. Instead, outrage ensued and the plans have changed drastically. Not only is Schiano out as the next leader of the Tennessee football program, but now his name is being brought up with some very serious laundry.
Amidst the recent sanctions placed on Penn State back some years ago, Volunteer fans and media members are coming down hard on Schiano. Tennessee supporters have placed blame on Schiano and have claimed that he knew of the ongoing issue happening with Jerry Sandusky and the sexual abuse of students at the university. The accusations of Schiano are very extreme and have been the heart of the discussion taking place on Twitter. It was reported by Mike McQueary in 2016 that Schiano had knowledge of Sandusky's disgusting actions and witnessed it firsthand. Schiano denied the reports and that was the end of that.
But today, everything good and bad about the Buckeyes' defensive wizard has been put out there for the world to rip apart, good or bad. Take a look below at some of the responses following the situation.
Greg Schiano is currently concerned with the climate of the Tennessee fan base and the reaction towards reports of his contract being finalized at Tennessee. The deal may not get finalized.

— Dan Harralson (@danharralson) November 26, 2017
Don't understand the anti-Greg Schiano sentiment at Tennessee, except it might explain why Tennessee hasn't been good in a long time.

— Dan Wetzel (@DanWetzel) November 26, 2017
Congrats to Tennessee fans for torpedoing the Greg Schiano hire. Would have been a disaster. Sick of incompetent administration making idiotic hires. Many better candidates available. Zero reason to hire Schiano.

— Clay Travis (@ClayTravis) November 27, 2017
Dear Tennessee fans: GREG SCHIANO'S RUTGERS TEAM WON 11 GAMES IN 2006

YOUR TEAM LAST WON 11 GAMES IN 2001

— Yahoo Sports College Football (@YahooSportsCFB) November 26, 2017
Tennessee should be embarrassed. Schiano is a great coach and man.

— Michael Lombardi (@mlombardiNFL) November 27, 2017
#TennesseeFootball #universityoftennessestudents will get the coach they deserve after dishonoring Greg Schiano. He will not be as qualified, nor capable. May you experience many years of mediocrity for your intolerance.

— John Hougendobler (@lockhaveneagle) November 27, 2017
Penn State was the biggest sex/pedophilia scandal in history with open testimony and evidence that the coaching staff knew. While Greg Schiano may have not known, in current climate a "nuh uh" isn't good enough.

— Tony McClane ??? (@tonybalogna) November 27, 2017
"This is a prime example of a social media firestorm" – @BruceFeldmanCFB to @TheJonasKnox & @3rd_Goal (Brady Quinn) on Greg Schiano going from #Tennesse HC to being chased out of town by the Tennessee faithful

Full Aduio>> https://t.co/e7rwamVqLI #Vols pic.twitter.com/xjyFGNeVEW

— FOX Sports Radio (@FoxSportsRadio) November 27, 2017
Greg Schiano is not a players coach; ask Josh Freeman

— #WHYNOTMEMPHIS (@whynotmemphis) November 27, 2017
A most impressive all-out effort by fans to stop Greg Schiano to Tennessee. Noise has to getting to AD John Currie.

— Darren Rovell (@darrenrovell) November 26, 2017