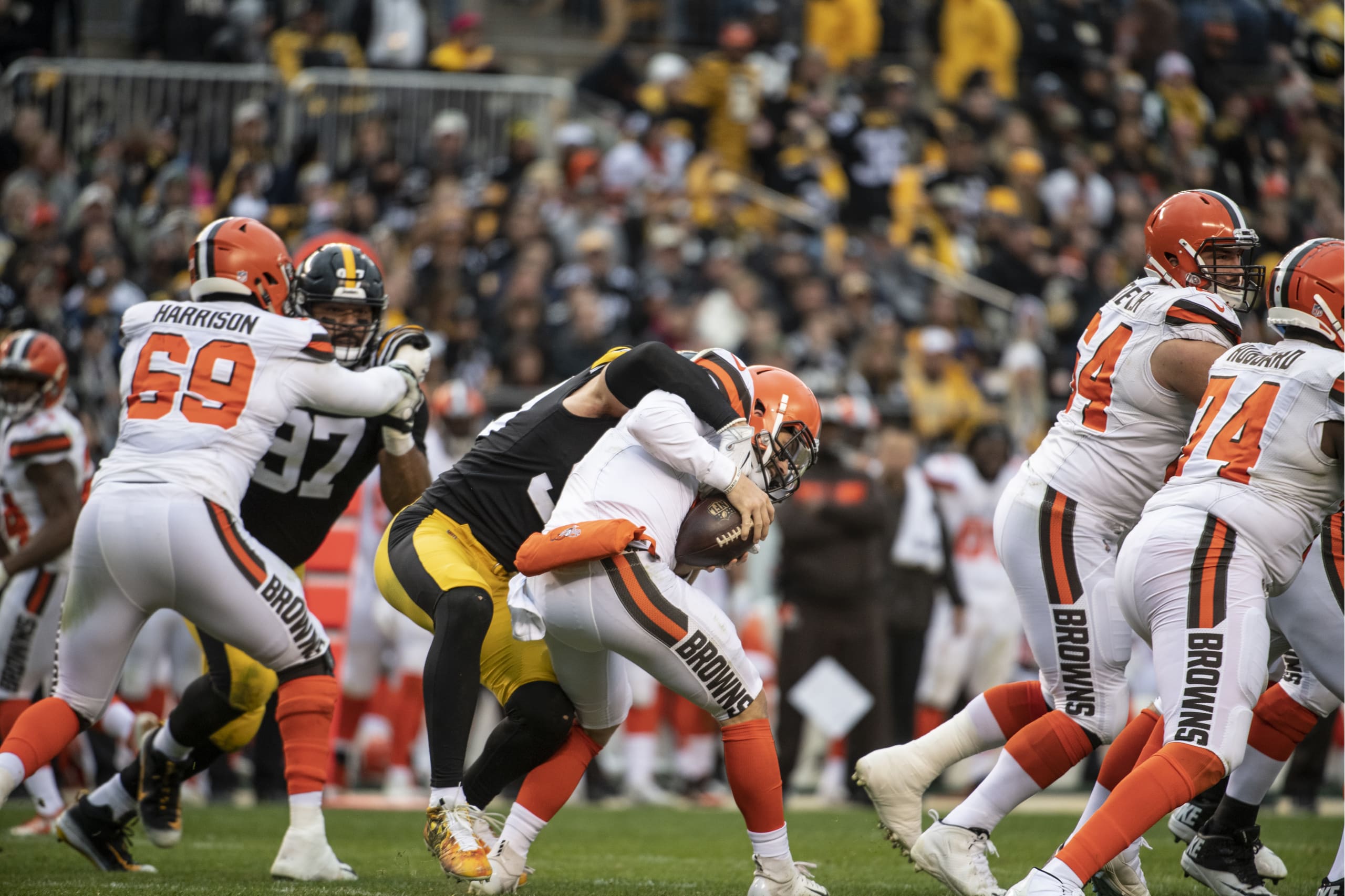 It was another long day for the Browns at Heinz Field, falling to the arch-rival Steelers badly 33-18. The team again had an early 6-0 lead, but after Greg Joseph missed a field goal, the Steelers marched right down the field and scored on a long TD pass from Ben Roethlisberger to Antonio Brown, and never looked back.
With all the reports about the future of the Browns coaching staff, fans were not shy in expressing their opinions that something drastic needs to be done after the teams' third straight loss.
Here's a sampling of twitter and what was on the fans minds after the blowout loss.
With the bye coming up in 2 weeks R Hue Jackson & the @Browns Parting coming. Just don't see development.

— Earnest Byner (@EByner) October 28, 2018
Don't waste my time refreshing my feed tonight. The team has quit on Hue, and so should you. @Browns

Make it snappy.

— Cleveland Sports Memes (@BrownsMemes) October 28, 2018
Hue Jackson is 3-36-1 overall and 0-20 on the road.

Do what's right for your paying customers, show #Browns Fans you care. @JDubsIII @Browns @alonzohighsmith

— Bearded Browns Fan (@Browns_Beard32) October 28, 2018
By Executive Order, I hereby declare the Cleveland Browns offensive line to be called the Offensive Swiss Cheese. So many EUGE HOLES. SAD!

— Browns Trump (@TrumpBrowns) October 28, 2018
It's been a couple minutes…how about now? @browns

— May⭕️r⭕️fCanton⭕️H-I⭕️ (@mayorofcanton) October 28, 2018
This is what I get when I type in "Cleveland Browns" into giphy.

I think they nailed it. pic.twitter.com/7PTcWgJKCS

— michael bode (@mgbode_WFNY) October 28, 2018
My gut is telling me the @Browns are going to fire Haley over Hue…

I hope I'm wrong…? #Browns

— CLE Sports Twist (@CleSportsTwist) October 28, 2018
Ty Lue brought a championship to Cleveland. Hue Jackson brought swimming trunks. #Browns pic.twitter.com/0Q9ILIJrum

— Dave @ BIGPLAY (@BIGPLAYdaveymac) October 28, 2018
the year is 2030. after firing 5 different OCs & 4 different GMs, Jimmy remains faithful to Hue as he coaches the Cleveland Browns to their 13th straight 2-win season.

— Brittany (Ms. Mollis if you're trashy) (@BurdsIVue) October 28, 2018
The Cleveland Browns need a thorough housecleaning immediately.

— Ron Potesta (@RonPotesta) October 28, 2018
— Jared L (@JaredL77) October 28, 2018
@Browns Today is a prime example of why the hell you are the worst franchise in sports. Your coach is a joke. How does he have a job making millions of dollars to lose games every week? Then you go into dime defense with 2 minutes thinking the Steelers were throwing. Dumb AF

— Neil Pappas (@NeilTheGreek) October 28, 2018