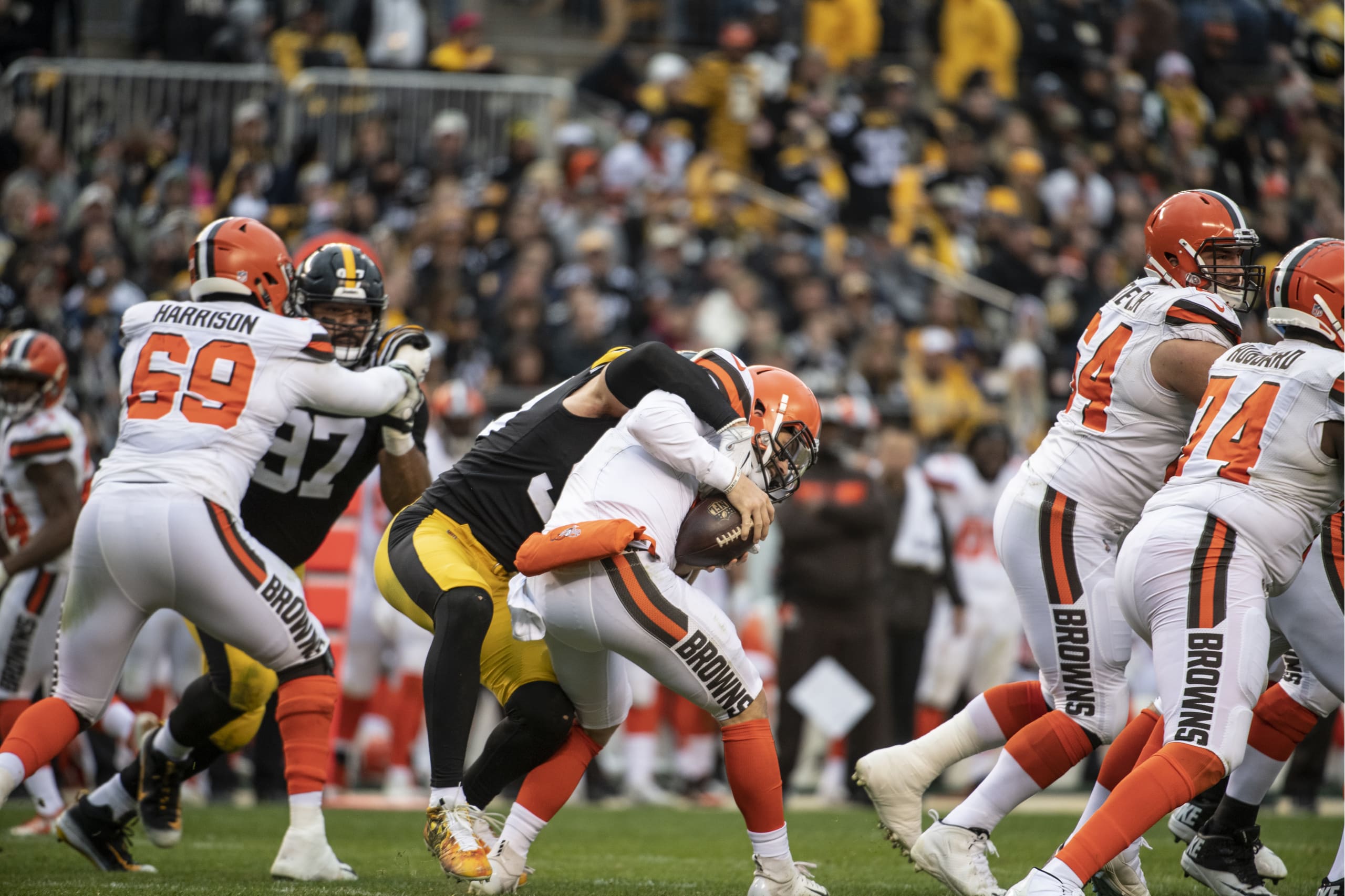 PITTSBURGH  – The Browns will have to wait until 2019 to try and win their first game against their arch-rival Pittsburgh Steelers in their place. Sunday's 33-18 loss to the Steelers ensured that the franchise would go a 14th straight year without accomplishing that feat.
Early on, the Browns were able to take advantage of a sluggish start from Pittsburgh and actually build a slim 6-0 lead. Their failure to cash in for six though kept the Steelers within striking distance and once they got their high-octane offense in gear, there was no looking back.
A 43-yard touchdown pass from Ben Roethlisberger to Antonio Brown got the Steelers on the board in the second quarter with the lead nonetheless. That duo would connect for a second score just before the break to make it 14-6. And while the Steelers fell asleep at the wheel momentarily in the second half to let Cleveland back into it – much like they did in that Week One tie – they rode James Conner for two second-half touchdowns and cruised to a comfortable 33-18 victory.
The loss not only left the Browns winless against their most hated division rival for a fourth consecutive season, but dropped their overall record to 2-5-1, opening a pandoras box of questions about the future of head coach Hue Jackson in the process.
Let's reflect on it with five takeaways…
1) Another Slow Start
After all the hoopla over Hue Jackson's postgame comments last weekend where he threatened to take over the play-calling duties from offensive coordinator Todd Haley, the Browns got off to a decent start on offense in this one. On their opneing drive of the game Cleveland move the ball 66 yards in 11 plays and got into the red zone. Baker Mayfield got off to a hot start completing six of his seven passes for 57 yards. Unfortunately, the Browns had to settle for a field goal, but a 3-0 lead on the road in Pittsburgh to open up a game is respectable.
Promising as six points in three possessions was though those drives weren't ending in touchdowns, which is the bigger issue here. For the eighth straight week, the Browns failed to score a first quarter touchdown. Their six, first-half points were just a shade above their average for first-half points of 5.7 for the season. Finishing those early drives with points was nice, especially when Pittsburgh got off to an even slower start offensively, running just nine plays in three drives.
Ultimately, the Browns needed more than field goals. And the fact that the early-game deficencies on offense persisted means changes could be coming at literally any minute. No one would be surprised if Jackson was cleaning out his office in Berea come by tomorrow.

NEO Sports Insiders Newsletter
Sign up to receive our NEOSI newsletter, and keep up to date with all the latest Cleveland sports news.