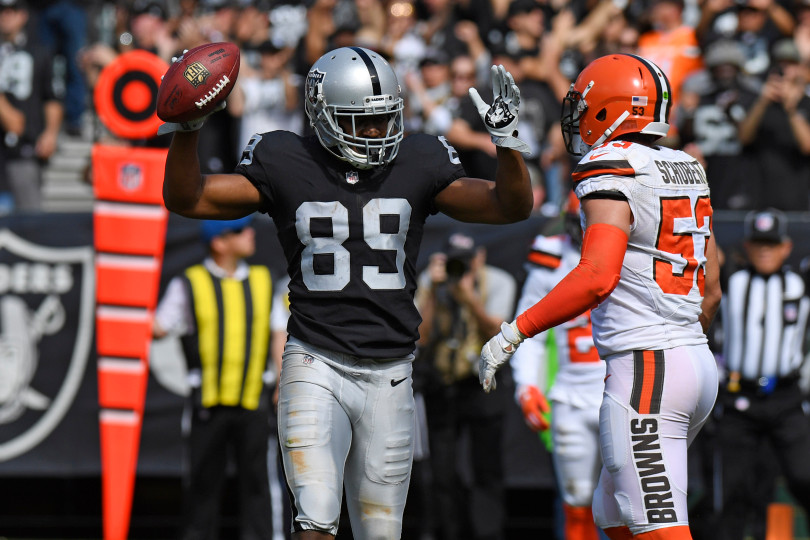 Browns Twitter is livid following the teams' latest setback, a 45-42 loss to the Oakland Raiders in Oakland, after it appeared the Browns had the game won with a late Carlos Hyde first down that was reversed by the officials.
The loss hurt in a lot of ways, but twitter was there to be the sounding board for Browns fans to express their disgust at the NFL, the refs, and how the team looked like they would be 2-1-1, instead of now 1-2-1.
Here's some tweets after the loss.
Hilarious that the broadcast said this game was officiated well

— Chopz (@Pchopz_) October 1, 2018
Congratulations @NFL. You've convinced me to take my time elsewhere. What a shit review and overturned play.

— Marcus (@Seel_Deal) October 1, 2018
What a goddamn disgrace

— CLE_OHIO (@CLE_OHIO) October 1, 2018
I have no interest in listening to the @NFL tell us how the refs blew those calls that cost us the game after the fact. #Browns

— Tracy (@trhuth15) October 1, 2018
Sickening. #browns

— Sam Bourquin (@SammyB1590) October 1, 2018
Just fucking kill me. This is a fucking joke. The refs 100% fucked the Browns tonight. Not the offense. Not the defense. The mother fucking refs.

— liz sweeney (@lsween14) October 1, 2018
No team in the NFL gets screwed over more than the Cleveland Browns…

— Lindsey (@lindzlou01) October 1, 2018
42 points and lose.

This will be fun week

— Bobby Ullman (@TheBobbyUllman) October 1, 2018
That one has to hurt for the Browns. They won the game in the 4th. It was over.

— Mike Clay (@MikeClayNFL) October 1, 2018
That spot call was a first down for the Browns and it would of ended the game….what a shame

— Michael Imbrogno (@Mimbrog2) October 1, 2018
Thanks for giving the Raiders the game @NFL. You should be ashamed of yourself. First down. Game was over.

— Buck (@FearTheElf) October 1, 2018
#Browns should be 4-0. Instead 1-2-1. Comes down to coaching and preparedness.

— Frankie's Biceps (@FrankiesBiceps) October 1, 2018
Hey @FBI you need to investigate the @NFL on multiple charges of criminal conspiracy

— Anthony Alto (@Anthony__Alto) October 1, 2018
The Browns were jobbed, plain and simple. This game was taken from them by the officials bad review. They also were robbed of a TD when Carr fumbled and they said his forward progress was stopped. SMDH

— Doug Edwards (@DougE71) October 1, 2018