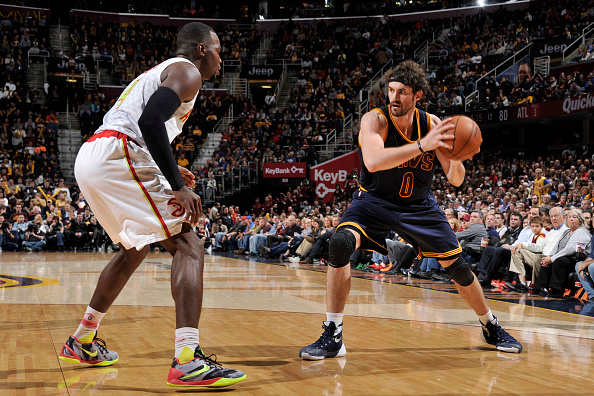 Any accolade a player can accumulate can have a certain psychological affect on that player's mindset. But those same honors can have a reserve affect too
Cavaliers forward Kevin Love was not voted to become an NBA All-Star this season. But perhaps that was a blessing in disguise; one that gave him an extra boost.
"It was by design, Kevin had it going early, so we wanted to feature him. Kevin carries us in the first half."
"Kevin definitely deserved to be an All-Star," said Cavs coach Tyronn Lue, after a game in which Love toyed with the Spurs defenders in the first quarter for 14 of his 21 points. "If he is going to punish guys like this, I'll take it."
If there is a chip on Love's shoulder for not being named among the NBA's elite, it is definitely showing. Love has scored 20 or more in each of the last three games, and has had a double-double in tow of those games.
"I think that when I got those post touches, it helps me have continuity, and feel a flow of the offense," said Love. "It helps me, and it makes the hoop bigger.
"I think we're playing at a faster pace. Over the past week or ten days, we've been pretty devastating when we play downhill."
The even better thing is that after Love cooled off in the opening quarter against the Spurs, it was LeBron's turn to take over, followed by Kyie Irving's strong second half. And that is exactly how this team wants to draw it up.
"As we had our talk with all the changes, coming in, we're not worried about shots," said Kyrie Irving."We're not worried about people being selfish with the shots we're getting. We just want to have an equal offense. If you're open, take the shot. Miss or make, we just hold each other accountable."
In the year and a half under then head coach David Blatt, it seemed that Love had struggled to find a consistent function in the offense. Being a post player who requires spacing, it took some time to be able to work his game into the right flow. But Love is heating up from just about all places on the floor.
"I think right now, he is finally getting comfortable in his role," LeBron James declared of his Big Three teammate.
"I think Coach Lue has done a great job of clearing the air with what they expect from all of us, including Kev. He is a big focal point of our team."
Love's offensive numbers have been consistent with his production of a year ago; around 16 points a game, with about 10 rebounds a night.
However, he has had seven games this season in which he did not score in double figures, which may have hurt his chances of making the All-Star team. He was eighth in voting amid all frontcourt players in the Eastern Conference this season.

NEO Sports Insiders Newsletter
Sign up to receive our NEOSI newsletter, and keep up to date with all the latest Cleveland sports news.