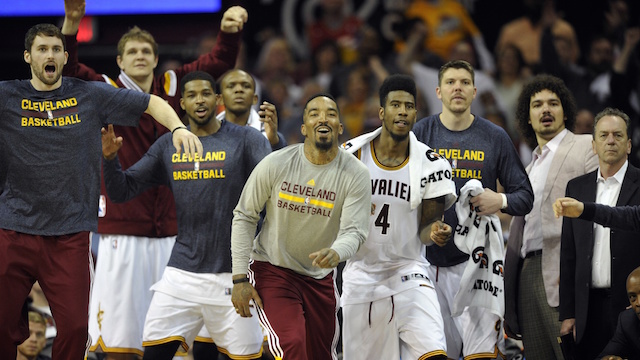 It's time to start looking back at 2015, and ahead at 2016. Will the Browns fire everyone? Will the Buckeyes beat Notre Dame at the Fiesta Bowl? Can the Cavs win a title for Cleveland?
While we don't know the answers to those questions yet, we do know what happened in 2015, and today we take a step back at the Cleveland sports landscape and remember the stories of the year and the joy and agony that they all brought us.
10. Johnny Manziel Checks into Rehab
In early February Cleveland's tantalizing quarterback Johnny Manziel's camp released a statement that he was checking into rehab for undisclosed reasons. The ex Agee reportedly spent over two months in the facility, eventually being released in mid-April.
9. Kevin Love and Kyrie Irving injuries
Another disappointing moment for Cleveland sports fans came when the Cavs lost Kevin Love and Kyrie Irving to injuries during last year's playoff run. Love dislocated his shoulder on a sketchy play against Boston's Kelly Olynyk in the first round of the playoffs. Kyrie lasted a bit longer, not being officially shutdown until the first game of the finals when he broke his knee cap. Irving was a shell of himself throughout the playoffs, however, battling numerous injuries up until that fateful overtime loss in game 1 of the finals.
8. Indians off Swisher and Bourn
Turning two negatives into somewhat of a positive, the Tribe was able to offload super-disappointing free agent siginings Nick Swisher and Michael Bourn. The pair was traded to Atlanta in exchange for 3B Chris Johnson on August 7th, ridding the Tribe of two of the worst free agent signings in recent memory. Johnson was released by the Indians a week ago.
7. Browns are still awful, in new uniforms
New uniforms, same Browns. The jerseys definitely got oranger, and brighter and..you fill in the blanks. The change was supposed to signify a new Browns era starting in 2015. Unfortunately, things look painfully similar to the last 18 years of depressing Browns play. At the moment, the Browns are 3-11, right on par with the average season since the franchise returned.
6. Free Agent WR Dwayne Bowe a Bust
Then there was the big free agent splash the Browns made- wide receiver Dwayne Bowe. On March 20 the 30 year old receiver signed a two year contract with 9 million dollars guaranteed. It was by far the Browns biggest signing of the off-season. Through 14 games, Cleveland has not gotten the return on their investment as they may have hoped. Bowe sits at 5 receptions for 53 thus far this season. The hope was that line would be a bad game for the veteran. What a Cleveland Browns move.

NEO Sports Insiders Newsletter
Sign up to receive our NEOSI newsletter, and keep up to date with all the latest Cleveland sports news.