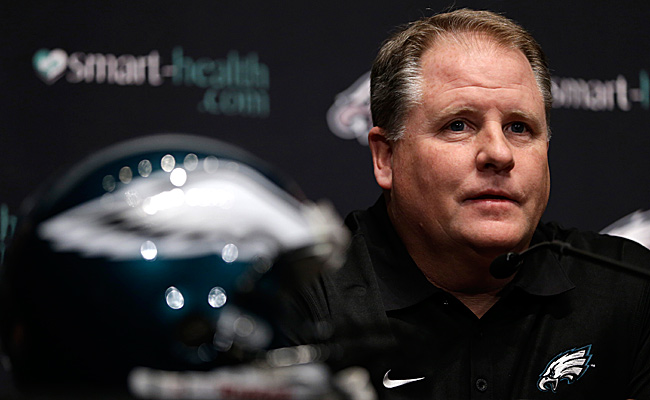 If you haven't heard the breaking news this evening, the Philadelphia Eagles fired a head coach who was on the top of the Browns list to come in an coach the team back in January 2013.
Yes, Chip Kelly has been canned as the voice of the Eagles, as with one game left in the year CEO Jeffrey Lurie pulled the plug on the Kelly experiment in Philly.
So now that you know the facts, you already know what Cleveland sports talk radio will be bantering about on Wednesday morning, five days before the Browns finale at home against the Steelers – should the team take a look this offseason at Kelly?
The now former Eagles coach clearly wanted to be the next Jimmy Johnson, making bold moves and trading players he didn't feel fit his system.
He traded RB LeSean McCoy, made a huge push to eventually sign DeMarco Murray, and made headlines when he pulled off a QB for QB deal, moving Nick Foles to the Rams for Sam Bradford.
With all that said, the Eagles were a complete mess.
Sure they had their moments this season, but by in large they were pretty bad, entering Sunday 6-9 after getting blown out at home against the NFC East Champion Redskins on Sunday.
The question will be debated a lot about Kelly – was he just unlucky in his first go-around and could he shine if given the chance to be a head coach again?
Or is it enough that he got nearly three seasons in Philly, and by in large was below average, and never lived up to the hype when he was finally talked into entering the NFL a few seasons back.
So here's the question Browns fans – if the team blows it up on Monday after the final game and fires coach Mike Pettine and GM Ray Farmer, do you bring in Kelly?
It's going to be to see what Browns fans think, and if they are ready to give Kelly a shot at turning the Browns around for 2016 and beyond.