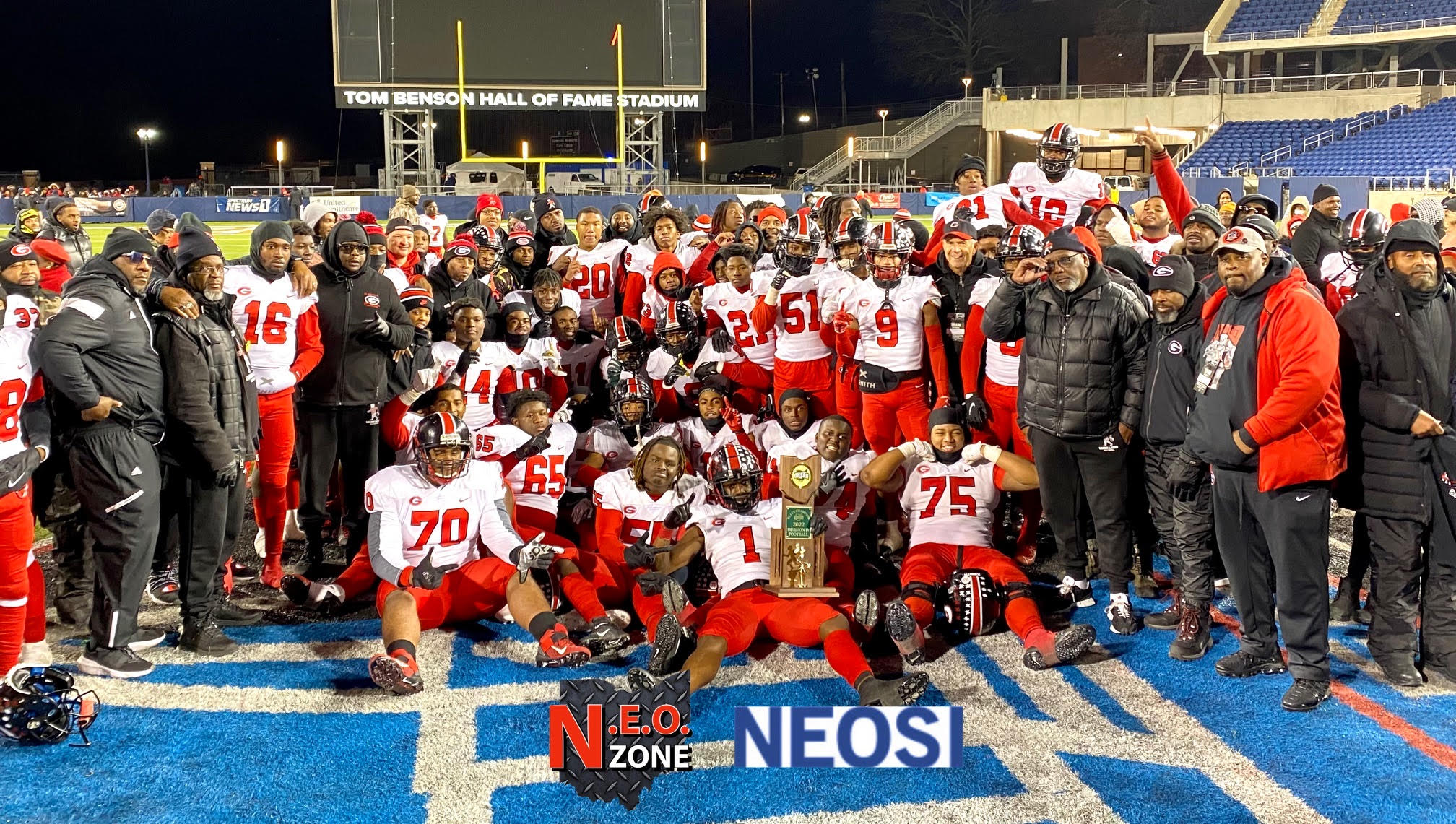 We at NEOSI combed through the top Cleveland HS sports stories for 2022 and found these to be the best in our humblest opinions this year. But we encountered an odd theme: play in the same conference then play AGAIN in the state finals. There were numerous instances of players from the same conference battling each other for a state title! How incredible is that?
If you have one we missed, please comment below! Thanks to all the coaches, parents, administrators, officials and especially the athletes for the many memories! Now, we present our list!
10. Boys volleyball officially an Ohio HS sport
🚨#OHSAA BOARD MEETING: History has been made! The board has voted unanimously to add girls wrestling and boys volleyball as the 27th and 28th OHSAA sports! Welcome to the OHSAA!

Full Release: https://t.co/628TqUQWzM pic.twitter.com/Bkg0aFiuuX

— OHSAA Sports (@OHSAASports) January 13, 2022
The boys can now officially be state volleyball champions as the Ohio HS Athletic Association voted to allow the sport to be sanctioned, thus creating a new championship. The sport was in club status for some time. In fact, the Ohio High School Boys Volleyball Association has run a "state" tournament since 1988!
9. Ben Pomeranets (Orange) defeats Andrew Zimcosky (Chagrin Falls) for D2 boys tennis title! 
🎾 #OHSAA BOYS TENNIS: Congratulations to Pepper Pike Orange junior Ben Pomeranets, the 2022 Division II Singles State Champion! pic.twitter.com/sj5cGdQeb7

— OHSAA Sports (@OHSAASports) May 28, 2022
Notes: How many times has a final been played by players from the same conference?
Ben had been there before. He had beaten Andrew in the district play in '21 but lost in the championship game to Zimcosky. But 2022 was the year Ben would beat Andrew not just in sectionals but districts too. And then when it mattered…for the state D2 title.
Zimcosky, now a freshman on CSU's tennis team, was hoping to capture his third state title, which might have been four if not for Covid.
2021 state champion
Congratulations to Andrew Zimcosky, Chagrin Falls junior on winning the #OHSAA Boys Tennis Division II Singles State Championship! 🎾 @ChagrinAD pic.twitter.com/1RInRrI6o3

— OHSAA Sports (@OHSAASports) May 29, 2021
Crazy to think that these two young men played for a title when both were in the Chagrin Valley conference.
8. Katie Clute and Sarah Peer (Olmsted Falls and Westlake) finished 1-2 in the D1 girls XC tournament this fall
Notes: Cuyahoga county can claim XC dominance with the 1•2 showing this past fall in the small community of Obetz, just outside Columbus.
Notes: Both posted under 18 min 5k's!
In 2021, Katie gave up participating in both soccer and cross country to focus on the latter. She finished 2nd that year with the sophomore Peer placing 3rd. But 2022 would see these two battle for the title!
Katie started fast and stayed in control the entire way. The Oregon commit never was threatened. But for Sarah, she was around fifth at the first mile mark. But she stayed calm, found her way past the three ahead and tried to catch Katie. 
At the end, Katie finished first and Sarah just behind her. The Bulldog from Olmsted Falls was district champ, regional champ and state champ for 2022. The fellow Great Lakes Conference foes dominated their peers in 2022. Time for Sarah to win next year!
7. Girls get their own High School wrestling tourney
In a unanimous decision, the OHSAA board voted to allow girls wrestling as an emerging sport, thus allowing for girls to compete for a state crown. Ohio was the 33rd state in the US to allow the girls to have their own championship.
The Ohio Association of Wrestling Coaches have conducted their own championship since 2020.
Notes: Way overdue!
6. Ted Ginn Sr coaching Glenville track to their 17th state championship…most in the history of the state!
We have more on Mr. Ginn later! An amazing feat for the track and field Tarblooders from Cleveland. 17th state championship is so insane to wrap your head around!
5. Copley girls complete an undefeated soccer season with a state crown!
Copley girls soccer team beats Waynesville to win Division II state championship. https://t.co/khVXDlIbUk

— Jen Filomena (@jenfilomena) November 12, 2022
22-0-1. What a record! The Copley girls defeated 2021 state champion Waynesville Spartans, 1-0, ending an undefeated year with a state championship!
Gabby Niemczura, the future Bowling Green Falcon, grabbed a pass from teammate Kate Young and scored what would be the game winner in the first half.
Coach Wally Senk told the girls before the kickoff:
 "[In] those 80 minutes you might feel pain, you might feel tired, but that 80 minutes is temporary and [the state title] will be for the rest of your life."
4. Glenville wins first state football championship
Notes: Hard to believe that Glenville needed new uniforms that the Browns were happy to help fund!
They began the season struggling to get enough gear for their players. They end the season as champions! Congratulations to Glenville High School & coach Ted Ginn Sr for becoming the first Cleveland Public School to win a state football championship! pic.twitter.com/YAW2d37gJS

— Darvio Morrow (@DTheKingpin) December 4, 2022
The Cleveland Metropolitan School District has never had a team lift a state championship trophy in football! Until Saturday, December 3rd, 2022. The Tarblooders defeated Cincinnati Wyoming, 26-6, to cap an undefeated season!
Coach Ted Ginn, Sr., who will be introduced as the winner of the Lifetime Achievement Award given by the Greater Cleveland Sports Awards, talked to reporters afterwards. 
"It's hard for me to really explain. It means we can achieve greatness, you know for our town, our city, our kids, our community."
Here's a great piece on the team by Fox 8!
3. Chardon boys win football title (2021 fall) and baseball title in Spring (2022)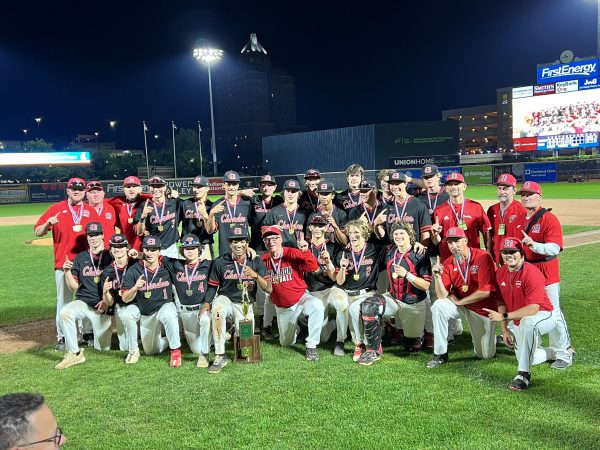 For this past year, we might need to call Chardon, Championship City, since the boys won a state baseball title, 8-5, and a state football championship in 2021. In fact, that football title was the first time a team went undefeated in D3 football in Ohio's history! 
Chardon defeated Archbishop Hoban, the 2021 state baseball champs, as two northeast Ohio schools battled again for a title. It capped an amazing sports year for the Hilltoppers. It's hard enough to win a title, but to win two in the same year is truly special! What a special accomplishment!
2. St Ignatius wins their fourth HS boys soccer title IN A ROW! 
Notes: 86-2-2 record for four years including 77 straight wins!
2022 #OHSAA Boys Soccer
Division I State Champion

🏆🏆🏆 St. Ignatius Wildcats 🏆🏆🏆

Congratulations to @SIHSSoccer on winning the State Championship! The Wildcats' Boys Soccer program continues its historic run, winning its fourth consecutive State Title (2019-22). pic.twitter.com/xGXZOY324m

— Ohio Soccer Central (@OHSoccerCentral) November 24, 2022
Total Dominance. Hard to find the words for what St Ignatius soccer has done the past four years! 77 straight wins, four straight state championships in Division 1 with so many great teams throughout the state…just incredible.
And Max Preps, the national website that covers all things high school, had them as the number 1 team in the nation!
1. Lamar Sperling wins Mr. Ohio
As a sophomore Lamar was used to spell the senior running back Victor Dawson. When his junior year started, he wasn't considered a top running back in NE Ohio. After his senior year of 3,867 yards and 58 touchdowns, he can now be called Mr. Ohio.
The Akron Archbishop Hoban senior and University of Buffalo commit won the coveted Mr. Ohio Football award after his magical season. Unfortunately the team fell in the state championship game.
Lamar's total career rushing yards was 7,348. But don't worry. He will be making many trips back to Ohio as a recruit for the University of Buffalo.
Safe to say we have not seen the end of this young man! 
Best of the rest…
Congratulations to all on this list! Hard to lift them all with so many great stories. Here are a few that just missed the top 10.
Ella Wang of Hawken wins her D2 Golf championship.
St Ed grabbed their 35th wrestling title over Perrysburg 176-165.5!
If we missed one, please comment and we'll follow up!
Follow me on Twitter @Petrorock44 for all things NEO and more!

NEO Sports Insiders Newsletter
Sign up to receive our NEOSI newsletter, and keep up to date with all the latest Cleveland sports news.