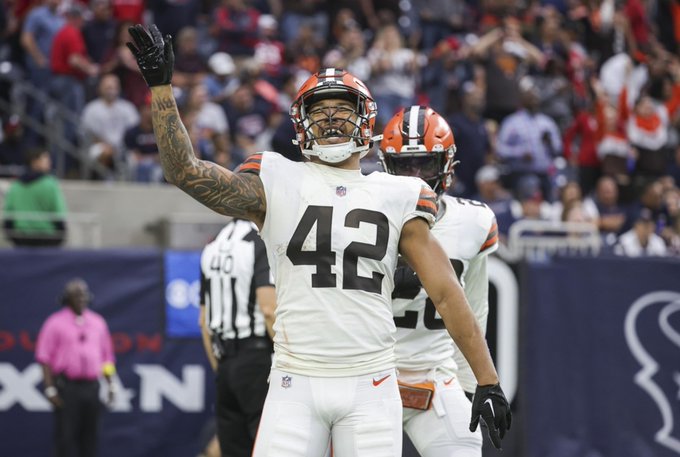 Last week's win for the Browns just might have opened the door for the 2021 5th round draft pick, Tony Fields II. His interception, fumble recovery and stripping of the ball that led to Denzel Ward's TD are impact plays that the team hasn't had in most games this season.
Standing out in Houston!
The second year man from West Virginia has finally been given a chance to show his motor during these injury filled games. But more so, his ability to make plays! How about a pick 6?
TONY FIELDS II PICK-6! #Browns pic.twitter.com/uI78zrYWHL

— Browns fan UK (@brownsfanuk) December 4, 2022
Pro Football Focus had him the highest rated defender Sunday against the Texans.
Highest graded Browns in Week 13 win vs Texans:

🥇 Joel Bitonio – 86.0
🥈 Tony Fields II – 81.6
🥉 Greg Newsome II – 81.1
4️⃣ Alex Wright – 81.0
5️⃣ Nick Chubb – 76.4
5️⃣ Pharaoh Brown – 76.4 pic.twitter.com/MYxbDVrRYL

— PFF CLE Browns (@PFF_Browns) December 5, 2022
Tony's work rate on defense has increased. He is averaging 25 snaps at linebacker for the past three weeks. Include his special teams play and he is almost always on the field! He played in 40% of the defensive snaps and over 60% of all snaps. Not bad for a guy taking up only 0.4% of the Browns salary cap space!
Like any good father, Tony's dad was hell-bent on getting his son's touchdown ball! But, it took some serious physical strength and acrobatic ability!
Tony's Dad as an acrobat!
This @Browns fan really wanted this football tossed into the crowd.
Tumbled about 3 rows…or more. (Video @mikeorta)
@wkyc @KHOU pic.twitter.com/eUPXoCBCCL

— Jason Bristol (@JBristolKHOU) December 5, 2022
Threw pops the ball, he went up and snatched it 4 levels down in the bleachers. We go hard for the family around here. Love pops @TonyFieldsSr21 https://t.co/9y4bLL6pzA

— Tony Fields II (@T_Fields1) December 5, 2022
Tony Fields and Arizona!
Tony graduated high school in Las Vegas and immediately enrolled at the University of Arizona, where he started as a "WILL" linebacker, also known as the weak side linebacker, his freshman year. ESPN and 247sports named him a Freshman All American as he led the Wildcats with 104 tackles. Sophomore year saw more success as he was second on the team in tackles. Junior year he started all 12 games and was a force on the defensive side of the football. Upon graduation, he decided to play one more year, entered the transfer portal and went east.
Graduate Transfer to West Virginia!
The pandemic brought him to the University of West Virginia where he was a dominating defensive force in the Big 12. He earned the defensive newcomer of the year and All Big 12 First team. From the moment he stepped into Morgantown, he was on NFL teams' radar due to his play at Arizona. But would his play-making transfer to the NFL?
Draft Prospects
His draft possibilities were discussed on different sites, but they all basically stated the same thing:
Too small (6' 0"), 222 pounds.

Missed too many tackles.

Lacks an aggressive nature, waits on the blocks or the ball carrier.
But his positives were immense.
Speed.

Experience at both the WILL and MIKE linebacker positions.

Explosiveness from side to side…not a burner but quick.

Instinctive.
Here's a direct quote from NFL.com:
"Piles up tackle numbers but I didn't really feel like he made enough impact at Arizona or West Virginia and I watched him at both places." — National scout for AFC team
Tony Fields II and the NFL Draft
Imagine if you can make a trade in the same draft and pick up BOTH starting backers in 2022. Andrew Berry and his trade that brought Jeremiah Owusu-Koramoah (JOK) to the Browns also brought Fields! Here's the specifics:
The Browns traded the 59th and 89th pick to Carolina for the 52nd pick and ultimately the 113th overall pick. So the Browns didn't LOSE a pick as they used the 52nd for JOK. 
On day 3 of the draft, the Browns traded that 113th pick to Detroit. The Browns grabbed the 153rd pick and a 4th rounder that the Lions threw in. That fourth rounder? Mr Fields!
Special Teams
Tony knew he'd probably have to make the team as a special teamer. 
"Special teams, to me, it's very key to the game," Fields said during the preseason. "You can win games on special teams. I feel like a player on special teams has to have a couple screws missing. To want to run down on kickoff, to want to block somebody running full speed down the field, we've got to have a couple of screws missing." (Quote courtesy of Chris Easterling, Akron Beacon Journal.)
But as injuries to Anthony Walker, Jacob Phillips and now Sione Takitaki take their toll, Tony sees a chance to increase his productivity and defensive snaps by hopefully starting alongside JOK, his draft mate!
Notable Quotable
JOK earlier this week commented on his draft pal:
"I knew when me and Tone came in that he was going to be a guy who took off at some point by just the way that he played in college," linebacker Jeremiah Owusu-Koramoah said Monday.
Tony was asked what position he'd like to play going forward. His response?
"[Whatever] they need me to play it, I'll play it."
I'm sure dad would agree! And I'm sure dad will be in the crowd…maybe a little closer to the front row in The Jungle!
Next Game
The Browns battle the Bengals at 1:00 PM in Cincinnati! There is still a chance to get into the playoffs, slim though it may be! But, slim is better than none!

NEO Sports Insiders Newsletter
Sign up to receive our NEOSI newsletter, and keep up to date with all the latest Cleveland sports news.