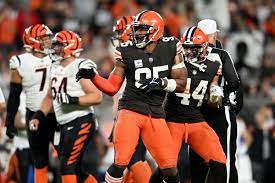 After getting clobbered by the Browns on Halloween, the Bengals threw away those losing costumes, and have run off an impressive four game win streak.
While the Browns have gone 2 – 2, the Bengals in order have beaten Carolina, Pittsburgh, Tennessee, and Kansas City. Those last two wins are against first place teams.
Scoring 126 points in those four wins, the Bengals confidence is soaring right now, especially after a tough 27 to 24 victory last Sunday versus Patrick Mahomes and his Chiefs.
Cincinnati At Home
After a stumbling loss to the Steelers at home in the season opener, the Bengals have earned four straight home wins. The crowd will be rocking it against rusty Browns QB Deshawn Watson.
You can be sure it will be very loud when Watson is calling out signals. This is the same Watson, who pulled away from his center prematurely last Sunday, causing a QB false start penalty. When was the last time you saw that in an NFL game?
Watson vs Bengals D
Equally important, Watson will be facing a Cincinnati defense that gives up 21 points per game, and a much more formidable D than he faced in Houston. This D has some momentum right now, giving up just 16 points versus the Titans, and 24 versus a powerful Chiefs offense – including pitching a 4th quarter shutout.
Lou Anarumo, the Bengals DC, is working non-stop this week after digesting Watson's game last Sunday. If Watson showed some confusion against certain defensive looks by Houston, Coach Lou will have some plans in place to make Watson feel like he is under double secret probation pressure on Sunday.
Burrow vs Browns D
Joe Burrow, more than anyone, knows he has struggled against the Browns. Burrow is currently the number two ranked QB in the NFL and is coming off an impressive win against the number one ranked QB (Mahomes).
Burrow is very intelligent, and a straight shooter. He is ready to bust out of the straight jacket the Browns have put him in. Browns fans relying on recent history beware – the mystifying magic is going to end suddenly. Burrow is just too good to be held down indefinitely by the Browns.
The Browns won't get the kind of defensive TD's handed to them by Houston last week, because Burrow has thrown for 25 TD's against only 8 INT's. The Browns might sack Burrow, but he won't hand them the game with a bunch of silly mistakes.
Browns Playoff Possibilities Will End
This is a monumental game for both teams, but especially the Browns. The Browns have "earned" a .344 overall winning percentage since their restart in 1999. Without consulting any Paul DePodesta type analytics, I can confidently assure that the Browns winning percentage is even less than that in "must win" games.
If the Bengals offensive line can keep Burrow upright, this game can get ugly for the Browns. The Bengals have a high confidence level right now, as compared to what I would respectfully call a fragile confidence level for the Browns.
Not only will Watson continue to leak oil, the Browns will be receiving a revenge type effort from Burrow. And Joe Mixon looks to be cleared from the concussion protocol. He can make defenders miss and tackling RBs has been a season-long challenge.
After watching Watson's performance last week, did you really get the feeling that he was going to fix his issues quickly, and do it this week in the toughest remaining game on the Browns schedule?

NEO Sports Insiders Newsletter
Sign up to receive our NEOSI newsletter, and keep up to date with all the latest Cleveland sports news.