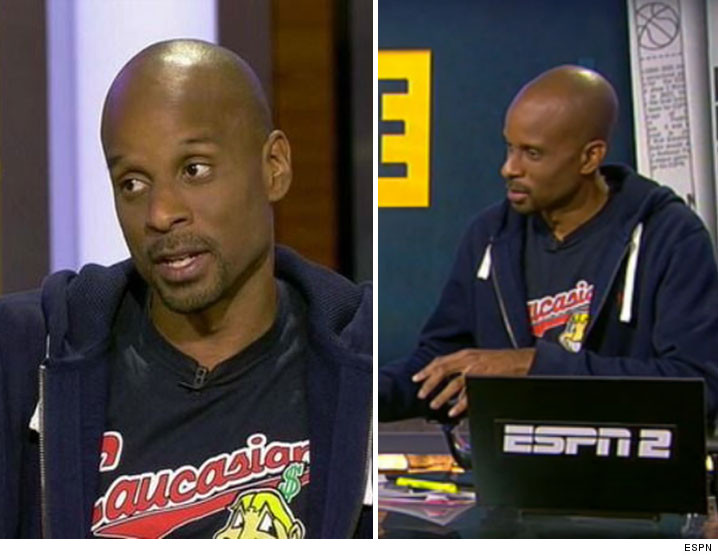 The ongoing issue of the Indians use of Chief Wahoo got more attention over the weekend when it was announced that the team was going more with the 'Block C' as their primary logo moving forward.
Some people are still not happy and want more, and one of those people is Bomani Babatunde Jones – aka Bomani Jones, who today wore a shirt as he filled in on 'Mike and Mike' on ESPN.
Jones' shirt stated 'Caucasian' with a pic of Chief Wahoo, mocking the Indians longtime logo. As TMZ reports: "the shirt also flips the script by replacing the image of Chief Wahoo with a blonde white guy with the dollar symbol poking out from the back of his head."
Via Deadspin, Jones gave an answer as to why he would wear the shirt on National TV:
The reason they won't get rid of Chief Wahoo, which is completely indefensible, is they could still sell stuff with it. They can say they're gonna de-emphasize it, but they're not just gonna set money on fire. I thought [the shirt] was the exact same thing, and I could see the value in the design, so I was like, hey, we might as well give this a run.
The TMZ report states that ESPN wasn't all that happy about the issue, and asked Jones to take the shirt off:
Sources tell us, "ESPN freaked out" and asked Jones to cover up his shirt. We're told midway through the show, BJ slightly compromised and partially zipped up the front of his hoodie … hiding part of the image.
ESPN did release a statement to Deadspin about Jones covering up the shirt. The site put up the following response from the sports network:
As the show progressed, we felt Bomani had made his point and had openly discussed why he was wearing the shirt, and we wanted to keep the focus to the topics of the day.
Do you think Jones was right to wear the shirt? Or should he have been forced to remove it right away?

NEO Sports Insiders Newsletter
Sign up to receive our NEOSI newsletter, and keep up to date with all the latest Cleveland sports news.