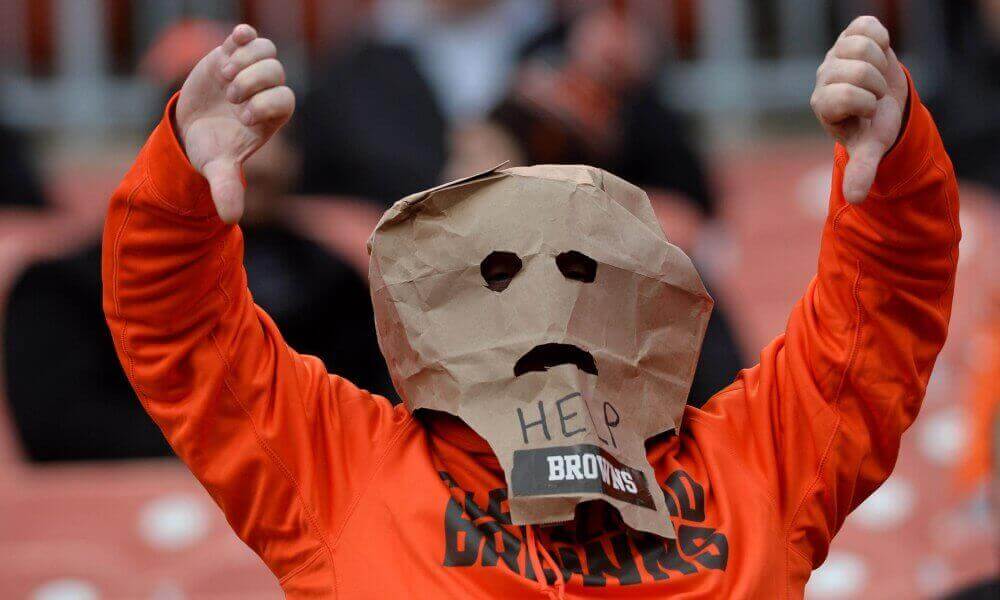 The Browns are on a bye this week, which means fantasy football players across the country will be looking for a way to pick up the bye week's defense.
Cleveland hasn't lost by less than two scores since Halloween, and the jokes about going winless are getting less funny by the week. No one would blame fans for boycotting the remaining four games in person or otherwise.
Since the situation is so dire, I have taken the liberty of coming up with a few ideas to make the on-field product more marketable.
No More Punting
I believe in this whole-heartedly. The front office may be satisfied with going winless and locking up the number one draft pick, but no coach wants an 0-16 season on his resume.
With that in mind, Hue Jackson, why in the world do the Browns still dress a punter? If it's fourth and less than ten and the Browns are at least hovering around midfield, there's no reason to trot out Britton Colquitt.
A lack of punting would give fans hope for at least one more play before their expectations of ineptitude were confirmed, and it would eliminate one of the most pointless commercial breaks in sports if Cleveland converts.
Down with punters, up with fun!
The Pregame QB Option
Duke Johnson Jr. became the seventh Cleveland Brown this season to a throw a pass yesterday, and it wasn't because Jackson has a fetish for halfback passes. The Browns' QB situation, injured or otherwise, has been pathetic since the team re-joined the league.
That is why I am proposing the pregame QB option for all Browns games. It's quite simple: before each game, Cleveland gets to workout the opposing backup quarterback for 15 minutes, and then decide whether he is a better man for the job than what they have (almost always yes).
Would any Browns fan go to bat for Josh McCown's impending death on the field, Cody Kessler's paper plane throws downfield, or RG III's return trip to IR? I suspect the fans would go nuts anytime the opposing backup QB gained a first down, and it would become ritual to wear the opposing backup's jersey at First Energy Stadium.
People's Choice
Ahh, fan interaction. This is what will bring folks to the stadium.
What if I told you that if Cam Irving held a player on the opposite side of the action on a 35 yard gain that you could vote to replace him on the Jumbotron? That's exactly the People's Choice proposal.
Joe Haden get burned for the nth time today and looking like a man undeserving of what was once the richest cornerback contract in the league? Text "Boddy-Calhoun" to 56782 and you will no longer have to deal with that burden.
Just want Terelle Pryor to play quarterback and see if he can actually throw an out route to himself? It could become reality with the People's choice.
Unfortunately, none of these ideas will be implemented. These are tough football times in Cleveland, but there are only four games left.
The end is near, and the draft breeds hope.