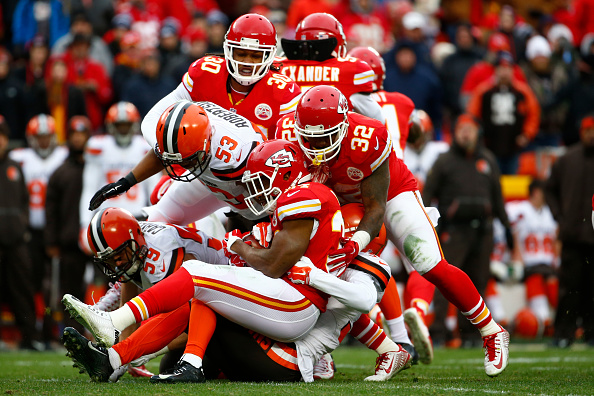 The Browns played a good second half Sunday, a competitive second half that put them within a play of beating a team that is now going to the playoffs in the Kansas City Chiefs.
After the setback the Brows sit at 3-12, with a game against their rival in the Steelers all that's left on the slate to end what's been a forgettable 2015 season. There's sure to be changes, but before we get to that, let's talk about some things from Sunday's game that the team can look back on, good and bad, in the 17-13 loss.
1. Manziel Showed off His Fancy Footwork
The Chiefs had Johnny Manziel under control in the first half, but in the second half it was a totally different story. The quarterback was a huge thorn in the side of the Chiefs D, going for 108 yards on 11 runs. The first half he seemed to be content sitting in the pocket, and it didn't look very good. Once he started to move around in the second half, the Browns offense got going, and Manziel looked a lot more comfortable. He and the team had a shot, which was surprising based on how things were going early when the Chiefs looked like they would run away with the game.
2. Bowe a Captain? Why?
It was a head-scratcher when Dwayne Bowe was named a captain by Mike Pettine for Sunday's game against the Chiefs. Sure Bowe played for the Chiefs for eight seasons when he was a productive wide out. Now for all of 2015 making $9 million he's been an afterthought for the Browns, and it was just odd for him to be a captain for the game. There's been all kinds of talk as to why Bowe hasn't seen the field more this season, and then for Pettine to suddenly allow him to go out and be a captain is just – weird. If Pettine is fired the day after the season ends and Ray Farmer stays, it will be interesting to see the future of Dwayne Bowe in 2016.
3. 21 Play Drive
It was like a microcosm of the 2015 season for the Browns, just not enough. They had a great 21-play drive that took over 12 minutes – that ended in just three points. Johnny Manziel ran for first downs, once on a fourth down, but at the end of the day they gained a total of 62 yards, and had to settle for three points. If you hold the ball for that many plays and for that long in the NFL, you had better get seven. As bad as the Browns have been, it's hard to complain about them getting any points, but at the same time if they would have been able to get seven, the team could have taken the Chiefs into overtime.