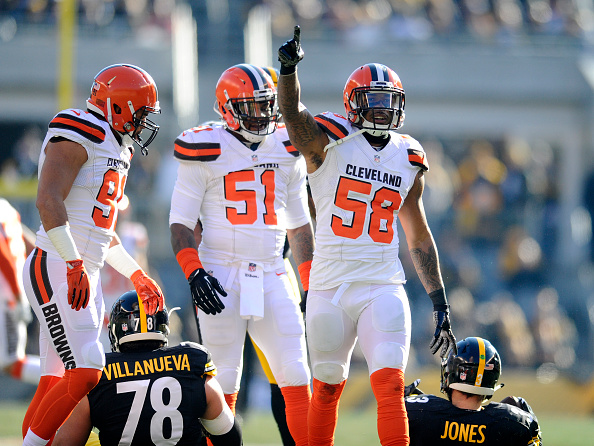 Tonight, the HBO hit series Hard Knocks aired, and this year it features none other then your beloved Cleveland Browns.  There may have been some trepidation coming into this episode as fans had no idea what to expect.  One thing was apparent early on, HBO was very kind to an 0-16 team as the entire episode had a tone of optimism to it.
How long that will last is anyone's guess fresh off the news of Antonio Callaway being busted for drug possession earlier today, but for this episode at least, I was very impressed and encouraged.  Here are just a few items that jumped out the most.
Hue Jackson is an easy guy to root for.
Hue Jackson has always been a likeable guy, but after this episode it is almost impossible not to root for him.  He seems honestly concerned about his players, as people and not just athletes.  This was evident in his texting with Josh Gordon, he was compassionate and seemed sincere in his desire for Gordon to be healthy.
Speaking of health, Jackson understood the need for certain players to have rest days and keep them healthy for the long run, despite the strong protest from assistant coach Todd Haley.  To Haley's point, it is true that the Browns have a lot of work to do before the season starts, but burning out key players into it camp could backfire.
While his dynamic with Baker Mayfield didn't seem the best, it is still leaps and bounds better then the one he had with DeShone Kizer last season.  I saw this as no fault of Jackson's as he tried to encourage Mayfield at every turn, however the young gun didn't seem totally receptive at times and will need to form his own career as Jackson urged him to do.  Tyrod Taylor seems to get it, and the reasons behind both John Dorsey and Jackson insisting that Taylor will start week one are becoming clear.
It was gut wrenching to watch the head coach breakdown in tears at the grief of losing both his brother and now mother within the last 30 days.  Jackson is human, yes he is a football coach, but at the end of the day he is a husband, a father and a son.  Again, it is almost impossible not to root for this man.

NEO Sports Insiders Newsletter
Sign up to receive our NEOSI newsletter, and keep up to date with all the latest Cleveland sports news.