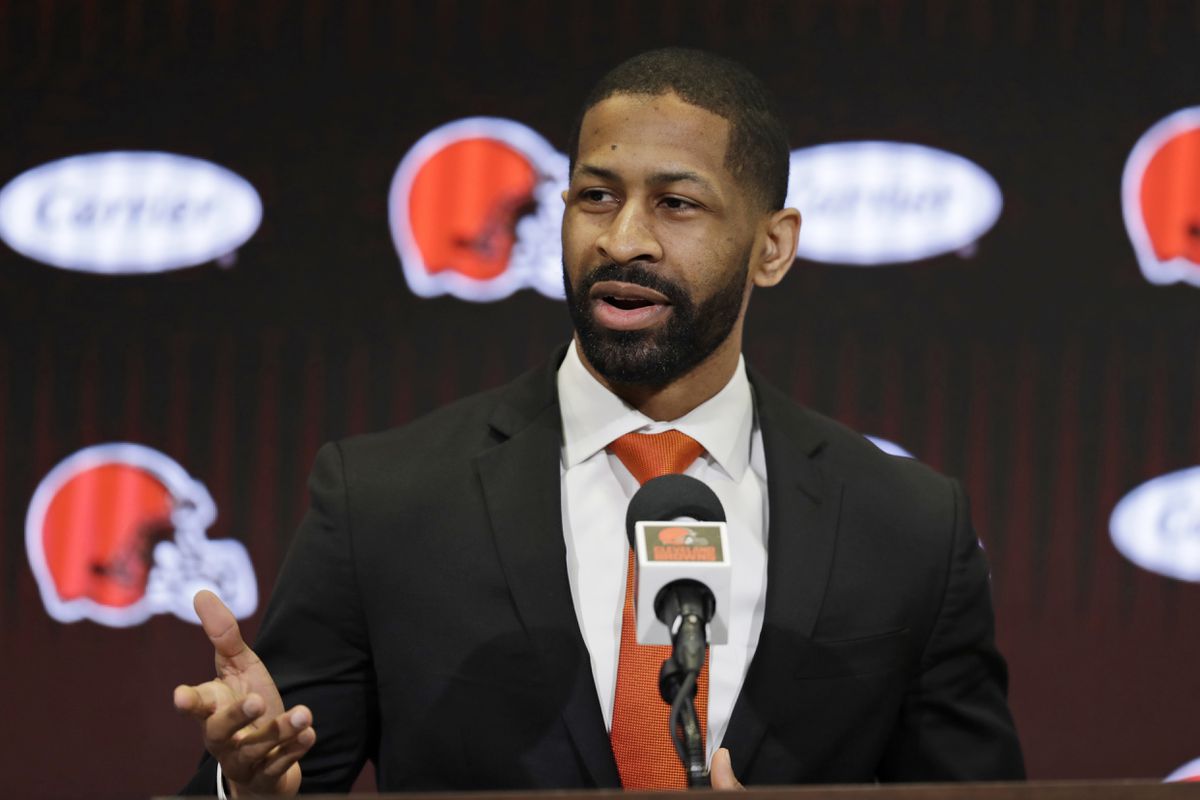 The NFL has already seen a flurry of activity and we haven't even entered the legal tampering period of free agency. The draft is still 6 weeks away. The Cleveland Browns have a talented roster, but a lot of work needs to be done in certain areas. I'm going to explore three musts and three must-nots for the Browns as we are ready to roll on the 2022 free agency period.
Three Musts
1) The Browns must upgrade the wide receiver room. They made a huge step in accomplishing this by acquiring Pro Bowler Amari Cooper from the Dallas Cowboys. The Browns gave up a 5th round pick and a 6th round pick swap. The Browns will inherit the three years and $60 million left on Cooper's contract. Although, according to Browns beat reporter Tony Grossi, Cooper's contract has no guarantees in the last two years and only a $6 million dead cap hit. It seems it would behoove both sides to work on an extension.
The Browns could jump into the wide receiver pool in free agency, use the draft, or likely both. The problem they have now is cap space: they don't have any. In fact, they're in the red currently by over $3 million according to overthecap.com. The Browns will need to make several moves to be players in free agency. This may include restructuring contacts and/or several releases or trades.
My best guess is the Browns will add a tier-2 or tier-3 receiver in free agency, maybe another on a 1-year deal, then use the draft. I'm a big fan of Cedrick Wilson and Russell Gage in free agency. They would be relatively low cost and fill gaping needs.
I'm not so sure they will use pick 13 on a receiver anymore with the addition of Amari Cooper. There will be players available there, such as Alabama's Jameson Williams, and the Ohio State duo of Chris Olave, Garrett Wilson, as well USC standout Drake London. They would be hard to pass up, but the greatest need, depending on free agency, may be the defensive line.
2) The Browns must revamp the defensive line. If the season started today, the Browns' likely starters would be Myles Garrett, Jordan Elliot, Porter Gustin/Sheldon Day, and Tommy Togai. Wide receiver has been a focus of fans, but the defensive line is not in good shape. Free agency and draft assets will both be used to upgrade this unit. A couple of my favorite IDL in this free agency class are DJ Jones (IDL, 49ers) and BJ Hill (IDL, Bengals). Harrison Phillips (IDL, Bills) is also a great candidate to improve the Browns' interior line. But they each will come with a hefty price tag. The Browns could opt for an older veteran on a 1-year deal, much like they did with Malik Jackson last year, but I get the sense the Browns want some long-term stability. Still, the option is there.
Looking at the NFL draft, it seems deep on the defensive line. Jordan Davis was the talk of the combine but seems unlikely for the Browns. He's a 2-down lineman and I'm not comfortable taking him as high as 13, maybe the Browns are, but I doubt it. I'm a big fan of Georgia's Devontae Wyatt and Houston's Logan Allen, but neither would be in play at #13. EDGE is much more likely in the 1st round for Cleveland than any of the interior prospects.
As far as the EGDE position, the Browns need someone to help Myles Garrett and get to the quarterback. They also need bodies at the position. The cabinet is bare right now. The Browns could swing big for a guy like Von Miller, but his price tag would need several corresponding moves to clear cap space. Former Brown Emmanuel Ogbah could also be a possibility. If the Browns go the route of a 1-year deal, several veterans fit the bill, including: Chandler Jones, Jerry Hughes, and Melvin Ingram.
The Browns won't have a chance to draft standout prospects like Aiden Hutchinson or Kayvon Thibodeaux. But this draft is deep at the EDGE position and the Browns will likely have a chance at guys like David Ojabo, George Karlaftis, Trayvon Walker, or Jermaine Johnson. One way or another, the Browns will upgrade their EDGE.
3) The Browns must solidify the kicking game. Much like the quarterback position in the not so recent past, the Browns have had a revolving door in the kicking game. My top free agent target would be former Atlanta Falcons kicker Younghoe Koo. In his last three seasons, Koo made 92.2% of his field goals and 95.2% of his extra points. The Browns could look to the draft for a kicker. Cameron Dicker out of Texas and Case York out of LSU are quite good. It will be interesting if the Browns decide to use draft assets for specialists. I personally would, but each team has its own viewpoint.
As far as a punter is concerned, I'm going to give you one name: Matt Araiza out of San Diego State. Can a punter be a game changer? In the case of Araiza, the answer is yes. He averaged over 51yds per punt in 2021, including NCAA records for punts over 50 yards, punts over 60 yards, and has had six punts over 70 yards. He would look great in orange and brown.
Three Must-Nots
1) The Browns must not create a quarterback controversy or have a quarterback competition. I don't recall that ever working for the Cleveland Browns. The quarterback position is quite divisive amongst fans these days. I'm a believer in the adage "if you have 2 quarterbacks, you don't have one." Bringing in a veteran without a defined role and with aspirations of starting, isn't a good idea. Case Keenum knew his role, which was refreshing. The front office and coaching staff made their intentions clear to Keenum. Keenum may be back, but he will likely be a cap casualty. The Browns could bring in a guy like Mitch Trubisky or Marcus Mariota, but his role would have to be clear to him, to the team, and to the fans. I'm more in favor of reducing Keenum's cap hit or going the route of Ryan Fitzpatrick or Andy Dalton type back up. The Browns could reach into the draft for a quarterback in the later rounds, but you can't count on a 6th round rookie to be your back-up.
2)The Browns must not be afraid to make a splash. Yes, Amari Cooper was a splash. But to compete in the loaded AFC, the Browns will need more. I mentioned earlier the Browns may likely sign a tier 2 or 3 receiver and look toward the draft. There is another route to go, and his name is Allen Robinson. This would be incredibly expensive and require several other moves to clear enough cap space. However, if the Browns want to give Baker Mayfield every opportunity to show he's a franchise quarterback, surrounding him with as much talent as you can leaves it all up to Baker. What he does with it, tells you who he can be. David Njoku is already coming back on the franchise tag and will likely be extended. Harrison Bryant has talent but needs more targets. Austin Hooper has largely been disappointing from a production vs. price perspective. His future with the Browns is cloudy. There are some good young tight ends on the market of the Browns moved on from Hooper.
The splash could also come on the defensive side. Via trade or free agency. We covered the need for defensive line help. The splashy move would be finding a way to coax Von Miller to Cleveland. Andrew Berry has been a wizard with contracts, so I have confidence that whatever he does will not cripple the franchise.
3)The last must-not is a continuation, somewhat, of must not #2. It's important to me for the team to not be afraid to make a splash. However, the Browns must not mortgage their long-term salary cap health. Thus risk becoming a team unable to keep their own stars or participate in free agency. As I said before, I trust Andrew Berry and his decision-making. Indeed, it's a difficult proposition to make a splash without mortgaging your future. Berry has been adept at structuring contract length and numbers to suit the best interest of the team, with future moves always on his mind.
Free agency aside, the Browns could get splashy in the draft. There's less financial risk. This would be my preferred way to go about aggressive player acquisition. Andrew Berry has shown he will move up in the draft to take a player with good value (JOK last year) and may see an opportunity to do again. With the incredible depth in the wide receiver and defensive line classes, the possibility exists someone will drop, and Berry could pounce. Even trading back from pick 13 could net another starter in this year's draft, and that could certainly be classified as an aggressive move.
We are hours from the NFL tampering period beginning and things will likely be wild. We will find out what Andrew Berry and the Cleveland will prioritize and how aggressive they'll be. Buckle up!

NEO Sports Insiders Newsletter
Sign up to receive our NEOSI newsletter, and keep up to date with all the latest Cleveland sports news.