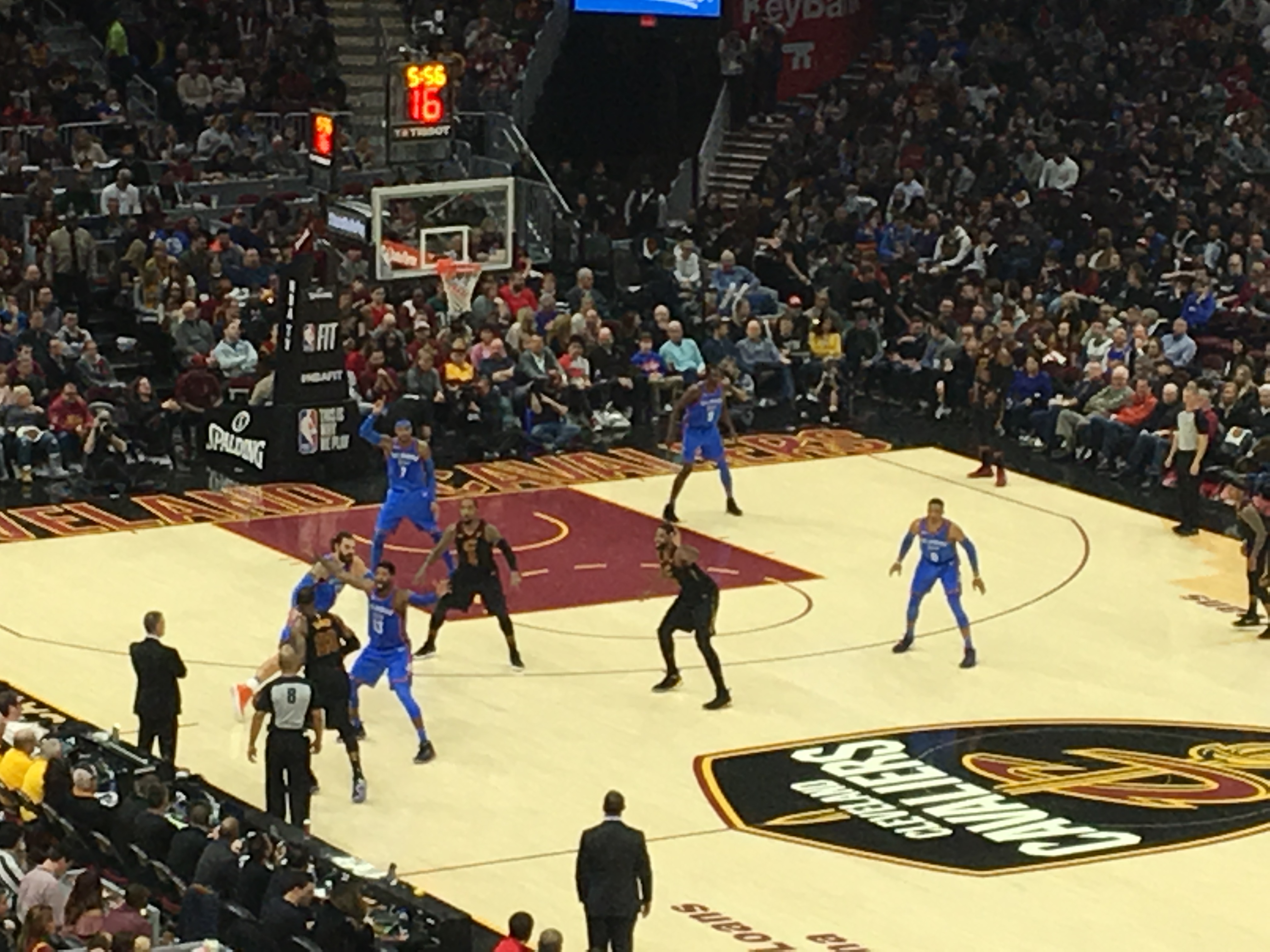 by Nick Broulis
CANTON, Ohio– LeBron James to Golden State? While it's definitely not going to happen, it had the Broulis Beat Report realizing some things.
1. As James said this is a "non-story," but it will get clicks. I get it and I understand it. That's sports and both sites and writers need hits, even if it comes at the cost of a story that isn't true. They just decided to throw out a scenario like that so people would click and read. The worst part is, it worked. All I seen on Twitter for at least half the day, were Photoshop images of James in a Warrior jersey next to Steph Curry and Kevin Durant.
2. LeBron James shot down this report in every way imaginable after practice on Friday. He also has every right to not make a commitment to the Cavaliers right this minute. However, no one can fault the Cavaliers for holding onto that Nets pick without knowing what James will do. Dan Gilbert was burned once, it looks like he learned his lesson. So, when early July comes around, if James does indeed decide to leave, Cleveland will at least have a possible top 10 draft pick. Right now, that is currently the eighth overall pick in the first round.
3. As of right now, if you were to ask me what I think James will do. I still think he's staying in Cleveland. Would I be shocked if he left? No. But to whom? I have no idea.
4. There are consequences to James not committing though. He must realize that any players that Cleveland might want to trade for will hesitate to stay here if LeBron bolts again. If James were to come out and say he's going to sign a long-term deal, that would allow the Cavs to go out and try and get another good player or players. Cleveland could also potentially include Isaiah Thomas in a deal.
5. Speaking of trade scenarios, what are the Clippers DeAndre Jordan and Lou Williams. I think the asking price for both players just went down a bit. I say that because Los Angeles knows they need to get rid of these players with Blake Griffin now gone. While the Clippers have Jordan under contract for one more season, why waste a season, knowing he's not a part of the future. The Clippers know they need to get something for him, even if it's a late first-round pick. Isn't Jordan worth a much higher pick? Absolutely! But again, the Clippers know they need to get something for him. But there are other teams that could offer more than Cleveland.
6. Believe it or not, the Kevin Love injury could be a blessing. The first reason, is because he'll be fresh for the playoffs. Secondly, this forces head coach Tyronn Lue to actually play Channing Frye. I also hope this means the Cavs won't trade Frye. He is a solid role player and a great locker room guy, something the team desperately needs this season.
7. As for Lou Williams, this is his final season under contract with Los Angeles. So, I would almost guarantee that Williams is as good as gone. It would make more sense to stick Williams in a package deal with Jordan, to maximize any return the Clippers could get.
8. It's February and Cleveland would love to finish above .500 for the month. Cleveland has ten games this month, five on the road, five at home. The Cavaliers will have two back-to-backs, the first being at Orlando then Minnesota at home the next night, the second hosting Washington, then flying down to Memphis.
I do have a final thought on the NBA in general.
While ratings are showing an increase in ratings for the NBA, there is no doubt in my mind, that these super teams that are forming around the league, are slowly killing the NBA. Predictability is a very bad thing for sports leagues. When you compare the NBA to the NFL, MLB and even the NHL, the NBA is by far the most predictable league out of the four major sports.
Let's go by conference. Who is considered a legit NBA title contender? I still say Cleveland is. I'll go ahead and stick Boston in there. What about the Raptors? I'm just not sure about them. Can they really get past a great defensive-minded Boston team? Do they have what it takes to really beat the Cavs in a seven-game series? I'm having second thoughts about Milwaukee now. With all that being said, my safe bet is Boston and Cleveland.
Heading to the West, the Warriors are the best team in the NBA. After that, I'll include Houston. I'd feel better about the Houston pick, if I knew they'd play defense come playoff time. The question mark teams are, believe it or not, the Spurs, Timberwolves and Thunder.
So, my four locks are Boston, Cleveland, Golden State and Houston.
At the end of the day, the NBA may be scoring big time with the ratings now, but down the road, I wouldn't be shocked if Major League Baseball can take back the second spot behind the NFL and dare I say if all things start to slip by 2020, don't forget about the newly reborn XFL will be back. And we all know America loves football.
It would be nice if the NBA could have the competitive balance that MLB has, and yes, even the NFL is more balanced than the NBA.

NEO Sports Insiders Newsletter
Sign up to receive our NEOSI newsletter, and keep up to date with all the latest Cleveland sports news.