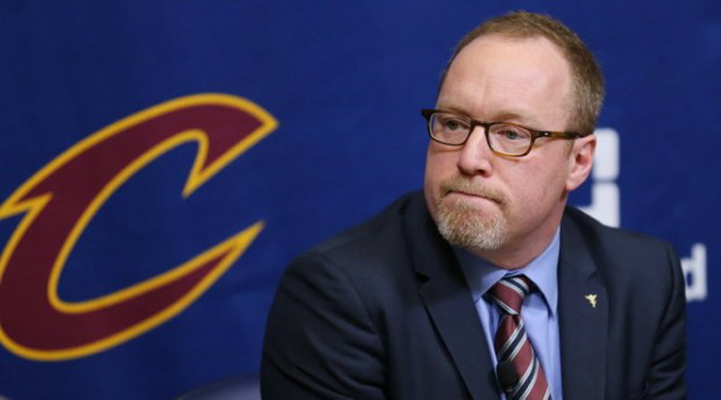 To say it hasn't been the easiest of seasons for the Cleveland Cavaliers would be an understatement, as the last month alone has been enough to question the Cavaliers' chances come May and June. The team has suffered a lot of tough losses on the floor and have yet to really find a chemistry with new point guard Isaiah Thomas, who was acquired in the deal that sent Kyrie Irving to the Boston Celtics. Thomas has yet to look comfortable in his role with Cleveland and his lack of defense certainly hasn't helped.
Reports have surfaced that LeBron James was not exactly thrilled with the organization's decision to acquire Thomas along with Jae Crowder, Ante Zizic, and the 2018 Brooklyn Nets first-round pick this past summer. James had hoped Cleveland would instead refuse to trade Irving or find a more ideal return for the uber-talented guard. However, the organization went with the trade agreed upon with the Celtics and the cards are already dished out to LeBron and company.
Things could have been different for the Cavs had they kept general manager David Griffin, one former Cavalier says.
That Cavalier would be former executive Raja Bell, a fourteen-year pro that spent time with six seasons. Bell was on 92.3 The Fan this afternoon and spoke with Adam The Bull and Dustin Fox about what could have been if Griffin had been retained.
Raja Bell on @BullandFox on Kyrie trade: "I know how much faith they put in Griff (David Griffin). I spoke to Griff after and during the whole process. I'm pretty sure he was close to a deal that would have probably got them something closer to what LeBron wanted out of the deal"

— Keith Britton (@KeithBritton86) February 2, 2018
And that's where a lot of the problem lies. Griffin was not brought back by Cleveland owner Dan Gilbert and as a result, the Cavs rushed through a deal with new general manager Koby Altman and Gilbert. Gilbert has also reportedly bonded well with Isaiah Thomas, as a source said Thomas has become a "favorite" of Gilbert's. One must wonder how much a Griffin-orchestrated deal would have done to help the Cavaliers' cause.
The other thing to take away from Bell's talk about Griffin is despite the fact he wouldn't be retained by Gilbert for this upcoming season, he offered to help the Cavaliers throughout the draft process as well as help complete the Kyrie Irving trade debacle.
Raja Bell: "He (Griffin) told me he offered to steward org through the process of the draft & get these trades solidified understanding he wasn't coming back anyway & that offer was rejected. I'm convinced if Griff had been there, things would have played out differently" #Cavs

— Keith Britton (@KeithBritton86) February 2, 2018
Things like this make one wonder where Gilbert's head is in terms of the franchise's direction. After losing out on Griffin and Irving, the going could get a lot tougher.

NEO Sports Insiders Newsletter
Sign up to receive our NEOSI newsletter, and keep up to date with all the latest Cleveland sports news.