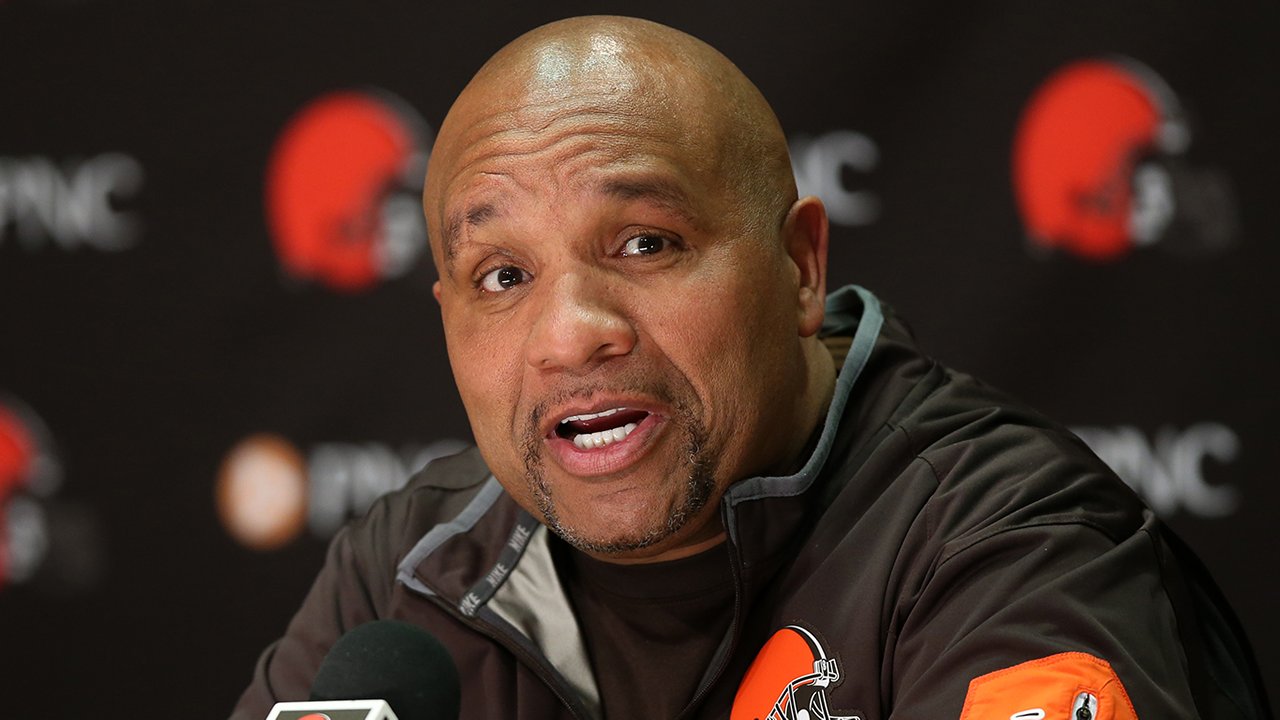 CLEVELAND — Hue Jackson wouldn't confirm it last night — out of respect for his veteran quarterback Tyrod Taylor he had to proceed with caution — but the Browns head man knows Baker Mayfield is his starting QB from here on out.
His silence on the subject after Thursday night's 21-17 victory over the New York Jets was deafening.
"Obviously, I like to watch the tape," Jackson said after just his second win as the team's head coach. "Baker did some great things. We do not play until next Sunday. We have some days. Let's not get into those debates tonight. Obviously, what he did tonight was outstanding for the football team and his teammates and just the way he competed. I have to watch the tape, and we will go from there."
Ah, yes, the old "watching the tape," stalling tactic: a common practice among NFL coaches. But watching the tape is only going to confirm what everyone already knows. That rookie quarterback Baker Mayfield took over for a concussed Tyrod Taylor with 1:42 to go in the second quarter and re-energized the offense after the five previous drives ended in punts. That the Heisman winner orchestrated three consecutive scoring drives in the second half and caught a game-tying two point conversion. That despite Jackson not giving him any first-team reps in the preseason, Mayfield commanded the Browns top unit with the poise of a 10-year vet. And that the No. 1 overall pick led the Browns back from down 14 to capture the franchise's first win in 19 games.
To use Jackson's own words, it was Mayfield's coming out party.
"That is why we drafted him. We drafted him for that reason, Jackson said the rookie's performance . "He has that magnetism. He has it. He is still a young player. He has a lot of work to do. He has got to keep working. Tonight is his night. It was his coming out party. It is just really ironic that it happened that the quarterback on the other side was a rookie, too. Baker did some good things tonight. He truly did."
Of course, the rookie on the other side was No. 3 overall pick Sam Darnold, who many believed would be the Browns selection with the first overall pick back in April. They opted for Mayfield though and on a night 635 days in the making, the franchise finds itself at a unique crossroads where the future they envisioned when selecting a franchise quarterback may have arrived sooner than they expected.
Even Mayfield didn't necessarily want to earn the starting job this way, with Taylor suffering an injury and it being handed to him. But on a night where Taylor had completed just four-of-14 passes for 19 yards, even if he hadn't gotten hurt there was good reason to consider turning things over to Mayfield. Up until that point Taylor was having arguably the worst performance of his career as a starting quarterback. Not once, but twice he missed a streaking Antonio Callaway on underthrown deep balls that should have been easy touchdowns. And that's on top of miss firing on a number of other passes as well.
Under Taylor's command the offense was flat and uninspiring. Then Mayfield took over and breathed life into the offense, bringing the unit more success in three quarter than Taylor had in three games. It was as if a literal switch had been flipped. Everything started clicking. Everyone was making plays. That's hardly a coincidence and it wasn't lost on his head coach.
"Once (QB) Baker (Mayfield) got into the game at quarterback, you just saw a different rhythm," Jackson said. "Which was good, good to see. Obviously,  the Young man did some really good things. You can't take that away from him. What a night for him. He came off of the bench, went in there and led this team and helped lead this team to victory."
With all due respect to Taylor, this is Mayfield's team now. (Insert your Captain Phillips meme here) From the way he singlehandedly shifted momentum upon entering the game, to the NFL level throws he made flawlessly on the field, to the comeback victory he sparked; the rookie truly seized the moment.
Going back to Taylor after getting a taste of that would be asinine, not to mention fireable for a coach already on a scorching hot seat. Jackson knows that. And even in his best efforts to keep his thoughts on the quarterback a secret until next week, he let on more than he realized.
"I still stand by the decision," Jackson said of making Mayfield sit and learn to start the season. "I think it was right. I still think he needed the time. He needed the time to see, and understand the National Football League and how it works. We are better served – I can't tell you that Baker would have performed like that in Week 1.
"All I ever said about Baker – when we stick him out there, he was going to play well, and I truly believe that tonight was his coming out party. Now, we will talk about official things in days to come, but obviously, he represented himself well and this organization and this team well."
Past tense references like "he needed time," rather than still needing it, yet another mention to Thursday night being his coming out party and a remark about "making things official in the coming days," certainly suggest the waiting portion Mayfield's development is over.
Jackson's mention of the timing being right is also very telling.
"We knew that we drafted the right guy," he stated. 'But it was going to be the right timing. Nobody knew how that was going to happen. This is how it has unfolded."
Sure sounds like a man ready to hand the keys to the offense and the franchise over to Baker Mayfield. Don't forget, this is the same guy who has been reaffirming for months that Taylor was the teams starter. It should be easy to assert it one more time if the job is still his. The fact that's it's no easy says all anyone needs to know.
There's nothing to think about. Jackson already knows who the starting quarterback will be moving forward. Everyone does. The job is Baker's.
Follow: @Spencito_

NEO Sports Insiders Newsletter
Sign up to receive our NEOSI newsletter, and keep up to date with all the latest Cleveland sports news.