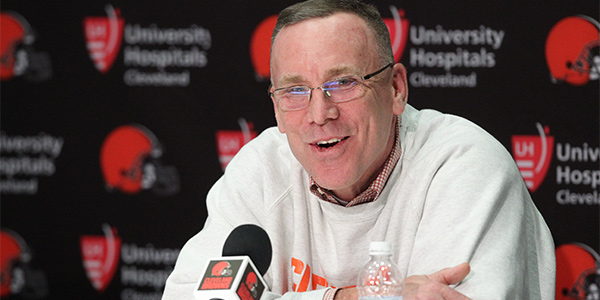 For more than 20 years, the Cleveland Browns have been the punching bag of the sports world. The punchline of potty humor. And a cesspool of dysfunction, making Cleveland the NFL's most undesirable destination.
Browns fans remember all too well when the misery reached its apex, following that infamous 0-16 season in 2016 that reduced the Browns win total over a two year span to 1-31. Those were dark days, made possible by ex-general manager Sashi Brown stripping things down to the studs and while local and national media pundits pointed to a visible light at the end of the tunnel, doubters assumed the Browns would screw things up like usual.
Among those doubters were droves of Browns fans themselves, who after two decades of terrible draft selections and botched coaching hires, grew to live their fandom cautiously optimistic about the future.
Thanks to John Dorsey, Browns fans no longer have to live in fear. In 15 months time Dorsey completely changed the reputation of this dilapidated Cleveland franchise. Incompetence no longer describes what's going on out in Berea.
The change didn't come over night though. It took acquiring talent last offseason, drafting a franchise quarterback in Baker Mayfield, cutting ties with dead weight like troubled wideout Josh Gordon and moving on from a fake head coach that had infected the locker room.
After all that, the franchise saw progress in the form of a 7-8-1 season in 2018 that included five wins in their last eight games. It was a losing season, but for once the Browns trajectory was sky high and as the month long postseason tournament unfolded without them for a 16th straight season, the Browns were busy becoming the darling of the NFL.
With a swagger infused QB leading the charge in Mayfield, young talent a key positions on both sides of the ball, and the addition of a new, blue collar head coach in Freddie Kitchens, the Browns quickly became everyone's favorite pick to not only make the playoffs next season but win the AFC North.
Dorsey took the studs that Sashi Brown left him with and built a legitimate football team, one that Browns fans could finally be proud of.
But Dorsey wasn't done.
Leading up to the new league year, the mastermind general manager started putting the finishing touches of his rebuild in motion. First came Friday's trade, which sent Kevin Zeitler to the Giants and brought back defensive end Olivier Vernon. By Monday, reports a three-year deal with free agent defensive tackle Sheldon Richardson were rampant, and suddenly Cleveland had formed a nightmarish defensive front, bookended by Myles Garrett.
Those sky high expectations just got a little bit higher.
Then came the move that sent those expectations to unprecedented levels.
An absolute blockbuster of a trade that brought a generational talent in All-Pro wideout Odell Backham Jr. to Cleveland. Dorsey fleeced the Giants in the process, sending only the team's first round pick this year, a Patriots third-rounder –  acquired in the Danny Shelton trade –  and 2017 first-round selection safety, Jabrill Peppers. That's all it took to acquire one of the top five players in all of football.
In an instant the Browns went from postseason hopefuls, to Super Bowl contenders. Their odds to win the Lombardi jumped from 30/1 to 14/1 out in Vegas – fifth best behind only the Patriots, Chiefs, Rams and Saints.
Warning to the other 31 teams: Cleveland is going to be a problem.
Remarkably it took a little over a year for Dorsey to propel the Browns to the top of the the NFL food chain. Browns fans wanted a competent organization and a competitive football team. John Dorsey did them one better: he created a monster.
With an offense equipped with Jarvis Landry and his BFF Beckham Jr., David Njoku at tight end, Nick Chubb and eventually – whether you approve or not – Kareem Hunt at running back plus Mayfield pulling all the strings under center, its something straight out of Madden franchise mode. And that's just one side of the ball. The defense is littered with young studs of its own in Garrett, CB Denzel Ward and others.
This team is a juggernaut. On paper, it's undoubtedly the most talented Browns roster ever assembled and John Dorsey put it together in 15 months. The man is a wizard.
The Cleveland Browns are back, folks. And their reign is just beginning.
Follow: @Spencito_

NEO Sports Insiders Newsletter
Sign up to receive our NEOSI newsletter, and keep up to date with all the latest Cleveland sports news.