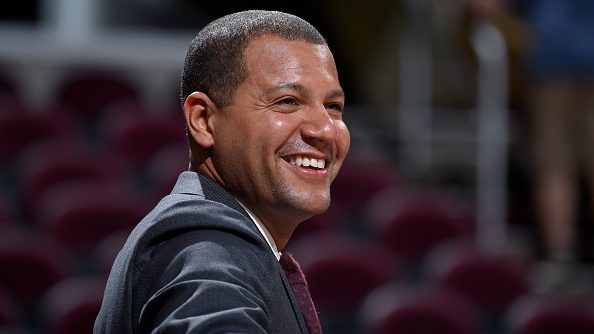 The last time the Cleveland Cavaliers made the playoffs, without LeBron James, was the 1997-1998 season. I was a junior in high school. This was the starting line-up for the last playoff game that did not involve LeBron:
Brevin Knight
Cedric Henderson
Shawn Kemp
Wesley Person
Zydrunas Ilgauskas
The Cavaliers lost the series 3-1. Cleveland's leading scorer was Shawn Kemp. The Cavs would not qualify for the playoffs again until the 2005-2006 season, LeBron's sophomore campaign. James led the Cavaliers to nine playoff appearances, five Eastern Conference Championships, and one NBA Title in 2016. His contributions to the organization are immeasurable.
Before I get off the subject of LeBron, let me say that I am 100% in favor of LeBron returning to the Cavs. Only if LeBron is willing to come off the bench and play within Head Coach JB Bickerstaff's system. Additionally, not taking up tens of millions of dollars in salary cap space. It must fit philosophically: what the Cavs need and what he can give. I contend this team would fall apart with LeBron playing "iso" ball. Is it possible LeBron comes back? Yes. Probable? No. But I digress…
In late July 2017, enter Koby Altman, who was officially hired as General Manager of the Cavaliers. Altman walked into a situation, tasked with creating a winning team around LeBron, in what would be his last season in Cleveland. I think most in the organization knew this was LeBron's swan song in Cleveland, including Altman.
His player personnel moves speak to his knowledge of this. Just weeks after Altman was officially hired, All-Star point guard Kyrie Irving was traded. The trade granted his reported request from earlier in the summer. Altman got what he could with limited to no leverage in negotiations. He dealt Irving to the Boston Celtics for Isaiah Thomas, Jae Crowder, and Ante Zizic. The deal also included a 2018 Brooklyn first-round pick, and a 2020 MIA second round pick.
A few months later at the trade deadline in 2018, Altman completely reshaped the roster around LeBron. Acquiring younger players for veterans that were largely failing to gel. Cavaliers' general manager brought Jordan Clarkson, Larry Nance Jr., George Hill, and Rodney Hood to Cleveland. He shipped out Isaiah Thomas, Channing Frye, Derrick Rose, Iman Shumpert, Jae Crowder, and a first-round pick. Altman was showing no fear of taking chances to remake his roster.
I gained a tremendous amount of respect for Altman in his first year on the job. Especially during the flurry of moves, in which he had to delicately balance trying to win a championship, and remaining competitive for a playoff spot in the following year(s) sans LeBron James. The season ended as a success because the Cavs won the Eastern Conference. However, the team once again fell to the Golden State Warriors in the NBA Finals. As expected, LeBron departed Cleveland for the Los Angeles Lakers.
After LeBron's second exit from the Cavaliers, the organization had to make a difficult decision. Do they rebuild or continue to try and be playoff contenders? Initially, the Cavaliers decided to attempt to contend for a playoff spot. This led to the Cavs giving Kevin Love a four-year $120 million contract extension. Altman also gave a contract extension to Larry Nance Jr.
The Cavs still had the young players acquired by Altman at the previous year's trade deadline. The plan looked good on paper, but it just didn't work out. Thus, by the time November of 2018 rolled around, the goal to contend was becoming increasingly unlikely.
Altman traded several veterans over the next 15 months: Matthew Dellavedova, John Henson, Alec Burks, Kyle Korver, Rodney Hood, Jordan Clarkson, and George Hill, etc. The writing was on the wall, this was now going to be a rebuild, exactly what Altman and owner Dan Gilbert wanted to avoid. Nevertheless, the job of Altman and the Cavalier organization, was to shorten the rebuild by making solid draft picks and hope the ping-pong balls fell the way of the Cavs.
With Colin Sexton already on the roster, the Cavs' first-round pick in 2018 was an important talent for a rebuild. Sexton was Altman's first draft pick, and it was met with ambivalence from fans. The number eight slot, from which Sexton was picked, was viewed by fans as being too far removed from the top of the draft. Thus, the feeling was the Cavaliers were unlikely to find a franchise changing player. Any expectations of Sexton being a generational "franchise savior" was and is misguided. That's not what I believe he was ever supposed to be. Sexton is a scorer, that's who he is. He gets buckets. Anything else is a bonus. Sexton is not a generational talent, but he is an exceptional player that can contribute at an elevated level.
Altman's 2019 first round pick, Darius Garland, was also met with rolled eyes by the Cavs' faithful. The 2019 NBA draft was largely viewed by fans as a three- pick draft. Because outside of Zion Williamson, Ja Morant, and RJ Barrett, the rest of the draft was a wash. So, when Altman made Garland the fifth overall pick, many wondered why Altman would take point guards in back-to-back drafts. It wasn't just that, but Garland only played a handful of games at Vanderbilt, before an injury sidelined him for the season. He was largely unknown. At this point in any rebuild, the idea is to stockpile talent regardless of position. Figure out "fit" later down the road.
After two drafts, Altman had his detractors. He was criticized for drafting an undersized and defensively challenged backcourt without addressing other pieces of the roster. In 2020, Altman selected Isaac Okoro, a defensive minded guard out of Auburn. Rinse and repeat the reaction for Okoro, as compared to Sexton and Garland. Okoro was yet another backcourt piece. The difference was Okoro's defensive prowess.
It looked like a trade may be coming, as the Cavaliers were very heavy in their backcourt. They lacked starters and depth on the wing. That trade never transpired, and Altman stood by his backcourt picks. Altman appointed JB Bickerstaff as head coach on February 19, 2020. A hire that probably should have happened instead of the failed transition of Michigan head coach John Beilein to the NBA. The logic behind the hire of Beilein made sense, but it didn't work.
The 2021 calendar year was vital in the Cavs rebuild. In January 2021, Altman legally committed grand larceny by quietly acquiring Jarrett Allen from the Brooklyn Nets. The Cavaliers were merely a facilitator in the trade that sent James Harden from Houston to Brooklyn. Yet, Cleveland clearly won that trade. Allen has been everything the Cavaliers hoped he would be and more. He is a selfless player, who plays defense, blocks shots, and isn't afraid of being dunked on. Allen will also give you 15-20 points-per-game. He will anchor the middle of the floor for years.
In the summer of 2021, the ping pong balls finally bounced the Cavaliers' way. The organization landed the number three-pick that allowed Altman to select Evan Mobley, a seven-foot unicorn from USC. Mobley was the cornerstone the Cavaliers were waiting for, and while they were waiting, Garland proved himself to also be an invaluable player .
At the beginning of the 2021/2022 season, the Cavaliers featured Garland, Sexton, Okoro, and Mobley. All Altman draft picks. In addition to Allen, Altman's best trade acquisition. Not much was expected from the Cavs this season. I was hoping to see growth and maybe contend for the play-in tournament. However, the Cavaliers' head coach had other plans.
Bickerstaff has been masterful this season. Even when Sexton was lost for the year barely a month into the season, Bickerstaff and his young Cavaliers didn't blink. In fact, each player, in his own way, stepped up, but avoided doing too much. For such a young team, that's impressive, and speaks to coaching and the maturity of young players.
The Cavaliers currently sit in the thick of a crowded Eastern Conference playoff picture. Having already surpassed any reasonable expectations I had for them coming into this season. Who would have guessed that the Cavs would be in a position to add talent at the trade deadline? I certainly didn't, but they did just that when they acquired Caris LeVert from the Indiana Pacers. I don't know if the Cavaliers will make the playoffs this year or not. They have been hammered by injuries and have a tough slate of games in March. The Eastern Conference is also so tightly packed that a 3-5 game losing streak could put any team in the play-in tournament where anything can happen. Regardless of whether they do or not, this Cavalier team is more about the next 5-7 years, not necessarily right now. They're not going anywhere.
I think the Cavs are more set up for long term success now than any time outside of the LeBron years. One could argue the years of Daugherty, Nance, Price, Ehlo, and Hot Rod Williams were better set for success, but I would argue the current group of Cavaliers have more star power and a higher sustained ceiling. These Cavaliers are incredibly young, but I don't think they're overachieving. This is who they are, they're that good.
Altman was recently promoted to President of Basketball Operations and will hand over the General Manager duties to Mike Gansey. He will obviously still be involved in everything the Cavs do from a player personal standpoint. However, I think it's long past due for Altman to be credited with being the architect of the renaissance of the Cleveland Cavaliers.

NEO Sports Insiders Newsletter
Sign up to receive our NEOSI newsletter, and keep up to date with all the latest Cleveland sports news.