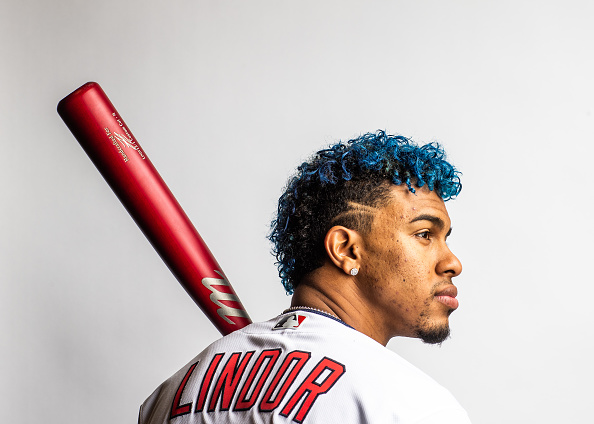 After a letdown offseason and a shaky start to the year, the Cleveland Indians finally received some much-needed good news.
Francisco Lindor, whose status remained cloudy thanks to uncertainty surrounding his sprained ankle, appears to have dodged any devastating diagnoses. While his official recovery timeline is still to be determined, he's expected back within the next few weeks.
This is obviously a welcome relief for the Indians, whose offense has been mostly frigid out of the gate. However, this hardly means Cleveland is in the clear. While Lindor's return will be a big boost, the Tribe's offense can't solely rely on him once he's back in the fold.
Obviously four games aren't enough to make any judgments on Cleveland's offensive performance this season. That said, the team hasn't been inspiring a ton of confidence at the plate.
So far, the Indians have generated ten runs on 20 hits, while also striking out an astounding 45 times. Star pitchers Corey Kluber, Trevor Bauer and Mike Clevinger have each opened the year with stellar outings, yet none of them received a win for their efforts.
Some of this can be attributed to the frosty weather conditions Cleveland has endured to start the year. At the same time, there are clear holes in the lineup which certainly merit some concern.
The consensus response from fans when it comes to said early swoon appears to be "no worries, the offense will be fine once Lindor gets back." This makes sense, but only to a point. Simply put, even when he does return, he can't bat seven different spots in the order.
Lindor can't fix the woeful struggles Tyler Naquin and Roberto Perez are enduring at the plate. Both are seen by the team as everyday players despite their combining for ten strikeouts and one hit in 20 at-bats.
Lindor won't alleviate the glaring concerns with infield depth, as utility players Max Moroff and Eric Stamets have barely touched a base this year.
So far, there really aren't too many standouts on the roster outside of Carlos Santana. Banking on the aforementioned players to suddenly become key hitters feels risky, to say the least.
Bottom line – Lindor will provide help upon his return, but he also can't solve everything on his own.
Sure, he's not the only Indians player on the mend. Both Jason Kipnis and Carlos Gonzalez are on the mend, tentatively scheduled to return sometime this month.
At the same time, holding out hope for either player is tricky, as questions marks hover over both. Can Gonzalez generate offense despite no longer playing in the mile-high air of Denver? Can Kipnis return to his normal self after two underwhelming, injury-plagued seasons?
This helps explain why many have been quick to assume all this team needs is Lindor's name back in the lineup. The offense may be uninspiring now, but it's nothing a star shortstop can't fix.
Again, though, the Indians can't afford to lean on a strategy of "hang in there, play .500 ball, be saved by Lindor." He's one player, he can't be the sole solution to the early offensive swoon.
Obviously, a lot can change over the next few months, a fact I'm well aware of. However, if the goal is to stick with what they have, assuming everything will be better when Lindor gets back, there are obvious flaws.
Frankly, they're the same flaws many pointed out during Cleveland's lazy offseason.
Back then, we knew it was questionable to assume the offense could be carried by Lindor and Jose Ramirez. All we've seen in the early games of the season is proof it was right to question such a strategy.
As a result, Cleveland shouldn't just sit tight and wait for its star to heal up. The team needs to keep exploring options, finding potential additions it can make to its currently shaky lineup.
Lindor's return will be a boost, but might not be enough to heat up the team's currently ice-cold bats. The Indians assuming otherwise would be foolish.

NEO Sports Insiders Newsletter
Sign up to receive our NEOSI newsletter, and keep up to date with all the latest Cleveland sports news.