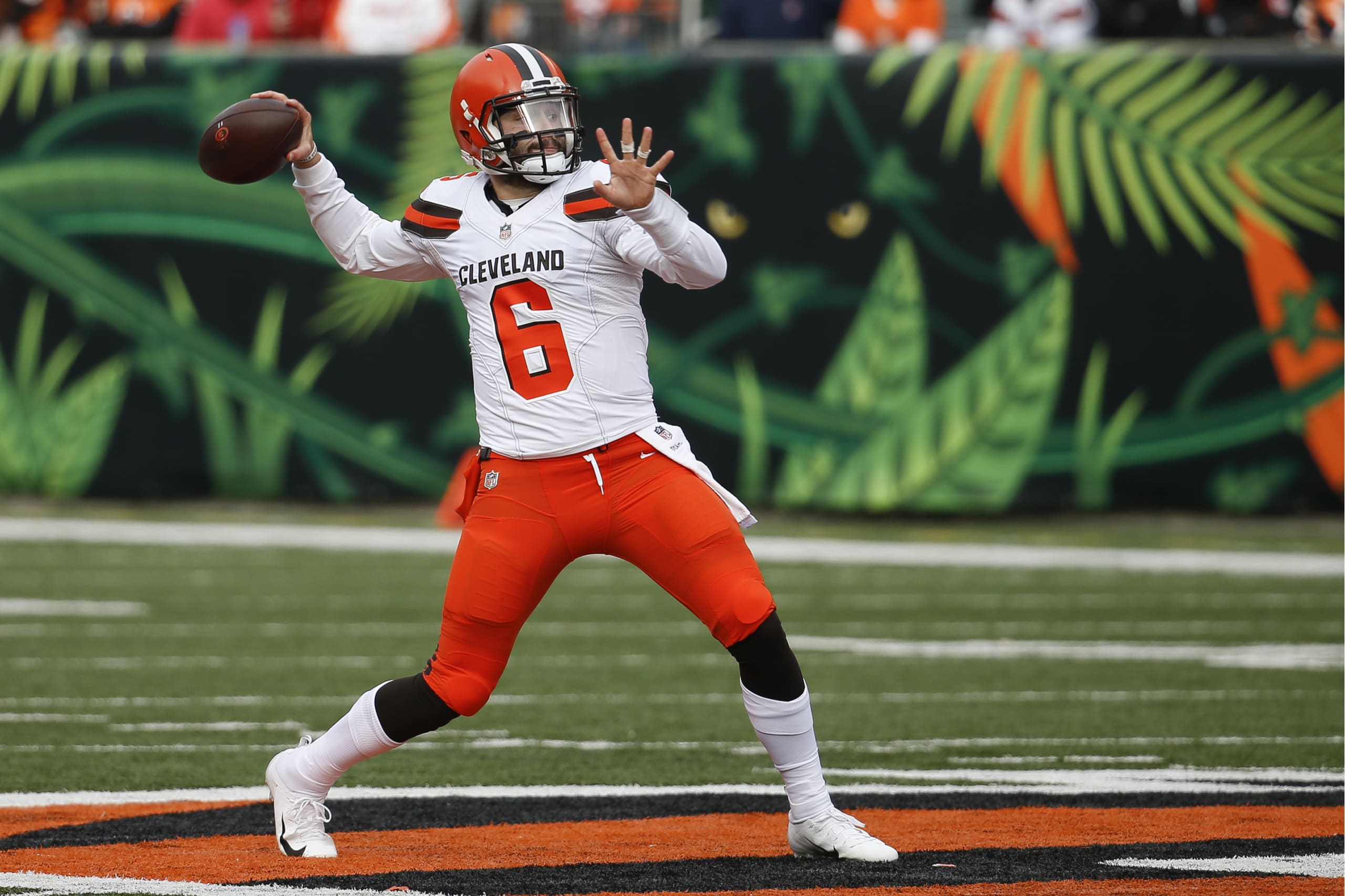 On a cold night in Pittsburgh in January of 2021, the Cleveland Browns walked out of a mostly empty Heinz Field. They had just secured their first playoff victory since 1994. The first on the road since 1969. Browns fans were solidly behind quarterback Baker Mayfield. He had arrived, he was "the guy" now. The number one overall pick out of Oklahoma had delivered a victory, in Pittsburgh, in the playoffs, under the most unusual of circumstances. A game that many, save a few, did not give the Browns a chance to win.
What followed was an off-season of Super Bowl aspirations, buoyed by Mayfield's 2020/2021 campaign and playoff victory. This was coupled by the tremendous work of General Manager, Andrew Berry, revamping the defensive unit. Those expectations crashed back to earth during a sunshine splashed mid-afternoon on the lakefront at First Energy Stadium. Cleveland was playing the Houston Texans. Mayfield threw an interception and attempted to stop an oncoming defender by lowering his shoulder. After the impact, Mayfield's left arm was helplessly dangling by his side. He struggled to his feet, with what we now know was a torn labrum and fractured humerus bone. He courageously finished the game, but the season was lost.
Social media and sports shows buzzed with debate regarding Mayfield continuing to play injured. Many fans clamored for backup quarterback Case Keenum to take over. Mayfield's efficiency and physical ability were suffering in wake of his injury. This is where the truth can be a bitter pill to swallow for Browns fans: I feel an injured Mayfield was the best option at quarterback. Yes, over a healthy Keenum. Many may disagree, and understandably so.
These fans thought they'd be getting the 2017 version of Keenum. The quarterback who had led the Minnesota Vikings to the playoffs. That wasn't who I think the Browns had on the sidelines in 2021. Although Keenum is a smart and savvy veteran, his arm strength left much to be desired. Considering the chronic issue Browns receivers had getting separation, it wouldn't have been a good combination. Mayfield provided the best chance for the Browns to win in 2021.
As the Browns' fate was sealed in week 17, a heated debate raged amongst Browns fans regarding the long-term viability of Mayfield as the starting quarterback. Fans and media would delve into advanced statistics and metrics to prove their case. A line was drawn in Browns' fandom, many fans picking sides for assorted reasons. You may ask: " Well, which side do you come down on?" My answer to that is quite simple: neither side. I am on the side of winning a championship. I am on the side of the Browns playing meaningful football games in January and February. The side of whatever it takes to achieve those goals.
I heard comedian Chris Rock in one of his stand-up specials say the following: "Men are only as faithful as their options." He wasn't talking about pro sports, but let's apply that statement to this debate. Currently, Mayfield and the Browns are mutually beneficial to one another…until they're not. As circumstances change, options change can change, for both sides. Is the best option for the Browns to allow the quarterback they have invested in for four years start for them next season? Yes, as things sit right now, I believe that is the best option. Could that change? Certainly.
Mayfield might have been the focus of countless social media arguments about the Browns' woes, but he was hardly the lone issue. Receivers lacked the ability to separate and were one of the worst performing receiver corps in the NFL. They had a plethora of dropped passes. The offensive line lost several starters for multiple games, and head coach Kevin Stefanski had his moments to forget as well. Stefanski's offense and play calling, as a whole, were not the issue. At times, the play calling seemed questionable and Stefanski probably had decisions he'd like to forget.
Losing was a team effort, it usually is, no matter the sport. To take aim at one player is misguided, irrespective of who that player is. Could Mayfield have played better? Absolutely. He knows that I know that, you know that. Does that mean the Browns won't look for upgrades? Of course not. That's the job of any professional sports franchise, to always look for ways to upgrade the roster. Thus, doing due diligence and seeing what is available. The operative words are upgrade and available. Just because someone is available doesn't mean he's an upgrade and just because someone is an upgrade doesn't mean he's available. Some let familiarity breed contempt, which a bad way to do business. New doesn't mean better, it only means different.
Right now, Mayfield is the starting quarterback for the Cleveland Browns. Perhaps the Browns or Baker find better available options for themselves. Maybe that happens this year or next or not at all. If the relationship succeeds, great. If it doesn't, then so be it. However, rooting against him doesn't make much sense. It seems some would rather be right about his downfall and miserable because of it, than to choose a more measured approach. To each their own. I don't care who's under center for the Browns when they get to a Super Bowl, just get there.
If fans knew on that cold January night in Pittsburgh that the following season Baker Mayfield would be injured in week two, would they have wanted him gone? Would the movement have been this strong? The venom? The vitriol? Uncovering vast advanced metrics and statistics to prove he isn't good enough anymore? Would that have been the stance in that moment? If not, what changed? Why couldn't the injury have been a speed bump in the career of the franchise quarterback in January 2021? How is it that in January 2022, it's cause to look elsewhere?
Context changes, I understand that. I merely pose questions to illicit thought and consideration of another perspective. I don't know what the quarterback position holds for the Cleveland Browns in the future. The Browns know what they have in Mayfield and the future of the position will be told in their actions over the next 12 months.

NEO Sports Insiders Newsletter
Sign up to receive our NEOSI newsletter, and keep up to date with all the latest Cleveland sports news.