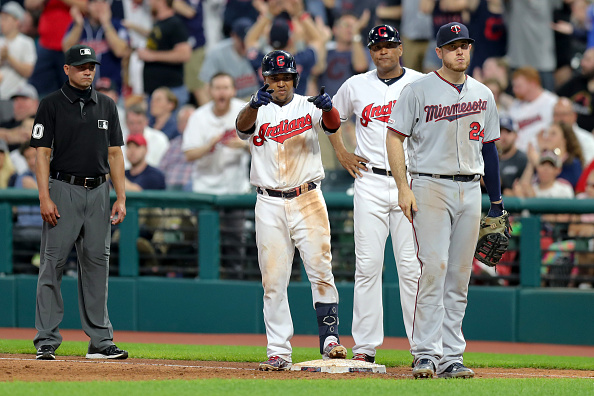 One could argue the past seven days have essentially been a microcosm of the Cleveland Indians' entire season.
Two huge series wins against the Boston Red Sox and the Central Division-leading Minnesota Twins convinced fans Cleveland can salvage the 2019 campaign. Meanwhile, the lackluster four games sandwiched between those two sets had everyone wondering when the fire-sale was going to begin.
Such is life for anyone following this team right now. Depending on the night, the Indians are either inspiring or unwatchable. It's been frustrating, to say the least.
However, it also highlights how the outcome of this season is still in their hands. Despite an unfavorable spot in the standings, Cleveland still controls its own destiny. It's all dependent on whether it can find any semblance of consistency.
Believe me, I've spent plenty of time all but writing the Indians off this year. Between the lackluster winter and two straight months of lackadaisical baseball, it's been far too easy to see this season as a lost cause.
What's so remarkable about the Indians' circumstances, though, is just how much of this appears to be under their control.
We've seen numerous games this year where Cleveland, as a whole, just looks lethargic. There's little sense of motivation, which leads to empty at-bats, uncharacteristic fielding miscues and a collection of players who look like they're just going through the motions.
Yet, at a moment's notice, the Indians appear able to shake out of their funk.
After looking dead in the water this past weekend against the Chicago White Sox, they've suddenly proved capable of going toe-to-toe with the Twins. They're taking the field with confidence, seemingly proving they have no fear of a team currently running away with their division.
Frankly, this Jekyll and Hyde approach just adds more frustration to an already head-scratching season. How can Cleveland mount multiple comebacks against the Twins just a few days after looking like a lost cause in Chicago?
It all helps hammer home the original point. As bleak as things have looked at times, this season is only over if the Indians play like it is.
If they keep failing to build momentum, if they continue following up strong performances with miserable outings, if they keep alternating between AL Central contenders and the world's most expensive beer league softball team, yes, the rest of this season is a formality.
However, if Cleveland can build off the impressive wins we've seen this week, there's no reason to believe the club can't make another run at the playoffs.
Sure, there are still some rough waters to navigate through. Losing Carlos Carrasco for the immediate future hurts an already ailing rotation, while the offense in general still struggles to establish any consistency.
At the same time, the Indians will soon be getting Mike Clevinger back on the mound, who was looking prepped for a breakout before being sidelined with a back injury. They also have 13 games remaining against Minnesota after this series, which creates a great opportunity to close the gap in the standings.
Also worth noting is the handful of out of character occurrences currently hindering this team.
One would think pitcher Trevor Bauer will eventually navigate out of the funk he's enduring. The same can be said for Jose Ramirez, who always appears to be just a few solid at-bats away from leaving his slump behind. Getting those two back on track would be a huge boost for a team in dire need of one.
Sure, the Indians still have to hope Minnesota eventually comes back down to earth. That said, while their situation may not be ideal, the fact much of it is caused by self-inflicted wounds at the very least indicates it can be fixed.
It all just depends on whether they want to fix it.
The Indians have shown they're capable of playing better than what we've seen for the bulk of the year. They just can't figure out how to do so beyond a handful of games at a time.
Provided they can get over that hurdle in a hurry, there's still time to make something out of a season which seemed all but lost.

NEO Sports Insiders Newsletter
Sign up to receive our NEOSI newsletter, and keep up to date with all the latest Cleveland sports news.