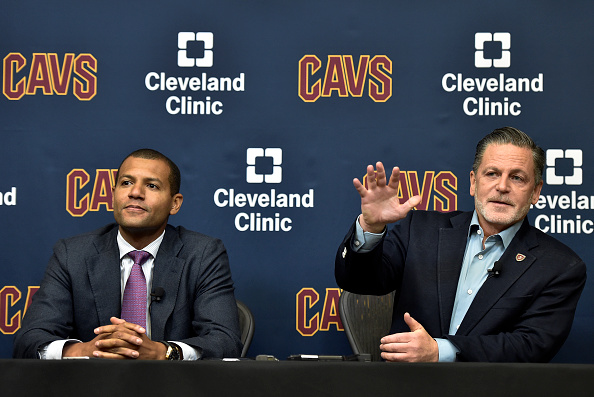 As has been the case for the past few years, the Cleveland Cavaliers were extremely active leading up to the NBA trade deadline. Of course, the situation was slightly different than what we've seen from the last four seasons.
Where last year the team found itself trading ill-fitting vets for a crop of younger players in a last-ditch effort to win a title with LeBron James in town, this year the focus was solely on acquiring draft picks. Needing to pile up assets to help a successful rebuild, the Cavs spent this week wheeling and dealing expiring contracts in order to collect first and second-rounders.
It's this sudden shift in goals which may have been tough for the team to swallow, especially considering it's only eight months removed from its fourth-straight Finals appearance. However, the Cavs wisely didn't let the lack of recent success or impatience with the newfound rebuild get the best of them.
Instead, the team wisely kept its eyes on the future, sticking with a long-term plan as opposed to prioritizing short-term fixes.
Said outcome sounds obvious on the surface. After all, it's February and the Cavs only have eleven wins. Why wouldn't they target draft picks as opposed to players?
However, when you consider everything which has gone down in the past eight months, it's easy to see how Cleveland could've struggled to embrace another lengthy rebuild process.
After the front office spent the summer convincing players and fans alike the Cavs could contend for a playoff spot this season, said strategy instantly blew up in everyone's face. In the time since, the Cavs have been slowly but surely solidifying themselves as one of the worst teams in the NBA.
While what happened made it obvious the Cavs needed to focus on rebuilding, it's not always easy to embrace losing as your goal for the next couple seasons. This is especially true when you consider how far this team fell, seemingly overnight.
Such a quick shift from Finals contender to bottom-feeder can make it difficult for front offices to accept the idea of a rebuild. As a result, the Cavs may have felt the temptation to use the trade deadline to add potential quick fixes in order to speed up the process.
Take one of the players they ended up dealing this week as an example.
While no one would consider Alec Burks a cornerstone player, he had been standing out for Cleveland since the team acquired him earlier this year. He was averaging 11.6 PPG, and was reportedly well-liked in the locker room. It's not a leap to assume the team was tempted to hang on to him, despite the fact his expiring contract made him an appealing trade chip.
However, Cleveland realized this isn't a situation where winning is right around the corner. As a result, a player who was contributing now was moved to acquire more assets for the future.
This shift in approach also required owner Dan Gilbert's willingness to take on additional salary.
The only way Cleveland was going to net a 2019 first round pick in the Burks trade was by accepting Brandon Knight and the $15 million he's owed next year. Gilbert essentially had to make peace with taking on a player who'll serve no purpose for the rebuild, but who'll also be the third most expensive member of the team next year (provided J.R. Smith has found himself a new home by then).
As you can see, there were notable adjustments the Cavs had to make to ensure this year's trade deadline was a success, adjustments which weren't even remotely considered during the past four years. They also had to fight off any urge to speed up the rebuild process, embracing patience as opposed to making desperate attempts to convince fans winning was closer than they thought.
This approach resulted in the Cavs collecting seven more draft picks (two first-rounders and five second-rounders) than they had coming into the year. It created a situation where they'll enter the 2020 offseason with only four current players under contract and a huge increase in cap space. It also further increased Cleveland's odds of landing a top pick in next summer's draft.
While it may be tough to accept these new realities less than a year after winning a fourth consecutive conference championship, failing to embrace them would've only made this rebuild worse. Instead, the Cavs actively put themselves in a position to potentially get things going in the right direction.

NEO Sports Insiders Newsletter
Sign up to receive our NEOSI newsletter, and keep up to date with all the latest Cleveland sports news.