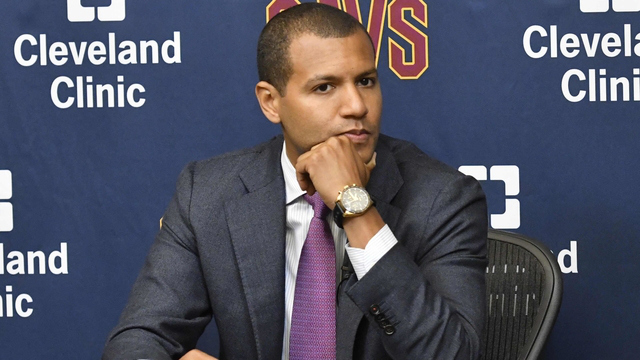 By Mark Warmuth
The Cleveland Cavaliers had a busy week before the NBA trading deadline, but some wish they'd have done more.
Yes, they moved their two most tradable commodities in Rodney Hood and Alec Burks, and they did gamble on some young players, but they didn't make the big splash many hoped for.
Don't get us wrong, we are happy with what GM Koby Altman did.
He accumulated more assets. Cleveland added another first round pick in this year's draft (from Houston) and more second rounders, which can be used to sweeten the pot in some other deals.
We have heard folks be critical of the Hood deal, but the player had approval over where he could have gone, and quite frankly, the way Hood played in the wine and gold didn't have other GMs beating down the Cavs' doors.
Hood is 6'8″, athletic, with a decent shooting touch.
He visually looks like he should be a very good NBA player.
However, he disappears when he's on the floor a lot. He had an opportunity in Cleveland to be a primary scorer, but never embraced the role.
Perhaps he'd be a better player if he had the attitude of Jordan Clarkson, who comes in and wants to be a scorer. But that kind of aggressiveness can't be taught.
Burks was destined to be moved as soon as he arrived, because of his expiring contract.
And really, he was part of the Hood deal, because the two players received for Hood (Nik Stauskas and Wade Baldwin) were sent to Houston in the deal that moved Burks to Sacramento.
In addition to the first round pick acquired in the deal, Altman did want we wanted him to do in picking up a young player who had been a disappointment to his current team in the deal.
He did that in getting Marquese Chriss, a 21 year old, who is 6'10", something needed for the height challenged Cavaliers.
Chriss was the 8th overall pick in 2016 by Phoenix, and played every game as a rookie, starting 75 of them. He averaged 9.2 points and 4.2 rebounds on 45% shooting.
Last year, he lost time due to the drafting of Josh Jackson, and started the year coming off the bench.
When he did start (he started 49 games), he averaged 8.6 points and 5.9 rebounds per game on 44% shooting. He was traded to Houston, with Brandon Knight (familiar?) for Ryan Anderson and De'Anthony Melton.
Is Chriss a future star? Who knows, but again, he's only 21 years old. He should be a senior in college.
The Cavaliers have 28 games to evaluate him. And he did have 13 points and 8 rebounds in his debut.
Knight, who came to Cleveland in the deal, isn't a bad get either, and he's an expiring contract next season, which is a valuable trade piece at the very least.
He was the 8th overall pick the year the Cavs took Kyrie Irving and Tristan Thompson, and averaged 18 points and five assists in his third year in the league with Milwaukee, who was being coached by Larry Drew.
He was traded three times in his first four years in the league, and we believe mostly because he's more of a Mike Conley-style point guard than an Irving-style player.
He's battled injuries throughout his career, but he's only 27 years old. Perhaps if he gets healthy, he can carve out a niche in the NBA.
The rest of this season should be about auditions for Chriss, Ante Zizic, Knight, and others to see if they have a place in the Cavs' future.
However, it is easier to accumulate assets than it is to cash them in. That's the challenge for Altman going forward.

NEO Sports Insiders Newsletter
Sign up to receive our NEOSI newsletter, and keep up to date with all the latest Cleveland sports news.