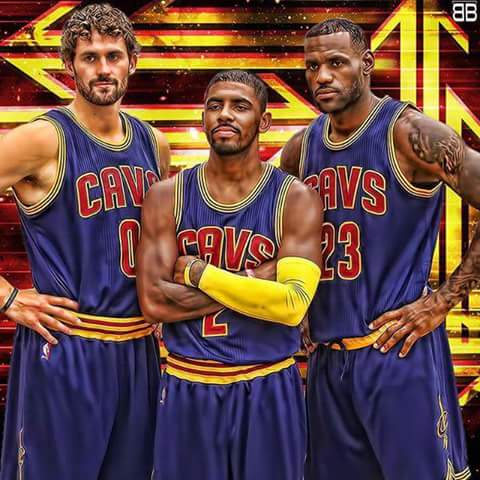 There has been a lot of gloom and doom surrounding the Cleveland Cavaliers this season.
This was supposed to be the year they broke the curse. When Lebron James announced he was coming back to Cleveland, conventional wisdom dictated the team would need one year to get its ducks in a row, followed by a string of NBA titles. That wisdom has not seemed very conventional for followers of the seemingly bi-polar Cavaliers this campaign.
For every so-called "statement win" there has been an even worse toe-stubbing. One night they smash the playoff-bound Boston Celtics, 120-103. They follow that up by falling 106-103, at home, to a Memphis Grizzlies squad that had eight healthy bodies…three that would struggle to make an impact in the NBA D-League.
They head west and dispatch the Kings, Lakers and Clippers in blowout fashion…smashing the highly-touted Clippers in the Staples Center, 114-90.
They then lose in Salt Lake City, 94-85, to a Utah Jazz team playing without its best player, Gordon Hayward.
The Cavaliers have won four of six games since that loss in Utah, with a loss coming in embarrassing fashion in South Beach and another inexcusable loss to the Brooklyn Nets.
Here's the deal…things have now changed.
If you have followed Lebron's career you know how things go. Right about now he shuts down the social media, eliminates outside distractions and narrows his focus to one single goal…winning the NBA Championship.
Sure, there was a great deal of wailing and gnashing of teeth over Lebron un-following the Cavaliers' Twitter feed. The paranoid Cleveland fan base, always waiting for the other shoe to drop, went into full-blown panic mode and tried to read into his intentions when this is the kind of thing he has done his entire career.
When April is on the horizon, Lebron enters "beast mode." His focus on a championship becomes an obsession, and if you watched the teams' last two games, a 124-91 win over the Denver Nuggets and a 113-104 win over the Bucks, you saw the kind of Lebron Cavaliers fans have become used to.
In Denver he put up huge numbers in registering a triple-double. He scored 33 points on 12 of 19 shooting with 11 rebounds and 11 assists in a game he simply dominated. Lebron followed that up with 28 points, eight rebounds, six assists, two steals and a block in the Cavs home win over the Bucks. He came out attacking and never let up, throwing down five dunks against the young Milwaukee squad.
Lebron has a different gear, and he has shifted into it. His teammates will follow suit because, at the end of the day, the rest of the team follows Lebron's lead.
"But what about Golden State? They are having the best regular season in NBA history! How can you pick the Cavaliers over the Warriors in the Playoffs?" the reader might be asking.
Let me explain.
Golden State has been in top gear all season. They really don't have that extra burst. The Warriors have approached the regular season like it is of actual importance while the Cavaliers have done just enough to retain the top seed in the Eastern Conference.
This is a distinct advantage for the Cavs. While Golden State is chasing 73 wins the Cavaliers are looking at the bigger picture.
Something else to think about. Golden State's style of play…its speed and aggression is unique. During the regular season when a team plays Golden State there is a big adjustment to make…it has to get acclimated to that speed and quickness.
When you play the Rockets, then the Suns and follow that with a tilt against the Warriors, of course you are going to be a bit overwhelmed. No one plays like Golden State, so by the end of the first quarter, when the Warriors' opponents become acclimated to their style of play, they are usually down something like 38-14.
The Warriors (64-7) have held the lead after the first period 53 times this season. In those 53 games they have out-scored their opponents 32.3 – 23.1 in the first quarter.
Golden State has a simple, effective formula for success; jump on your opponent early, bury them with a flurry of 3-pointers and points and then fight off the opponents' run to get back into the game.
When you are lightning-quick and can shoot the three as effectively as Steph Curry, Klay Thompson and Draymond Green you can up-tempo your way past teams not used to playing the way you play.
Here's the rub…the NBA Playoffs are an entirely different animal. Golden State's opponents will not be overwhelmed by their style when they see it more than once in back-to-back contests. The NBA Playoffs are all about physicality, grinding out offensive possessions and getting defensive stops.
The Warriors aren't going to be able to run past everyone because, as history has proven more often than not, brawn stops quickness in Playoff basketball. Golden State's toughness will be tested and, truthfully, this writer can't see them getting past a San Antonio Spurs team that has been down this road time and time again.
Spurs' coach Gregg Popovich, on March 19, tipped his hand. He laid his cards on the table. In his team's 87-79 home win over the Warriors, Popovich set the tone for what everyone expects to be an epic Western Conference Finals match-up between San Antonio and Golden State.
In the victory the Spurs controlled the pace of the game, denied Golden State's shooters their touches, funneled everything the Warriors did to the middle of the floor by taking away the baseline and made Golden State work for every point.
Golden State shot a miserable 37.8 percent (31 of 82) from the field against the Spurs, hitting just 9 of 36 3-pointers. San Antonio also out-rebounded the Warriors, 53-37.
San Antonio defended Curry and Thompson aggressively, with Kawhi Leonard, Danny Green and Patrick Mills dogging both players all over the floor. Curry and Thompson combined to shoot 11 for 38 from the floor (28.9 percent) for a combined 29 points. Curry was minus-10 in the game while Thompson ended the contest minus-6.
San Antonio dominated in the half-court, with LaMarcus Aldridge scoring 26 points and grabbing 13 rebounds and Leonard posting 18 and 14.
You give Popovich time to game-plan and he will come up with something that should beat you, and though Golden State coach Steve Kerr has had a great start to his coaching career there is no way he can match wits with the likes of Pop.
Meanwhile the Cavaliers are hitting their stride. If you want to see how well Cleveland is playing, look to its assist-to-basket ratio. If that number is over 65-70 percent the team is in fantastic shape. Against the Nuggets the Cavs had 38 assists on 48 field goals (79.1 percent). Against the Bucks they assisted on 29 of 40 buckets (72.5 percent).
To compare, in the embarrassing 122-101 loss in Miami the Cavaliers had just 19 assists on 40 field goals (47.5 percent).
If the Cavs share the basketball and Lebron plays like he has played in the last two games there is no reason to think they can't win it all. Last season Lebron carried the battered and bruised Cavs to within two games of a world championship.
With a somewhat healthy roster they have as good a chance as anyone to win in the NBA Finals.
Lebron is in playoff mode, the Cavs have a healthy lead atop the Eastern Conference and either San Antonio or Golden State s going to have to expel a ton of energy to even get out of the Western Conference.
Things are pretty promising right now…get behind this team now because the next couple of months should be as good as it gets when it comes to professional sports in Cleveland.

NEO Sports Insiders Newsletter
Sign up to receive our NEOSI newsletter, and keep up to date with all the latest Cleveland sports news.