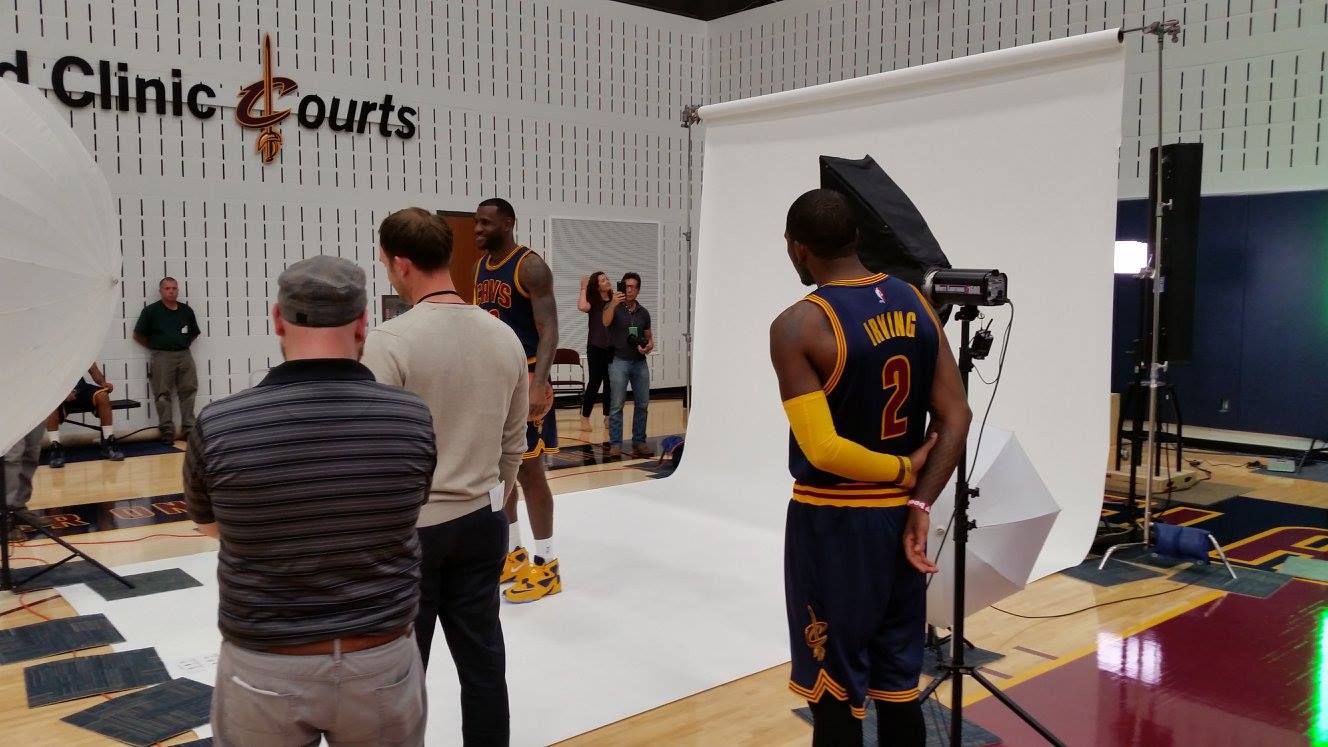 Cleveland sports fans seem to wait their entire lives for the other shoe to drop. When things look brightest and optimism is running at its highest we always, as a defense mechanism, have that little flicker in the back of our minds…something telling us to keep our guards up because things couldn't possibly be as good as they seem.
They never have been. Even when all seemed right with the world, something would pop up and ruin the celebration.
We are subjected to examples of this every time a Cleveland team plays an important game on national television. How many times have we, Cleveland fans, suffered through the montage of "The Shot," "The Drive," "The Fumble" and Jose Mesa?
Iman Shumpert's recent injury, one that will keep him out for three months, is a blow to the Cavaliers…but it isn't a death-blow. It is not something that can't be overcome.
Despair and heartbreak have been woven into the very fabric of the Cleveland sports scene, and there are times it has defined us. Last season's NBA Playoffs were a perfect example.
In the first period of Game Four of the series with the Celtics, when Kelly Olynyk ripped Kevin Love's shoulder out of its socket, how many Cavs fans in the moments immediately after thought, "It's probably not as bad as it looked…he will be fine." How many actually thought Love would be back on the court for Game One of the Eastern Conference Semifinals against the Bulls?
Conversely, how many figured Love was done for the rest of the playoffs…and were not one bit surprised?
Those days are over. The other shoe is not going to drop because of, in effect, the man with the $200 Nikes coming soon to a Foot Locker near you.
Look at it using whatever cliché you choose. The past is in the past. Let sleeping dogs lie. Let the dead bury the dead. Today is the first day of the rest of your life. However you have to look at things to get that little shimmer of doubt out of the back of your mind forever, it is time to enjoy what is to come.
The Cleveland Cavaliers are going to win the 2015-16 NBA Championship. There comes a time when things just fall into place, and this is one of those times.
LeBron James remains the best basketball player on the planet. If God decided to create the perfect NBA player he would give him size, speed, quickness, intelligence, charisma and a deadly killer instinct. There has never been an NBA player who, in all these attributes, is at the top of the league in all of them at the same time.
LeBron is one of the fastest players the league has ever seen. He can get from baseline to baseline in the blink of an eye, and do so completely under control. He is built line an NFL linebacker but is as quick as a scatback.
LeBron's basketball IQ is legendary and his leadership is clear. He put out the call for his teammates to come to Miami to work out together prior to the start of official NBA training camp. Other than Tristian Thompson (who is cutting his own throat if you ask me…more on that later), they all answered the call.
As for his killer instinct, not since No. 23 in Chicago has a player been as cold-blooded with the game on the line.
LeBron had all these attributes last season and in years past…so why does this writer think this is the season the curse is broken? Simple answer. Look at the rest of the roster, and what the players other than LeBron bring to the table.
Kyrie Irving will be back in December, healthy and ready to go. Irving is one of the quickest players to ever don an NBA uniform, with handles that are legendary. A right-handed player, Irving has worked so hard on finishing with his left that he seems to prefer to attack the rim from the left side.
Think about this…everyone knows what Irving wants to do when he gets the ball. We know he is going to try to break down the defender and get to the rim. This is no mystery, he attacks the rim. Even though everyone on the court, in the stands and watching on television know exactly what he wants to do with the ball, he is quick enough and has the ball-handling ability to do what we all know he wants to do…virtually every time.
Irving is one of the most creative finishers at the rim in the league, scoring from impossible angles against players six inches taller.
When LeBron announced he was coming back to Cleveland there were people that actually thought it would hurt Kyrie's game…that we should expect his offensive numbers to go down. In the season before LeBron's second arrival Irving averaged 20.8 points per game. He shot 43 percent from the floor and 35.8 percent from beyond the 3-point line and took 17.4 shots per contest. Last season, with LeBron back, Kyrie averaged 21.7 points per game, shot 46.8 percent from the floor, 41.5 percent from 3-point range and put up 16.5 shots per contest.
More points, better shooting, better shots…he was a much more efficient player. This year, after becoming even more familiar with LeBron, expect those numbers to improve.
Kevin Love, true to his word, signed a five-year contract extension to stay in Cleveland. He spent the off-season re-shaping his body, down from 260 pounds to about 245, and is going to be the "stretch four" Cavs fans have been dreaming of for a long time.
It was funny hearing how much Love was allegedly "struggling" last season, his first in Cleveland. Released from his shackles of being the first and only option with the Minnesota Timberwolves, Love's numbers did take a slight dip. At the same time he was a much better player because as the season progressed he put up above average numbers within the framework of a successful team on both ends of the floor.
Love played six seasons in Minnesota after entering the NBA following his freshman year at UCLA. In those six seasons the Timberwolves won 153 games and lost 323. They never made the playoffs.
Love joined a winning situation in Cleveland and was a big reason the Cavaliers ended up winning the Eastern Conference championship.
Love's numbers did not tank. In those six seasons in Minnesota he averaged 19.2 points per game and pulled down 12.2 rebounds. Last season he scored 16.4 points as the Cavaliers' second, and sometimes third, offensive option. Love's rebounding fell to 9.7 per contest, but he still pulled down 7.9 defensive rebounds per game, down a tick from the 8.5 he grabbed his last season with the Timberwolves.
Love is going to be better this season for a number of reasons, but the biggest is his role with the team. Love is going to be on the floor to pull defensive rebounds and hit open shots. He is not going to be called on to play in the post…most of his shots will come from 15-feet and out.
Love worked on his mid-range game last season and the numbers show this. On shots from 16 feet to the 3-point line, Love shot an impressive 46.8 percent. Beyond the arc he connected on a solid 43.4 percent of his shots.
Love is the stretch-four Cavs fans have long coveted, and his role is well-defined and clear.
Let's address the Shumpert injury. It was announced today that the Cavs' best perimeter defender will miss 12-14 weeks after surgery (details here: https://www.neosportsinsiders.com/cavaliers-guard-iman-shumpert-out-three-months-with-wrist-injury/).
This is something to overcome, but the team will take a "next man up" mentality. J.R. Smith can slide right into the starting lineup, and what he gives up on the defensive end he usually more than makes up for on the other side of the court.
The shuffle of the two-deep, with Shumpert on the shelf, looks pretty interesting and reveals how deep the roster actually has become. Mo Williams will hold down the point until Kyrie comes back (which, according to recent reports, could be sooner than later). J.R. Smith will probably start at the two, with some combination of Richard Jefferson/Joe Harris/Matt Dellavedova playing the backup minutes depending on match-ups.
LeBron, of course, will play the majority of minutes at the three (Jefferson and James Jones will get a few minutes in relief here) while Kevin Love and Tristian Thompson will split time at power forward. Timofey Mozgov will be spelled at center by Anderson Varejao (for as long as he can stay healthy) with Thompson picking up some minutes here and there. Sasha Kaun could also see the floor if the fouls pile up on the top three centers.
The point is that Shumpert, while perfect for the Cavaliers' system, is a luxury. When he comes back the team really will not have a weakness. In fact, if LeBron were to retire tomorrow the Cavaliers, as presently constructed, are a 50-plus win team and contender for the Eastern Conference title.
So what is the elephant in the room? Tristian Thompson, Rich Paul and the idiocy that Paul has exhibited over the last few months.
There is no way Thompson is a "max deal" player. In fact, the offer the team was reported to have made (five years, $80 million) is much more than a player of his ilk deserves. In the playoffs last season, Thompson took advantage of extended minutes to put up relatively decent numbers.
In 82 regular season games, Thompson scored 8.5 points and grabbed 8 rebounds per game (3.3 on the offensive end) while shooting 54.7 percent from the field. In the playoffs, with Love on the shelf and Thompson playing 36.4 minutes per game, those numbers increased to 9.6 points and 10.8 rebounds (4.4 offensive).
Thompson is not an elite defender. He was exposed and exploited in the NBA Finals…doing fine against Andrew Bogut but getting torched by the more offensive-minded David Lee and Andre Iguodala. Thompson is not quick enough to handle finesse players…and Golden State took full advantage.
Rich Paul is trying to leverage his and his client's relationship with LeBron James into a max deal, and it isn't going to work for two reasons. First, the Cavs are not that stupid. Second, LeBron is all about loyalty and hates feeling used…which has to be how he feels right about now.
If you noticed on Media Day, LeBron talked about how much he would like to have Thompson back but didn't make much of an issue of it.
At the end of the day I think Thompson is going to realize how good he has it. If he takes the $80 million he will be set for life financially and be on a championship contender for most of his career. If he takes the $6.8 million one-year qualifying offer, then signs with the Toronto Raptors next season as has been reported, he is taking a big gamble.
Look at it this way…the Cavs and Thompson/Paul are $14 million apart right now. The one-year qualifying offer is $6.9 million and the Cavs are offering a five-year deal that pays $16 million annually. In just that one year alone he would be leaving $9.1 million on the table to sign the qualifying offer so it can actually be said they are really only $4.9 million apart. The deal is going to get done as soon as Thompson comes to his senses.
This is going to be a special season for Cavaliers fans. The team is the odds-on favorite to win the NBA title this season and all the pieces are in place for a very special season…one that will change the landscape of Cleveland sports.
The networks will be able to retire that awful montage of Cleveland sports heartbreak once and for all.
Bet on it.

NEO Sports Insiders Newsletter
Sign up to receive our NEOSI newsletter, and keep up to date with all the latest Cleveland sports news.