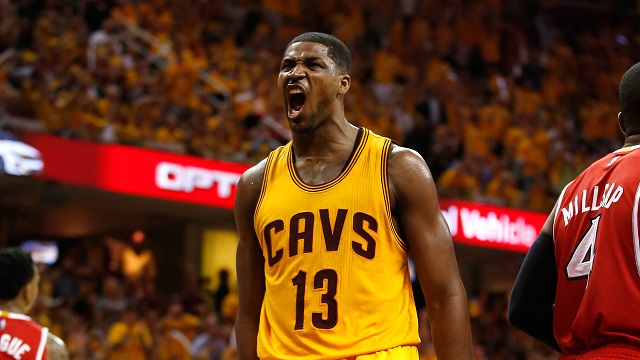 The wait will soon be over when it comes to Cavaliers forward Tristan Thompson and his decision on if he will be at training camp tomorrow or not with the Eastern Conference Champions.
Thompson, if you may have forgotten, is still sitting there with a $6.8 million dollar qualifying offer from the team, but is still looking to get a long term deal from the franchise.
Today Cavs GM David Griffin spoke about Thompson, and says that he expects the forward to sign his qualifying offer and report to came Friday.
"We fully expect (Friday) he'll be here in some form or fashion and we're excited to get going," Griffin told NBA TV during a live broadcast of Thursday's Cavs practice.
"We're hopeful that he wants to move forward with his teammates in the same way we want to have Tristan here. If we can come to some agreement we will."
The options for Thompson are pretty simple. He can let the deadline pass without signing, and as a restricted free agent he then can still sign an offer sheet with any team until March 1st or re-sign with Cleveland at any point.
If he does let the deadline pass he would be taking a monster risk, as at that point he can longer accept the Cavs $6.8 million dollar qualifying offer.
If Thompson sits out, the Cavs can extend him a new qualifying offer next summer and make him a restricted free agent all over again.
So in the end, Thompson really doesn't have much choice if he wants to play basketball this upcoming season. His agent, Rich Paul, at this point is sitting with egg on his face as he and his client have not gotten the offer they want, which is a max deal from the Cavs.
In the end, Thompson will ink his qualifying offer and be in uniform for the Cavs in the 2015-16 season.
What happens after that is anyone's guess.