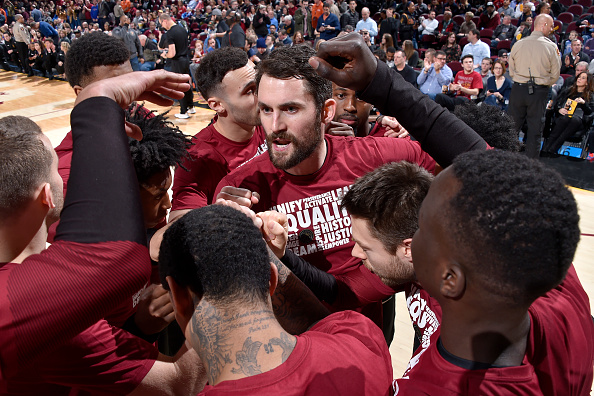 The Cleveland Cavaliers kick off the final stretch of their season tonight, and it goes without saying the remaining 24 games will be nothing short of compelling.
Of course, they won't be this way because any sort of playoff push is in reach. As the third-worst team in the NBA, said ship sailed a long time ago.
However, the Cavs will be a team to keep an eye solely based on how they handle the rest of their schedule. They have two key goals for the next couple months – show progress and tank for lottery odds. As you can see, these tend to clash a bit, and how Cleveland finds the right balance between the two will be fascinating to watch.
There's reason to believe the Cavs will look improved during the second half of the season. They've been showing a considerable amount life on the court these days. By that, I mean it's been over a month since they lost by 20 or more.
Still, their comparably improved play, combined with the fact Kevin Love and Tristan Thompson will soon return to the rotation, certainly indicates losing may not be as easy for Cleveland as it was in the first half of the year.
This, of course, creates a noticeable hurdle for the team. After all, the goal of the season is to lose as much as possible to land a high lottery pick. Anything which hinders this will likely be viewed as a negative by the front office.
At the same time, the Cavs hardly want to exit this season looking completely hopeless. A handful of silver linings will go a long way towards speeding up the rebuild.
As you can see, these next 24 games will be quite a tight-rope situation for Cleveland. They're in a position to build a little momentum, but doing so could hurt their position in the upcoming draft.
When it comes to Love and Thompson, coach Larry Drew may have to get clever. Whether having them sit on some nights due to "soreness" or framing it as giving the younger players more time on the court for development purposes, those two may need to see minutes restrictions if their presence is starting to lead to wins. After all, neither serves too much purpose for the rest of the season.
Technically, taking the "younger guys need to develop" approach wouldn't be inaccurate. After all, there are more than a few Cavaliers who can benefit from getting additional looks at the expense of veterans.
Rookie Collin Sexton entered the All-Star break playing some of his best basketball of the season. Seen as Cleveland's first building block for the future, it's crucial he gets more time to ensure he can keep growing.
Other players, such as David Nwaba and Marquese Chriss, are both contributing now and on expiring contracts. If the Cavs are considering re-upping either, they'll need to ensure both are given enough time to prove their worth.
Where it gets tricky is if the progress of the younger players starts leading to victories. While you want to see guys the team will rely on for (hopefully) well beyond this year learn what it takes to win, it becomes an issue if it hurts Cleveland's draft position.
To be fair, thanks to the new anti-tanking lottery set-up, the Cavs' odds for the top pick only drop from 14% to 12.5% if they become the fourth-worst team in the league. They decrease down to 10.5% if Cleveland is fifth-worst. Admittedly, these wouldn't be severe reductions.
That said, the purpose of a tank is to ensure you have the best possible odds for the top pick. If the Cavs fall out of the top three spots because they strung together some meaningless late-season wins, will it have been worth it?
Therein lies the issue this team will be facing through the next two months. Cleveland has a core of young players in need of development, while also expecting the return of key vets. It also needs the best possible odds to land a top pick, especially since the incoming rookie class isn't particularly deep with franchise-changing talent.
I certainly don't envy the Cavs' decision-makers here.
When it comes to figuring out how to make progress while also limiting victories, I don't have much of a solution. At least not beyond "keep losing, but do so closely."

NEO Sports Insiders Newsletter
Sign up to receive our NEOSI newsletter, and keep up to date with all the latest Cleveland sports news.