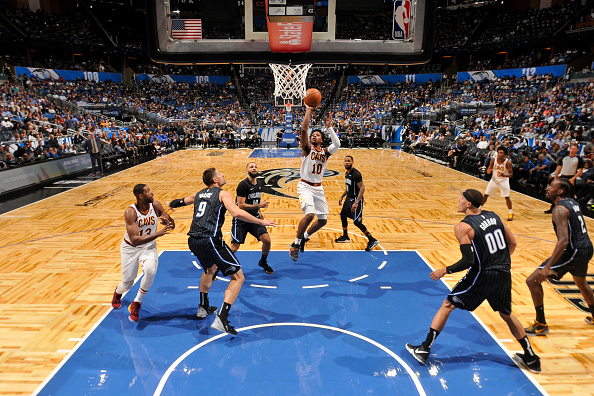 The Cleveland Cavaliers' decision to select Darius Garland, a smallish point guard who only played five games at Vanderbilt, with the fifth overall pick in the 2019 NBA Draft was a head-scratching move at the time.
Not because Garland didn't appear to be worth the pick. In fact, Garland shot up teams' boards right before Draft Night and his ability to shoot from beyond the arc was being compared to the best point guards in the game.
There were questions about his ability to facilitate and also his ability to defend but, like other players, those seemed like weaknesses that could be masked on the right team.
The Cavs weren't that right team.
Collin Sexton — the eighth overall pick in the 2018 NBA Draft — was pegged as to be the team's starting point guard the season before and was a mixed bag as both a facilitator and defender.
Though he improved as the season wore on, he was far from a natural when it came to creating for others, seeming to see the rim first, second and third. His defensive effort was there but the physicality at the point of attack, his awareness off the ball and just his ability to stay in front of his man often left many frustrated as his man would score baskets all too easily.
There would be balance with Sexton's inclination to drive inside with reckless abandon and Garland slithering around the court to launch a jumper but what else?
As Garland has proved since the preseason, he's an intuitive passer that should be the team's point guard, while Sexton slides off-ball to minimize the negative effects of his lack of court vision and maximize his ability — and desire — to score from all three levels.
"Boog," a nickname given to Garland for his dancing ability off the court, fits quite well with how he plays on the court. Sexton's nickname, "Young Bull," fits his downhill style perfectly (as well as doubling for his tendency to charge into clogged driving lanes like a bull in a china shop).
The duo fits just fine on offense, but the problem lies on defense, as nearly everyone foresaw.
Not because both are poor defenders. In fact, Sexton had some stellar defensive games last season and he played well on that end — for the most part — in the season opener against the Magic.
The issue is that Garland plays without any physicality on defense — a problem that also plagued Sexton at times last season — and it's all too easy to see him consistently putting the team in bad positions.
For all his speed and determination, Sexton isn't an intuitive off-ball defender so his having to make a sudden rotation to cover could result in he or another teammate being out of position to make a play. Couple that with Kevin Love's athletic shortcoming lending themselves to him being too slow to make a timely rotation and Garland's defense causes a trickle down effect that can make for a long night.
That said, until he takes the responsibility of guarding his man seriously — even after — the team will need to cover for him defensively.
One solution could be playing rookie forward Dylan Windler, who'll be out for another couple of weeks with a stress reaction in his left leg, off the bench in place of Kevin Love in a super sixth man role.
The athleticism of Windler, Cedi Osman and Tristan Thompson — along with Larry Nance Jr. and John Henson — in the frontcourt will help they team tremendously in offsetting the porous perimeter defense they may see from their young backcourt.
Love's defense is occasionally serviceable and his three-point shooting, rebounding and playmaking are elite. When he takes position in the post, defenses usually converge and open up space for the Cavs on the perimeter and when he's on the perimeter, big men have to vacate the paint.
There's no need to throw the baby out with the bath water.
However, staggering the amount of minutes Love — a heady veteran and the most experienced player on the roster — plays on the court with Garland will be a careful balance.
The return of Windler, a high-IQ three-point threat, will benefit Cleveland quite a bit in that regard.
—
Windler, who played for Belmont University for four seasons, averaged 21.3 points, 10.8 rebounds and 2.5 assists per game in his senior season while shooting 54.0 percent from the field and 42.9 percent from three-point range.
The 26th overall pick in the 2019 NBA Draft, Windler averaged 16.9 points, 7.6 rebounds and 4.0 assists per 36 minutes for the Cavs in Summer League (six games).

NEO Sports Insiders Newsletter
Sign up to receive our NEOSI newsletter, and keep up to date with all the latest Cleveland sports news.