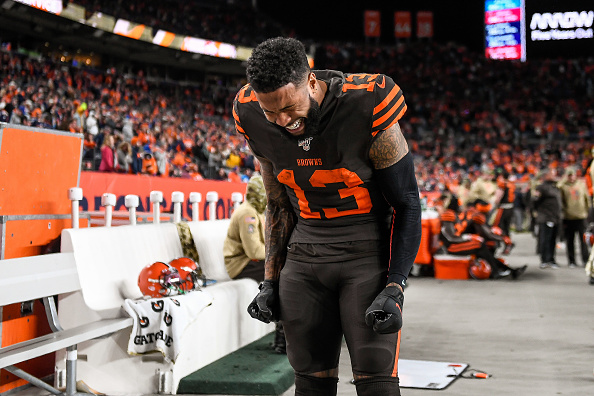 This week, the struggling Cleveland Browns offense appears to be getting a boost in the form of Kareem Hunt. The pro bowl running back has officially served his eight-game suspension, and joins a Browns team in dire need of a spark.
Of course, if you ask me, it's impossible to get excited about the potential Hunt can bring to Cleveland's offense. Not when I've watched this team spend all season wasting away an equally talented pro bowler at wideout.
It's becoming a running theme, but it can't be addressed enough. The Browns have been horribly mismanaging Odell Beckham Jr. and, frankly, there's no excuse for it.
Nick Broulis made note of this earlier today, but the more you dive into Cleveland's inability to utilize someone of Beckham's talent, the more aggravating it becomes.
In eight games this year, Beckham has 39 catches for 575 yards and one touchdown. It's hardly what anyone would've predicted halfway through his debut season with the Browns.
With that said, it's not the stats themselves which concern me. Instead, it's how little the Browns have done to improve them.
Cleveland made a concerted effort towards getting Beckham the ball in the early weeks of the season, giving him 21 total targets in two games. However, in the six games since, Beckham has been targeted ten or more times just once. He's had seven or less balls thrown his way in all but one of the past five games.
It gets worse.
To date, Beckham has less touchdown receptions than Ricky Seals-Jones, a backup tight end the Browns claimed off waivers a week before the season started.
In the red zone, Beckham becomes a ghost to both quarterback Baker Mayfield and coach Freddie Kitchens. He has just one red zone reception this season, good for seven yards. More often than not, Mayfield doesn't even look his direction when within 20 yards of the goal line.
Players Mayfield and Kitchens are focusing on in the red zone include tight end Demetrius Harris and wideout Antonio Callaway, guys who hardly boast the same resume and skills as Beckham.
Red zone targets this season:
1. Julian Edelman 18
2. Tyler Lockett 14
8. Jarvis Landry 11
61. Antonio Callaway 5
86. Demetrius Harris 4
126. Odell Beckham 3

— Jake Trotter (@Jake_Trotter) November 4, 2019
Most alarming about the above note is the fact Callaway somehow has more red zone targets than Beckham, despite having been suspended for the first four games of the season.
All in all, what we're seeing from Cleveland is an astounding waste of talent. These stats aren't just alarming, they're borderline criminal.
As noted, there's no excuse for this failure to take advantage of Beckham. Of course, this hasn't stopped the Browns from trying to make any.
On one hand, you have Kitchens insisting getting a three-time pro bowl wideout seven targets is more than enough.
"Odell had seven balls thrown to him. He caught five of them. I'm not responding to that." – Freddie Kitchens on OBJ wanting more chances on Sunday against Gilmore

— James Rapien (@JamesRapien) October 28, 2019
On the other, you have Mayfield claiming it's the double coverage Beckham receives that Cleveland is having trouble with.
#Browns QB Baker Mayfield: "People had this picture perfect thing that it was going to be sunshine & rainbows & he was going to have a whole lot of 1 on 1s. It's Odell Beckham. He's going to have double coverage. We have to find ways to format things to get him the ball."

— Keith Britton (@KeithBritton86) November 6, 2019
For the record, Beckham opened his career by logging at least 1,300 receiving yards in three straight seasons. I have more than a little difficulty believing he only started seeing double coverage upon coming to Cleveland.
As for Beckham's absence in red zone schemes, the common thought is the Browns are using him as a decoy. While I mildly understand this line of thinking, when using him this way, you're admitting that he's talented enough to merit almost all of the defense's attention.
Doesn't that mean he may be good enough to, I don't know, make a crucial play when you're 20 yards from pay-dirt?
It's truly mind-boggling how difficult it's been for Cleveland to utilize one of the most talented wideouts in the NFL, or how quickly the team decides doing so is no longer worth its trouble. Mayfield and Kitchens were somehow able to make something out of certified bust Breshad Perriman last season, yet still can't figure out how to get the ball to the 2014 Rookie of the Year.
So, no, I'm not holding out much hope for Hunt's insertion into the Browns' offense this weekend. If Kitchens and Mayfield utilize him the same way they've worked with Beckham, we're probably going to forget he's even on the team.

NEO Sports Insiders Newsletter
Sign up to receive our NEOSI newsletter, and keep up to date with all the latest Cleveland sports news.