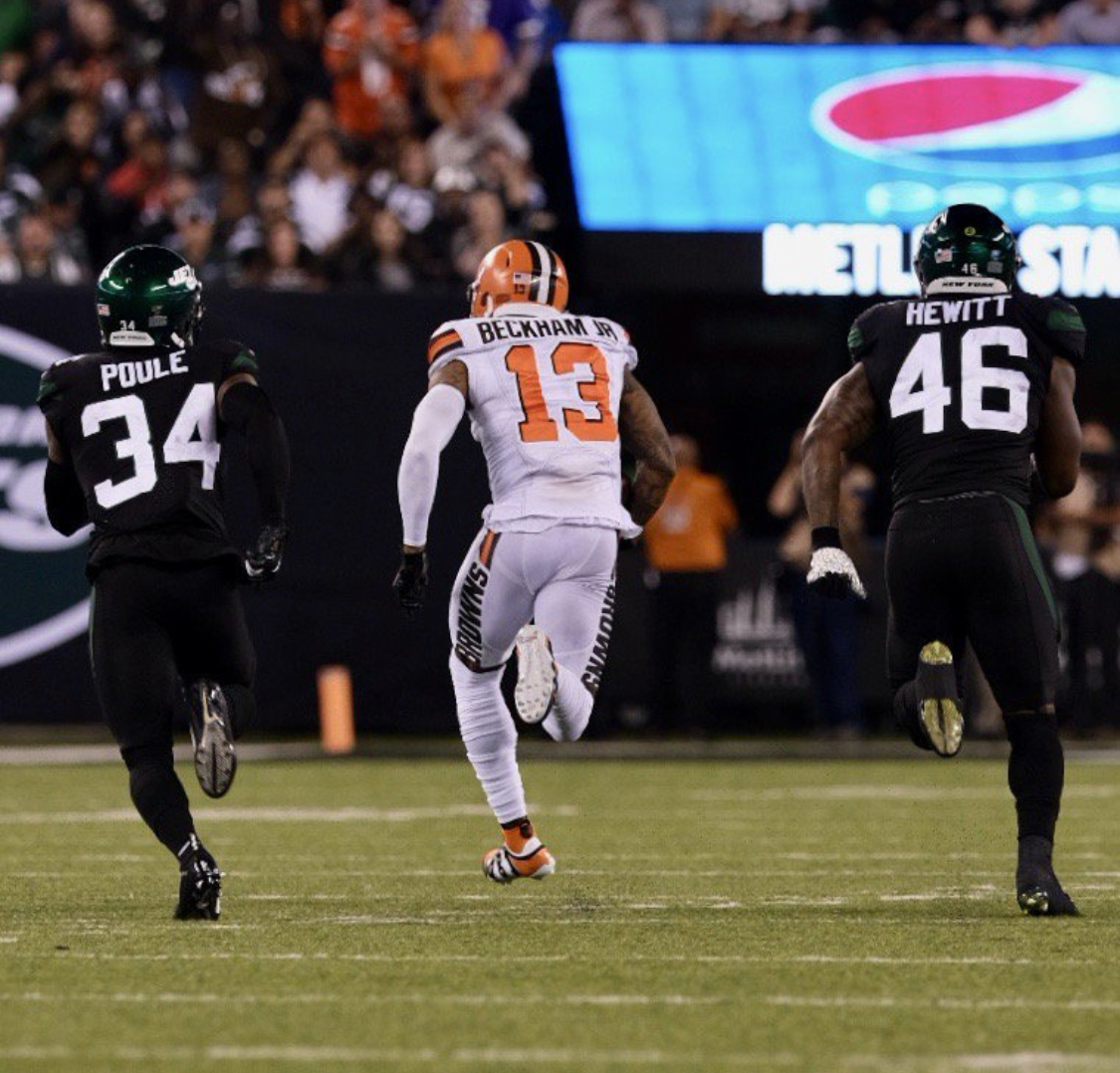 The Browns didn't wither in primetime on Monday Night as they dominated the Jets 23-3 to get in the win column for the first time in 2019. In his return to the Meadowlands, Odell Beckham Jr. shined bright on the offensive side of the ball for Cleveland, putting together the type of performance fans expect from the three-time Pro Bowler. Defensively, Myles Garrett stole the show as he added a handful of sacks to his resume this season.
All things considered, it was a cleaner effort by Freddie Kitchen's team but for a team with such high expectations this season, there remains plenty of room for improvement. For now at least, the victory should calm the panic that would have settled in here in Cleveland, had the Browns started the season 0-2.
1) WOAH-Dell Beckham Jr. 
In his long-awaited return to Metlife Stadium, Odell Beckham Jr. reminded New York City what they're missing out on since he was traded to Cleveland this offseason. Something about playing in primetime brings out the best in OBJ because similar to the one-handed catch on Sunday Night Football that made him an instant NFL star, the 26-year-old pulled off another ridiculous one-handed grab on the opening drive of the game. It's very rewatchable so enjoy…
WHAT. 😱@bakermayfield ➡️ @obj pic.twitter.com/Yha7OMjoUd

— Cleveland Browns (@Browns) September 17, 2019
Amazing as it was, that wasn't even the highlight of Beckham Jr.'s night. That honor belongs to his 89-yard TD reception in the third quarter. OBJ ran a slant right into a soft spot in the Jets zone coverage and turned on the burners as he ran right between the cover two safties and left them in the dust. It was the latest milestone for Beckham Jr. in Metlife Stadium as the score was the longest play of his career. He finished the night with a team high six receptions, for 162 yards and one TD. Go ahead and watch his score on repeat too…
89.
Yards.@bakermayfield to @obj for six! pic.twitter.com/OahySJgIG0

— Cleveland Browns (@Browns) September 17, 2019
3) Garrett the Great
Myles Garrett said he wants to be the defensive player of the year this year and he's well on his way toward earning the that honor. Just two weeks into the season, Garrett has already racked up five sacks, including three tonight.. He's currently ahead of Michael Strahan's pace in 2001 when he set the single-season pass record of 22.5. That year, Strahan had four and a half sacks through two games. Garrett has a ways to go to get into the record books but tonight was a microcosm of how dominant the third-year pass rusher can be. It truly felt like he was starting in the backfield on every play. He was virtually unblockable. The only bad thing you can say about his performance is the three penalties. Garrett finished with two roughing the passers called against him – one of which resulted in the gruesome looking ankle injury to Jets QB Trevor Seimian who left the game – and an offsides. He's got to be more careful with the late hits and jumping early is a completely avoidable penalty.
3) Penalties BE GONE
While we're on the subject of penalties, Freddie Kitchens didn't lie when he vowed to get the penalty issues cleaned up from Week One. The Browns went from drawing 20 penalties, 18 of which were accepted against them for a whopping 182 yards, down to eight flags thrown on them tonight for 70 yards. That number could still be lower, but after a week where Kitchens was criticized for his team's lack of discipline after he spent so much time preaching discipline during training camp, it was a step in the right direction.
4) Shaky-Baker
No one is gonna complain about a win, particularly the first one of the season but I can't help but notice that the consistency Baker Mayfield showed throughout his rookie season is missing this year. And inconsistent is probably the best way to describe it. On a number of occasions Mayfield was off target both high and low. He was sailing passes fans are used to seeing him make. He was grounding balls to wide open targets on short routes. And yet, he'd miss badly and then go on to make some Mayfield-esque throws like we saw last year. Yes he threw for over 300 yards. Yes he had the long TD pass to Beckham Jr. (which was more about OBJ than Baker). But he also threw an interception on a throw he probably shouldn't have made and he completed just 54-percent of his passes (19-for-35). Mayfield entered the league with the reputation for being ridiculously accurate so 54-percent is uncharacteristic for him. Perhaps it's just rust but these first two weeks haven't been his best. Not to mention that the offense is lacking an identity now. It still feels like Kitchens isn't using the run game enough, especially when his team is up 20 late in the fourth and he's still dialing up pass plays. At some point they need to trust Chubb more, which in turn will help Mayfield.
5) Don't look now, but…
The Browns may finally have an NFL worthy kicker. Rookie Austin Seibert looked the part tonight nailing all three of his field goal attempts from 23, 48 and 43 yards respectively. His NFL debut didn't get off to the best start last week after he missed his first PAT attempt. And it wasn't so long ago that he couldn't hit the broad side of a barn at training camp. He appears to have put all that behind him though and when you're hitting those long range 40-plus yard field goals consistently it's a confidence booster, both for Seibert and Browns fans. Suddenly what was considered one of the Browns biggest weaknesses looks shored up and John Dorsey doesn't look so silly for spending a fifth-round pick on a kicker.
What's next? 
The Browns return home to be featured in primetime yet again, this time on Sunday night football as they host the defending NFC Champion Los Angeles Rams in Week Three. It's the first game of a five-game stretch against teams that have all started the season 2-0.

NEO Sports Insiders Newsletter
Sign up to receive our NEOSI newsletter, and keep up to date with all the latest Cleveland sports news.