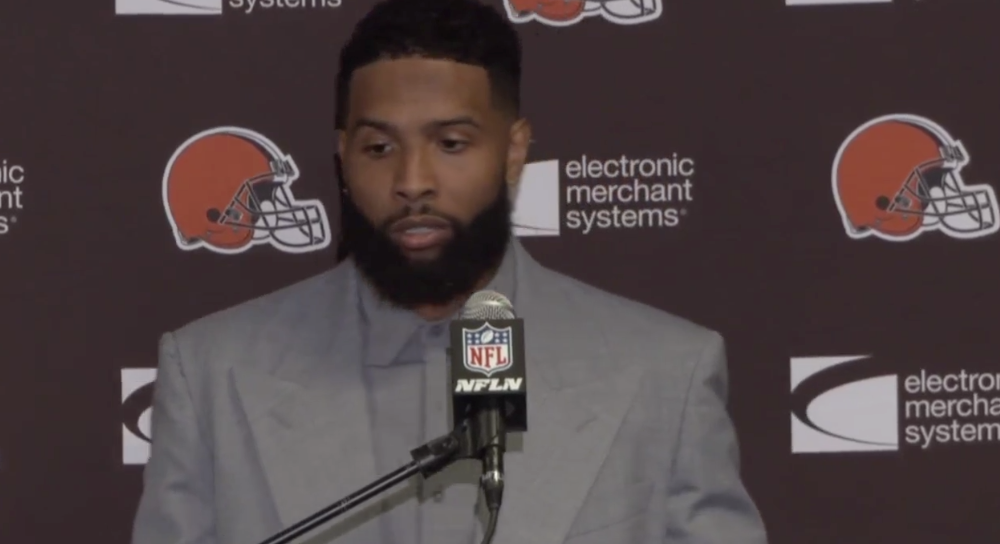 Three days after Jets defensive coordinator Gregg Williams jokingly forgot who Odell Beckham Jr was in a media session, Beckham returned the favor following a 23-3 Browns win.
"Who? Oh," Beckham said with a laugh as he started to answer a question about the former Browns DC. "Nah, I mean everyone has a right to their own opinion. He's a phenomenal coach, he's got a great defense but I'm done talking about it. We won, I just try to make plays to help the team."
In his return to Metlife Stadium, the 26-year-old got the last laugh in more ways than one, breaking off an 89-yard touchdown reception on a simple slant route in the third quarter of the game against Williams' defense. The broadcast immediately cut to a shot of a fuming Williams on the sideline, throwing a fit on after the score.
That was one of his six receptions on the night to go along with 161 receiving yards.
"I mean everything fuels me," Beckham said of Williams comments helping fuel his big night. "Good comments about me, bad comments; everything fuels me. I feel all of that, so I just wanna be the very best that I can, I'm gonna work as hard as possible to be the very best that I can for this team [and] be a leader that I'm supposed be."
The 89-yard score was the longest reception of OBJ's career and his first since Week 13 of last season. After dealing with a series of injuries the star wideout was relieved to find the end zone again.
"It's been a long time…it's been a long time" he said with a smirk. "I missed the back end of the season, I tore my quad. I couldn't come back and was out until early April with the quad trying to get it right. And then just being able to play football again, I had the hip going through OTA's and training camp. It's good to be back out there playing football."
That touchdown wasn't the only memorable play of the night for Beckham Jr. against Williams' defense. With shades of the incredible one-handed catch he made during his rookie season with the Giants, the five-year veteran pulled off another spectacular one-handed snag on the Browns opening drive of the game. The play left him having flashbacks.
"I seen the ball go up and I swear it's like, I have this deja vu that happens to me all the time," he said. "So I seen the ball go up and I literally was feeling like am I a rookie again? This is the same exact moment, same exact play. And you forget how dark it is at this stadium and how hard it is to track the ball, but I just seen it an knew I had to make a play."

NEO Sports Insiders Newsletter
Sign up to receive our NEOSI newsletter, and keep up to date with all the latest Cleveland sports news.