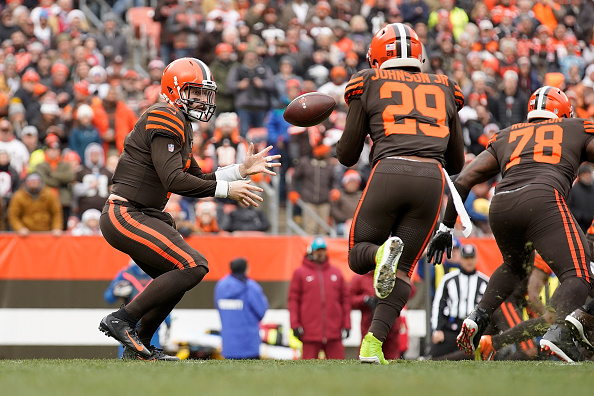 When the Cleveland Browns opened their mandatory mini-camp on Tuesday, I was surprised to see disgruntled running back Duke Johnson in attendance.
To be clear, I wasn't assuming he'd skip these sessions in protest after requesting a trade a few months ago. I just figured the Browns would've moved him well before mini-camp even began.
They didn't, instead insisting he was a key part of the team and assuming he'd arrive without any issues.
This appears to have been a flawed strategy, something we learned not only through what Johnson said in his media availability, but also through comments made by quarterback Baker Mayfield.
If you missed it, Johnson certainly hasn't changed his tune since requesting a trade. Asked if he still wants out, he insisted this was indeed the case, also noting there's nothing that can be done in Cleveland's part to repair this relationship.
So, right off the bat, the Browns' approach of just expecting this to blow over appears to have been unsuccessful.
However, it's one thing to tune out the demands of an unhappy player. It's another to assume doing so won't cause any rifts in the locker room, something which was likely created when Mayfield was asked to share his thoughts on the matter.
Baker Mayfield didn't mince words when addressing the Duke Johnson trade request. #Browns pic.twitter.com/BsRkrdvjxD

— Hayden Grove (@H_Grove) June 4, 2019
Never one to embrace subtlety, Mayfield ended his discussion on Johnson by saying "you're either on this train or you're not."
To recap, not only did Johnson confirm he still wants out, his quarterback essentially took him to task for continuing to focus on leaving the Browns as opposed to helping them. This occurred on the first day of mini-camp, and only a few weeks after GM John Dorsey and coach Freddie Kitchens both insisted they expected everything to be fine with this situation.
For the record, I have no problem with what Mayfield said. His teammate spent the day explaining his continued desire to play elsewhere. Responding to this by insisting those who want to be here will continue moving forward despite Johnson's vocal unhappiness is certainly not over the line.
With that said, this will understandably create a rocky situation within the locker room, one which shouldn't be terribly surprising to Dorsey or Kitchens. After all, this is what you had to expect when deciding to call Johnson's bluff.
There's always a chance Dorsey has just been unsuccessful when trying to find the right trade for Johnson. One would think they've been exploring his market ever since his request first came in.
However, their approach to the media has continually been "nothing to see here, we expect him to be a Brown and be pumped about it." Even today, Kitchens insisted this was a media-driven narrative.
As you know, this isn't something the media is fabricating. Johnson literally told everyone Tuesday that he wanted out. Insisting this is an example of beat writers making a story out of nothing is just Kitchens continuing down the path of plugging his ears and ignoring what's going on.
Regardless, it's clear both he and Dorsey have to run some damage control here. Johnson is still campaigning to be traded, while his quarterback is using this to create a "with us or against us" mentality within the locker room.
Simply put, this is no longer a situation which will be resolved by looking the other way. The Browns can't continue assuming this will settle itself.
To be honest, this realization could've easily been made much earlier than the first day of mini-camp. While we can't speak to what conversations have occurred behind the scenes, it was always lofty to assume a disgruntled player would suddenly change his tune after hearing his front office claim it was ignoring his demands.
Unfortunately, we're well past that. It's clear the Browns now have a situation on their hands, and continuing to keep the status quo while Johnson and Mayfield start butting heads certainly isn't going to help matters.
The truth of the matter, though, is that they had a situation on their hands way back when Johnson made his original request. They just decided to tune it out, an approach which had its flaws exposed within hours of mini-camp starting up.

NEO Sports Insiders Newsletter
Sign up to receive our NEOSI newsletter, and keep up to date with all the latest Cleveland sports news.